Marmaris Yacht Charter
Marmaris Yacht Charter Blue Cruise and which is one of the most important point for boat hire and a region of Marmaris necessarily should visit BC Extends to 12,000. Over the centuries that have hosted many civilizations Marmaris, today welcomes thousands of tourists from overseas and domestically.
Marmaris Gulet Charter Video
  Aegean and Mediterranean coast of Marmaris is a large peninsula with long thin dark and hosts dozens of geographical structure. Marmaris, Beldibi, Turunc, Akyaka, Gokova, Bozburun, Icmeler. All these important coastal towns from each other are connected to Marmaris. This beautiful town from each other, dark blue sea, offers natural coves and bays holidaymakers renting boats. Marmaris Yacht Charter
Which is one of Turkey's most beautiful bay of Gokova is a haven of nature and history come together offering reserved. Here you can participate in bird watching tours on land, at sea are lucky you can see the Mediterranean Monk Seal. Turunc with blue flag beaches and golden sand; water sports or Akyaka where you can rock climb, which is a quiet coastal town of Bozburun, famous tourist area drinking and who has not lost its spontaneity and diving opportunities that Marmaris, one of the routes to be followed in
Marmaris Yacht Charter program.
Considered the center of the blue field trip different from each other that you anchored in Marmaris, marvelous bays that you will choose to stay. Again, you need to visit Greece are quite close to Marmaris Blue Cruise is a list of Rhodes Island vacationers.   Nature, history, green and blue. Marmaris Boat hire you with experienced staff is ready to deliver all of these beauties. By the number of days specified in the program live intertwined with sea enjoy your holiday, your loved ones in a comfortable boat is an excellent opportunity to spend happy moments.
Unveiling the Jewel of the Turkish Riviera: Marmaris Yacht Charter Offers Unforgettable Adventures
Marmaris, a captivating coastal town nestled on the enchanting Turkish Riviera, has long been a favorite destination for travelers seeking the perfect blend of natural beauty, rich history, and vibrant atmosphere. Now, Marmaris Yacht Charter invites adventurers to embark on an extraordinary journey, unveiling the hidden gems and breathtaking landscapes that await along the shimmering turquoise waters.
Marmaris Yacht Charter offers a gateway to unparalleled experiences, allowing guests to explore the stunning coastline, visit secluded bays and coves, and immerse themselves in the vibrant culture and history of the region. With a wide selection of yachts to choose from, travelers can find the perfect vessel to suit their preferences, whether it's a sleek motor yacht or an elegant sailing yacht.
Setting sail from Marmaris, guests can chart their own course or follow expertly crafted itineraries designed to showcase the very best of the region. From the idyllic beauty of Paradise Island to the captivating allure of Aquarium Bay, each stop along the way offers a unique and unforgettable experience. Discover hidden treasures like Cleopatra Island, renowned for its powdery white sand and crystal-clear waters, or venture further to explore the picturesque villages and historical sites dotting the coastline.
Marmaris Yacht Charter provides more than just a means of transportation; it offers a luxurious floating sanctuary. Onboard, guests are treated to exceptional amenities, lavish accommodations, and world-class service. Relax on the spacious deck, soak up the sun, and enjoy breathtaking panoramic views of the coastline. Indulge in gourmet cuisine prepared by talented chefs, whose culinary creations tantalize the taste buds with local flavors and international delicacies.
Beyond the yacht, Marmaris itself beckons with its vibrant marina, bustling markets, and a wealth of attractions. Explore the charming Old Town with its narrow streets, Ottoman-era architecture, and vibrant nightlife. Immerse yourself in the region's rich history by visiting the Marmaris Castle or taking a trip to the nearby ancient city of Kaunos.
Marmaris Yacht Charter ensures a seamless and unforgettable experience, with a dedicated crew ready to cater to every need and desire. The professional and knowledgeable crew members are skilled in creating personalized itineraries, providing expert guidance, and ensuring a safe and enjoyable journey for all guests.
Whether seeking relaxation, adventure, or a blend of both, Marmaris Yacht Charter opens the doors to a world of discovery and wonder. From the stunning landscapes to the warm hospitality, Marmaris offers an unrivaled yacht charter experience that will leave a lasting impression and create memories to treasure for a lifetime.
As travelers continue to seek extraordinary experiences, Marmaris Yacht Charter stands ready to provide an unparalleled adventure along the Turkish Riviera. Embrace the allure of the Mediterranean, feel the breeze on your face, and embark on a journey of a lifetime in this coastal paradise.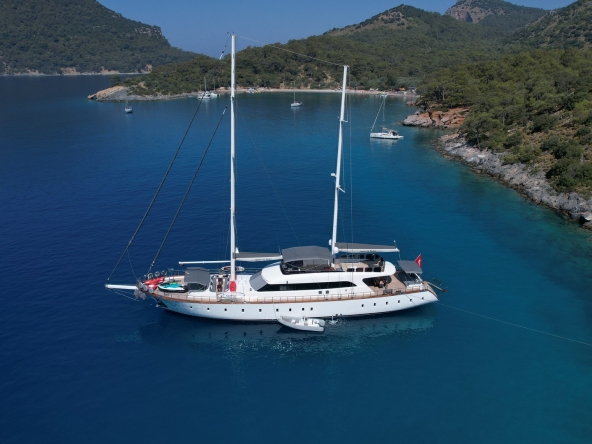 Unique Bays to Explore with Blue CruisesUnique Bays to Explore with Blue Cruise in Turkey The...