Vip Gulet Charter
VipGulet Charter Turkey Get ready to feel like kings during your vacation. If you ask how it is possible, it means that you have not seen our Vip Gulets special for you. You will enter a different world when you charter one of our Vip Gulets. You don't have to wait any longer to have a wonderful holiday experience. All you have to do is visit our website https://www.platinyachting.com/ and choose a Gulet that suits you.
Our VipGulets have 5-star hotel facilities. Thanks to that you can spend a more comfortable and beautiful holiday. Besides, these Gulets have equipped with the latest technology. Also to technological equipment, safe VipGulets designed to serve you. There are many beautiful seas in Turkey. We guarantee you that you will fall in love with the blue of those seas once again thanks to our Gulets. Don't forget to visit our website to rediscover Turkey's incredibly beautiful seas with us.
VipGulet Charter Turkey Prices
Everyone wants to spend a day on a VipGulet. But, even though it may seem expensive to charter a Gulet due to its name being "Vip", it is not exactly like that. At Platin Yachting, we have Gulet options for every budget. Tell us the route you want to explore, don't worry about the rest. Would you like to have a luxurious, comfortable, and convenient holiday? If your answer is yes, our Gulets are waiting for you. You can visit our website for a peaceful and comfortable holiday. On our Gulets, which have a very luxurious design, our crew can go with you to serve you during your holiday if you wish. Our experienced and friendly team is at your service 24/7 to please you.
What Should Be Considered When Charter A VipGulet?
The most important issue to consider when chartering a Gulet is the price issue. The thing you need to pay attention to about the price is in which months you want to take a vacation. Because VipGulet charter Turkey prices vary according to the months. For example, if you want to take a vacation in July or August, you may have to pay more. The reason for this is that many people want to take a holiday in these months. Almost all yacht charter companies offer higher prices in these months. So before you charter a VipGulet, you need to check all these conditions. For the best prices, you can visit our web site: https://www.platinyachting.com/
Advantages of Vip Gulet Charter Turkey
Vip Gulets have more than one feature for you to make a comfortable holiday. After renting a Vip Gulet, you will feel almost living a dream. Especially because of the pandemic, we're in; everyone is trying to stay away from each other. Away from other people, only you and the people you want to holiday with can have fun in these Gulets. Considering the other advantages of Vip Gulets;
The opportunity to experience an incredible holiday with your loved ones,
The opportunity to holiday at a Vip and affordable price,
VIP rooms,
The opportunity to explore the unexplored places of the sea,
The opportunity to spend a great time away from Covid-19.
VIP gulet charter refers to a premium and exclusive yacht charter experience aboard a gulet, a traditional wooden sailing vessel originating from the Mediterranean region. It offers a higher level of luxury, personalized service, and amenities compared to standard gulet charters. VIP gulet charters are designed to cater to the specific needs and desires of discerning travelers seeking a truly luxurious and unforgettable sailing experience.
The main difference between VIP gulet charters and other gulet charters lies in the level of luxury and exclusivity offered. VIP gulets are typically larger in size, providing more spacious cabins and living areas. They boast high-end furnishings, elegant interiors, and state-of-the-art amenities, including air conditioning, entertainment systems, and water toys. The crew on board VIP gulets is highly experienced, offering top-notch service, gourmet cuisine, and personalized attention to ensure the utmost comfort and satisfaction of guests.
The advantages of VIP gulet charters are numerous. Firstly, they offer a higher level of privacy, as VIP gulets often accommodate smaller groups, ensuring a more intimate and exclusive experience. The luxury amenities and services provided onboard, such as private chefs, personalized itineraries, and dedicated crew members, elevate the overall comfort and enjoyment of the charter. The attention to detail, quality of service, and luxurious ambiance create a truly memorable and indulgent vacation.
VIP gulets can be rented from reputable yacht charter companies that specialize in luxury yacht charters. These companies typically have a portfolio of high-end gulets available for charter in various popular destinations, such as the Mediterranean, including Turkey, Greece, Croatia, and Italy. They provide comprehensive services to assist with the selection of the right VIP gulet, itinerary planning, and catering to specific preferences and needs.
In summary, VIP gulet charters offer an elevated level of luxury, comfort, and personalized service compared to standard gulet charters. They provide an exclusive and indulgent sailing experience, catering to the desires of discerning travelers seeking a truly memorable and luxurious vacation on the water.
VIP Gulet Charter with Platin Yachting in Turkey (Bodrum, Fethiye, Marmaris) and the Greek Islands
Imagine sailing through the azure waters of the Mediterranean, surrounded by breathtaking landscapes, indulging in opulent amenities, and receiving personalized service fit for royalty. Platin Yachting invites you to embark on an extraordinary VIP gulet charter in Turkey's premier destinations of Bodrum, Fethiye, Marmaris, and even explore the enchanting Greek Islands. In this blog post, we will take you on a virtual journey of luxury and discover why a VIP gulet charter with Platin Yachting is the epitome of indulgence.
The Ultimate in Luxury:
A VIP gulet charter with Platin Yachting is an exclusive experience that surpasses all expectations. Step aboard a luxurious gulet, meticulously designed with lavish interiors, elegant furnishings, and state-of-the-art amenities. Every detail is crafted to provide the utmost comfort and sophistication, creating a floating haven where you can relax and unwind in style. From spacious cabins with en-suite bathrooms to stylish saloons and expansive decks, every aspect of the gulet exudes opulence and refinement.
Unparalleled Service and Personalization:
Platin Yachting takes pride in offering impeccable service tailored to your every need. The professional crew members are experienced in providing a VIP experience, attending to your desires and ensuring your comfort throughout the journey. From private chefs who create gourmet culinary delights to dedicated crew members who anticipate your every need, the level of personalized attention is unparalleled. Platin Yachting goes above and beyond to curate a bespoke itinerary that caters to your preferences, ensuring that your VIP gulet charter is a truly unique and memorable experience.
Captivating Destinations:
Embark on a VIP gulet charter and discover the captivating destinations of Bodrum, Fethiye, Marmaris, and the Greek Islands. Set sail from Bodrum, a city rich in history and vibrant nightlife, where ancient ruins and modern indulgences coexist. Cruise along the stunning coastlines of Fethiye, with its turquoise waters and idyllic bays, offering a true escape into tranquility. Explore the bustling marinas and vibrant atmosphere of Marmaris, where you can immerse yourself in the lively ambiance and savor the local flavors. And don't miss the opportunity to sail to the enchanting Greek Islands, where ancient wonders, picturesque towns, and stunning landscapes await your arrival.
Unforgettable Experiences:
A VIP gulet charter with Platin Yachting offers a wealth of unforgettable experiences. Dive into the crystal-clear waters for a refreshing swim or snorkel in vibrant underwater worlds. Enjoy thrilling water sports adventures, such as jet skiing or paddleboarding, providing moments of exhilaration and fun. Anchor in secluded bays, where you can soak up the sun on the spacious decks or indulge in a relaxing massage. As the sun sets, savor gourmet dining experiences on deck, surrounded by the beauty of the Mediterranean, or venture ashore to explore charming coastal towns and savor local delicacies.
How to Book:
To embark on a VIP gulet charter with Platin Yachting in Bodrum, Fethiye, Marmaris, or the Greek Islands, visit their official website or contact their dedicated customer service team. Platin Yachting offers a portfolio of luxurious gulets to choose from, each designed to provide the ultimate VIP experience. Their experienced team will assist you in selecting the perfect gulet, creating a personalized itinerary, and ensuring that your voyage exceeds all expectations.
A VIP gulet charter with Platin Yachting in Turkey's Bodrum, Fethiye, Marmaris, and the Greek Islands is a voyage of unrivaled luxury and indulgence. Immerse yourself in opulence, explore captivating destinations, and experience personalized service that caters to your every desire. From lavish interiors to exquisite cuisine, every moment aboard a VIP gulet is designed to create memories that will last a lifetime. Set sail with Platin Yachting and embark on a journey where luxury, beauty, and exceptional service unite to redefine your notion of indulgence.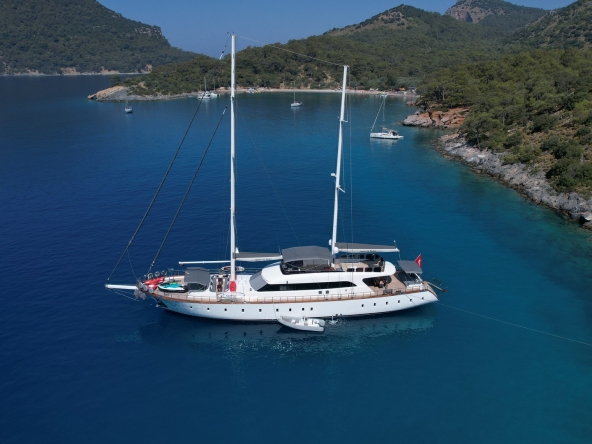 Unique Bays to Explore with Blue CruisesUnique Bays to Explore with Blue Cruise in Turkey The...