Yacht Charter Prices

Yacht Charter Prices Turkey, which has maintained its reputation as a top holiday destination for many years, still continues to be a favorite among vacationers. With its colorful and tourist-friendly streets, carefully protected environment, and tourist-friendly nature, Turkey is definitely an ideal holiday destination. Turkey-based yacht charter service offered by Platin Yachting is ideal for enjoying the Turkish coasts to the fullest. We are pleased to offer you our yacht chartering service, which is a unique option for holidaymakers. We answer all your questions about Turkey yacht chartering, which arouse curiosity and are frequently investigated, and tell you about our work. Here is the yacht charter prices info for our curious customers.
Yacht Charter Prices video
Yacht Chartering Service and the Pricing 
Yacht Charter Prices Accommodating eight to sixty people depending on their type, yachts are one of the most preferred options by those looking for a quiet holiday filled with natural beauties. As Platin Yachting, the yacht chartering service we provide has always been one of our most preferred options through our country – Turkey. Our service continues to be the number one choice of our customers who want to have a vacation with chartered yachts. As Platin Yachting, we have been a part of our business for many years and we do not shy away from acting according to the wishes of our customers. We share with you the pricing info below. 
How Do Yacht Chartering Prices Work?
As the holiday season approaches, we are all on the lookout for a nice vacation. The pricing for the much-preferred yacht chartering depends on a couple of factors. Such as:
The number of days you will be on the trip. 
The type of yacht you choose and the routes it will take. 
How many people are on the crew – which is also chosen by you? 
The date of your reservation.
Yacht Charter Prices These are all the main factors that affect the price of your yacht chartering experience. Although the winter season tends to be a tad bit cheaper for chartering, we rarely have time for that. Due to the demand and supply relationships, the pricing for yacht chartering tends to slightly change depending on the time of the season.  
Yacht Chartering Prices – Contact Us
You can apply to us and get information about everything you wonder about our yacht chartering service. Platin Yachting has been doing its job for many years, working with a competent team and maintaining its leadership in the sector for a long time. Together with you, our customers, we decide on the type of yacht you will charter, which routes will take, and the average speed you want it to sail.
We have multiple options for everything. Since Turkey is a busy travel destination, it is very important to make your appointments in advance, especially in the summer season. Do not forget to get up-to-date price information from us. You can contact us for all your related questions and concerns. You can reach our contact information by clicking this link to learn everything about yacht chartering prices.
Yacht charter prices can vary depending on several factors, including the type of yacht, the size of the yacht, the duration of the charter, the destination, and the time of year. Here is some information to provide a general understanding:
Types of Yachts:
Gulet: Gulets are traditional Turkish wooden sailing vessels. They are often more affordable compared to motor yachts and trawlers due to their simpler design and lower operational costs.
Motor Yacht: Motor yachts are powered by engines and offer faster cruising speeds. They are generally more expensive than gulets due to higher fuel consumption and maintenance costs.
Trawler: Trawlers are known for their long-range capabilities and fuel efficiency. They provide a comfortable cruising experience but can vary in price depending on their size, amenities, and overall quality.
Factors Affecting Prices:
Size and Luxury: Larger and more luxurious yachts generally come with higher charter prices due to their higher operational costs, maintenance, and crew requirements.
Seasonality: Prices tend to be higher during the peak charter season, which is typically during the summer months. Shoulder seasons and offseasons may offer more favorable rates.
Destination: The location of the charter can impact prices. Some popular yacht charter destinations in Turkey, such as Bodrum, Fethiye, and Marmaris, may have varying price ranges due to demand, availability, and local market dynamics.
Expensive Yacht Charter Cities in Turkey:
The cost of renting a yacht can vary from city to city in Turkey. Bodrum and Gocek are known as upscale yacht charter destinations, where prices may be relatively higher compared to other regions. These cities attract a discerning clientele seeking luxury experiences.
Average Yacht Charter Prices:
It is important to note that yacht charter prices can vary significantly depending on the factors mentioned above. However, as a rough guideline, the average starting price for a weekly yacht charter in Turkey can range from a few thousand euros for smaller gulets to tens of thousands of euros or more for larger and more luxurious motor yachts or trawlers. Prices can increase for high-demand periods, special events, and additional services requested during the charter.
It is recommended to consult with reputable yacht charter companies like Platin Yachting to obtain accurate and up-to-date pricing information based on your specific requirements, desired yacht type, and destination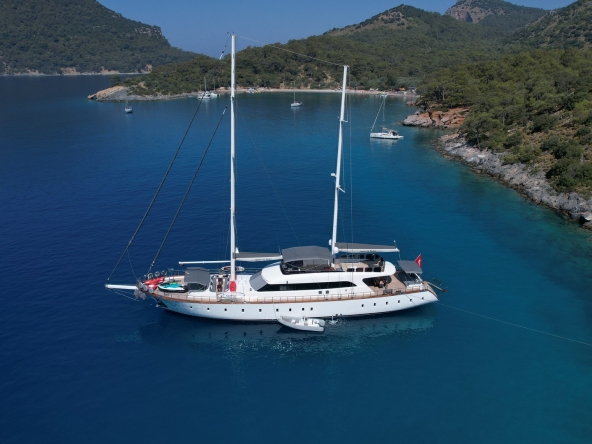 Unique Bays to Explore with Blue CruisesUnique Bays to Explore with Blue Cruise in Turkey The...