Deluxe Gulet Charter
Deluxe Gulet Charter When you think of a luxurious Gulet, a luxurious Gulet in Turkey, you will immediately arrive at the right place. However, the coast of the Aegean Sea is known in the south-west of Turkey, Turkish Riviera, and not only is it a good thing, incredibly strong and beautiful coastline, but the Ephesus Bible and the main sights and historical events, such as the ancient ruins and monuments of the house. Early Roman period and Turkish Ottoman empires.
Luxurious charter of the Gulet. Starting from Antalya with Amaze, you can take the best yacht directions along this rich and beautiful coastline from Gocek and Marmaris to Bodrum. You can visit the north or the south, visit the Turkish ports and the neighbouring Greek islands such as Rhodes and Kos. If you have enough time, even castellation. If you are on a Gulet  with a Turkish flag, remember that you must pay the Greek cruise tax upon entering the Greek waters and vice versa.
Luxury Gulet rental
Air conditioning (24 hours)
Transit records for Turkish water cruises, agency fees, government dock charges
With wireless internet
Luxury Gulet
Food and drink expenses
Transit records, agency fees, marine fees, passport costs for a cruise in foreign waters
Private marina rates in Turkey
The cost of fuel for water sports and the tender
18% VAT (if applicable)
APA (provision of additional services) for the regulation of motor yachts 20% to 25% of the rent (according to the itinerary and the plan)
– Spending on food and beverages
– Transit records, agency fees, marine fees, transit fees for a cruise in foreign water
– Private marina rates in Turkey
– Fuel costs for water sports and tenders
– If the fuel costs for the engines exceed 4 hours per day (100 EUR / hour)
– Transfer from the airport
– Any special or additional cost of the tenant
Well, now that the boat is installed, maybe those you love are possible. It's time to find where and where to go. This is an interesting part. There are literally dozens of combinations of routes. Then, where and what places attract attention and attract your guests. As far as Turkey is concerned, there are two sides. Mediterranean and Aegean.
If it rests, then there is little traffic and confidentiality; The Aegean, the Bay of Hisaronu and the Bay of Gocek can be ideal. But no, you want to have had many relics too, do not worry about the traffic (since everyone does the same), and the port closest to the airport for the transfer and then the Mediterranean side of the ideal – that does not mean that it does not There is a quiet place on the Mediterranean side, of course there is! The best way to plan your trip at the beginning is your agency. Talk to your captain during your trip: they travel hundreds and thousands of times.
Deluxe gulet charter offers a higher level of luxury and sophistication compared to standard gulet charters. Here are some key differences that set a deluxe gulet charter apart:
Design and Interior: Deluxe gulets are meticulously designed with a focus on elegance, comfort, and modern amenities. The interior spaces are tastefully decorated with high-quality furnishings, stylish finishes, and luxurious materials. The cabins are often more spacious and well-appointed, providing a lavish retreat for guests.
Modern Amenities: Deluxe gulets are equipped with a range of modern amenities to enhance the comfort and convenience of guests. These may include air conditioning throughout the vessel, en-suite bathrooms in every cabin, Wi-Fi connectivity, entertainment systems, and well-equipped kitchens or bars. The aim is to provide a luxurious and pampering experience on board.
Higher Crew-to-Guest Ratio: Deluxe gulets typically have a higher crew-to-guest ratio, ensuring personalized service and attention to detail. The crew members are experienced professionals who are dedicated to creating an exceptional experience for guests. From a skilled captain to a private chef and attentive deckhands, the crew is there to cater to your needs and ensure a seamless journey.
Gourmet Dining Experience: One of the standout features of a deluxe gulet charter is the culinary experience. The onboard chef prepares gourmet meals using the freshest local ingredients and a creative touch. Guests can expect exquisite dining experiences with a focus on fine dining, customized menus, and the opportunity to savor a variety of culinary delights.
Flexibility and Customization: Deluxe gulet charters often offer a high level of flexibility and customization. Guests have the freedom to tailor their itineraries, choosing the destinations and activities that interest them the most. The crew works closely with guests to design a personalized journey that aligns with their preferences, ensuring a unique and unforgettable charter experience.
Enhanced Comfort and Relaxation: Deluxe gulets prioritize guest comfort and relaxation. The deck areas are spacious, offering ample room for lounging, sunbathing, and socializing. Some deluxe gulets may have additional features such as Jacuzzis, spacious dining areas, and comfortable seating arrangements, providing guests with the utmost comfort and luxury during their charter.
Exclusive and Private Experience: Deluxe gulet charters provide an exclusive and private experience for guests. The yacht is reserved solely for the charter party, ensuring privacy and intimacy throughout the journey. This allows guests to enjoy their time onboard and ashore without the presence of other travelers, creating a sense of exclusivity and luxury.
Deluxe gulets offer a range of amenities and facilities on board to enhance the comfort, luxury, and overall experience of guests. While the specific features may vary depending on the gulet's design and size, here are some common amenities you can expect to find on a deluxe gulet:
Spacious Cabins: Deluxe gulets often have spacious cabins with comfortable beds, en-suite bathrooms, and ample storage space. The cabins are elegantly designed and well-appointed, providing a cozy and luxurious retreat for guests.
Air Conditioning: To ensure optimal comfort, deluxe gulets are equipped with air conditioning systems that regulate the temperature throughout the yacht. This allows guests to enjoy a pleasant indoor climate, especially during hot summer months.
Entertainment Systems: Many deluxe gulets feature entertainment systems, including flat-screen TVs, DVD players, and audio systems. Guests can relax in the saloon or cabins and enjoy their favorite movies, music, or television shows during their leisure time.
Wi-Fi Connectivity: To keep guests connected, some deluxe gulets offer Wi-Fi connectivity on board. This allows guests to stay in touch with loved ones, share their memorable moments on social media, or catch up on work if needed.
Spacious Decks: Deluxe gulets often boast spacious deck areas, providing plenty of room for relaxation, sunbathing, and socializing. There are comfortable seating areas, sun loungers, and sometimes even outdoor dining spaces where guests can enjoy meals alfresco.
Water Sports Equipment: Many deluxe gulets come equipped with a variety of water sports equipment for guests to enjoy. This may include snorkeling gear, kayaks, paddleboards, jet skis, and fishing equipment. Guests can explore the crystal-clear waters, engage in water activities, and create unforgettable memories.
Dining Facilities: Deluxe gulets feature dining areas where guests can enjoy delicious meals prepared by the onboard chef. Whether it's an elegant indoor dining space or an outdoor dining area on the deck, guests can indulge in gourmet cuisine while enjoying panoramic views of the surrounding seascape.
Professional Crew: A crew is an integral part of a deluxe gulet charter. The crew typically consists of a captain, chef, deckhands, and possibly a hostess or additional staff. They provide attentive service, take care of navigation, maintain the vessel, and cater to guests' needs, ensuring a seamless and enjoyable charter experience.
Luxury Additions: Some deluxe gulets may offer additional luxury features, such as Jacuzzis, sunbeds, spacious lounges, or even onboard spas. These enhancements elevate the overall luxury experience and provide guests with even more opportunities for relaxation and indulgence.
It's important to note that the amenities and facilities may vary from one deluxe gulet to another. When considering a specific gulet, it's advisable to inquire with the charter company about the specific onboard features and amenities to ensure they meet your preferences and requirements.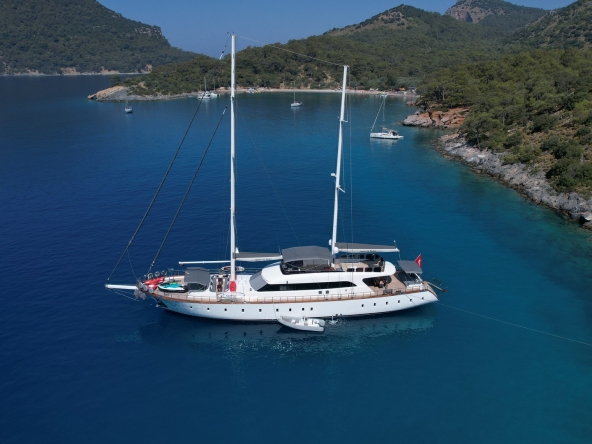 Unique Bays to Explore with Blue CruisesUnique Bays to Explore with Blue Cruise in Turkey The...