Turkey Yacht Charter
Turkey Yacht Charter Many people around the world work all year long to spend a perfect holiday with the company of an azure blue sea and warm shining sun. Of course, it is possible to enjoy the turquoise waters from the beach and seaside. However, for those who want to get integrated with the outstanding sea and sun in the hot summer days; the yacht charter is the best option among all others. Unknown and unidentified bays with natural beauties are awaiting the sea-lovers with a yacht charter. We most probably all know the beauty of the sea when seen from the seaside. Yet, have you ever seen the landscape from the sea or the beautiful and stunning sunset? In order to ensure this luxury and unforgettable experience, a yacht charter must be your next plan for this summer! For an authentic and sophisticated sea experience with a yacht charter, let us introduce you to the most common rental yacht models first.
Turkey Yacht Charter Video
Yacht Charter Models in Turkey
Generally, yacht models consist of four groups. These four groups are namely the Gulet Yachts, Catamaran Yachts, Sailing Yachts, and Motoryachts. To identify the different purposes of these yachts and ease the decision-making process for you while choosing the most suitable yacht for your needs and desires; we created small definitions for each yacht charter model below.
Sailboat-Style Model: Gulet Yachts
Besides from being the most popular and rented yacht model, this type of yacht is wooden and two-masted. We would recommend you to take this yacht charter model if you want to explore the eye-catching sea with your big family and friends since it is perfect for visiting unknown bays and places and provides space for everyone. Comfort is the second name of Gulet yachts. So, if you are a comfort lover you can choose this option that also provides a crew if desired.
Special Interest Model: Catamaran Yachts
For an unforgettable and unique blue cruise experience, the special interest yacht charter model namely, the Catamaran yachts are the best options. Thanks to the double hull system comfort and safety are enhanced while entertainment is at its fullest. These yachts are mostly preferred for long-distance journeys since it provides a two-boat design accompanied by a powerful engine.
Intense Sun and Wind: Sailing Yachts
This option is perfect for those who are looking for a voyage where no motor sounds are and a calm atmosphere has authority. In addition, this yacht charter model shares the responsibilities with the user since it is considered as a more independent and smart model of yachts. However, it ensures a harmonious integration of the sun, wind, and you. The sailing yachts are mostly preferred in special occasions and with few people.
Luxury and Elegance: Motoryachts
Motor yachts catch all eyes with its excellent rich and luxurious appearance. For luxury and elegance lowers, this yacht charter model is the best option unquestionably. Additionally, the Motoryachts are well-known for their engine power, thus, their speed. If a luxury voyage with a lot of speed on the glamorous blue seas is aimed, do not hesitate to choose the Motoryachts.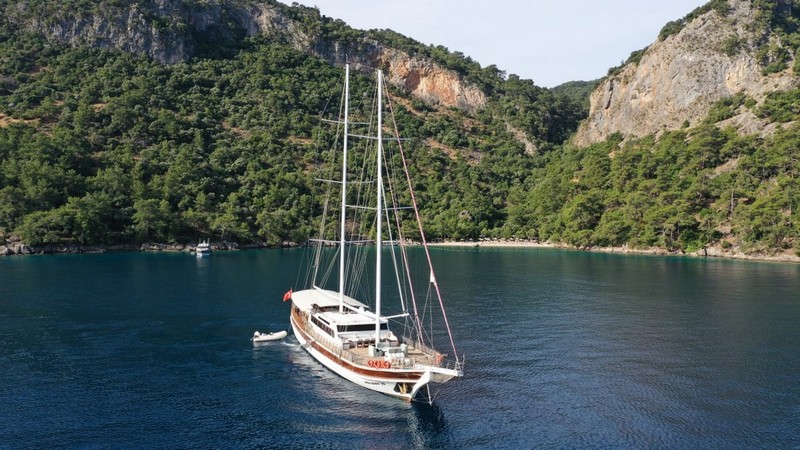 What Should Be Considered in Yacht Charter
Firstly you should check in yacht charter if the place is adequate for the number of persons that will join the cruise. Otherwise, you will have accommodation problems. Secondly and most importantly, a WC and bathroom are essential for hygienic toilet requirements. The fuel type is another aspect to be considered when charter yacht. While some fuel types are more expensive, others such as Diesel are more budget-friendly. Last but not least, details such as cleaning and first aid bags, all equipment that may be needed should be on board.
Platin Yachting Offers Unforgettable Turkey Yacht Charter Experiences
Platin Yachting, a renowned luxury yacht charter company, continues to captivate adventure seekers with their exceptional Turkey yacht charter experiences. With their commitment to unparalleled service and attention to detail, Platin Yachting offers a dream-like journey along the picturesque Turkish coastline.
Embarking on a Turkey yacht charter with Platin Yachting promises an unforgettable escape to explore the beauty of Turkey's diverse landscapes and crystal-clear waters. Their fleet of luxurious yachts, meticulously maintained and equipped with top-notch amenities, ensures a comfortable and opulent sailing experience.
Whether one desires a romantic getaway, a family adventure, or a friends' reunion, Platin Yachting provides personalized itineraries tailored to each group's preferences. From the stunning turquoise waters of Bodrum to the enchanting hidden coves of Antalya, their experienced team will guide guests to the most breathtaking destinations in Turkey.
Platin Yachting's commitment to exceptional service extends beyond the breathtaking scenery. With a professional and attentive crew on board, guests can relax and indulge in a luxurious environment. From the skilled captain navigating the yacht to the talented chef crafting exquisite culinary delights, every detail is meticulously taken care of to ensure a seamless and memorable journey.
Moreover, Platin Yachting offers a wide range of additional services to enhance the charter experience. From airport transfers to provisionings tailored to personal preferences, they go above and beyond to fulfill every guest's wishes. Water sports enthusiasts can also take advantage of various activities, including snorkeling, diving, and jet skiing, providing thrilling adventures in the sparkling Mediterranean waters.
The safety and well-being of guests are of paramount importance to Platin Yachting. They adhere to rigorous safety standards and maintain their fleet to the highest industry regulations. The crew is trained to provide professional assistance, ensuring a worry-free and enjoyable experience for all.
Platin Yachting's Turkey yacht charters have received rave reviews from satisfied customers who have praised the company for their impeccable service, attention to detail, and dedication to creating unforgettable memories.
For those seeking an extraordinary adventure along the Turkish coast, Platin Yachting stands as a trusted partner, offering exceptional Turkey yacht charter experiences. Their commitment to luxury, personalized service, and breathtaking destinations make them the ideal choice for creating a dream-like sailing journey in Turkey.
Contact Platin Yachting today to embark on an extraordinary yacht charter adventure and discover the magic of Turkey's coast in unparalleled style and comfort.
Yacht Charter Destinations
Yacht charter in Turkey offers a fantastic opportunity to explore the country's stunning coastline, historical sites, and vibrant culture while enjoying the luxury and freedom of a private yacht. Here's some information about yacht charter in Turkey:
Types of Yachts: In Turkey, you can find a wide range of yachts available for charter, including motor yachts, sailing yachts, and traditional gulets. Motor yachts provide speed and comfort, while sailing yachts offer a more traditional and serene experience. Gulets, wooden sailing vessels unique to the region, provide a blend of authenticity and modern amenities.
Charter Destinations: Turkey boasts a diverse coastline with numerous charter destinations. Popular areas include the Bodrum Peninsula, Gocek, Fethiye, Marmaris, and Kas. Each region offers its own unique attractions, such as ancient ruins, secluded coves, and lively coastal towns.
Charter Seasons: The main charter season in Turkey runs from May to October, with July and August being the peak months. During this time, the weather is warm and sunny, perfect for swimming and enjoying outdoor activities. The shoulder seasons of May, June, September, and October offer milder temperatures and fewer crowds.
Itinerary Options: Yacht charters in Turkey allow for flexible itineraries tailored to your preferences. You can explore ancient sites like Ephesus, visit picturesque islands such as Rhodes or Symi in Greece, anchor in secluded bays for swimming and snorkeling, or enjoy vibrant nightlife in coastal towns.
Crewed vs. Bareboat Charters: Yacht charters in Turkey can be either crewed or bareboat. Crewed charters include a professional crew, such as a captain, chef, and deckhands, who handle navigation, meals, and yacht maintenance. Bareboat charters are for experienced sailors who prefer to captain the yacht themselves, taking full responsibility for navigation and onboard operations.
Charter Services: Yacht charter companies in Turkey provide comprehensive services to ensure a smooth and enjoyable experience. They assist with yacht selection, itinerary planning, provisioning, and can arrange additional services such as airport transfers, water sports equipment, and guided excursions.
Turkey's Highlights: Yacht charters in Turkey offer the opportunity to visit iconic destinations like the Turquoise Coast, known for its crystal-clear waters and stunning landscapes. Other highlights include exploring the Lycian coast, visiting the ancient city of Knidos, and experiencing the vibrant nightlife of Bodrum.
Local Cuisine and Culture: While on a yacht charter in Turkey, you can indulge in delicious Turkish cuisine, which combines Middle Eastern and Mediterranean flavors. Don't miss the chance to sample traditional dishes like kebabs, mezes, and Turkish sweets. Immerse yourself in the local culture by visiting markets, interacting with friendly locals, and experiencing traditional customs and festivals.
When planning a yacht charter in Turkey, it's advisable to work with reputable yacht charter companies or brokers who can guide you through the process, provide expert advice, and ensure a memorable and hassle-free experience.
Remember to check local regulations, have appropriate sailing certifications if opting for a bareboat charter, and be mindful of environmental conservation practices while enjoying Turkey's breathtaking coastal beauty.