Motoryacht Charter Platin Yachting Sets New Standards in Motor Yacht Charter in Turkey (Bodrum, Marmaris, Fethiye) and Greece
Platin Yachting, the leading authority in luxury yacht experiences, is making waves in the industry with its unparalleled motor yacht charter services in Bodrum, Marmaris, Fethiye (Turkey), and Greece. With a commitment to excellence and a fleet of exquisite motor yachts, Platin Yachting offers a level of luxury and adventure that surpasses all expectations.
Luxury Onboard
Prepare to be enchanted by the exceptional fleet of motor yachts meticulously designed to provide the utmost in comfort, elegance, and style. Each vessel boasts opulent interiors, state-of-the-art amenities, and spacious decks that serve as the perfect backdrop for indulging in the luxury lifestyle. Immerse yourself in the world of plush furnishings, fine craftsmanship, and an ambiance that exudes sophistication.
Cruise to Captivating Destinations
Embark on an unforgettable voyage through the scenic Turkish and Greek coastlines, where every stop reveals a new adventure. From the vibrant streets of Bodrum to the tranquil beauty of Fethiye's Blue Lagoon, from the historical wonders of Marmaris to the enchanting Greek Isles, each destination offers a tapestry of experiences waiting to be explored. Dive into crystal-clear waters, stroll along pristine beaches, and immerse yourself in the rich cultures and histories that make these locations truly remarkable.
Tailored to Your Desires
Platin Yachting understands that every journey is unique, and they go above and beyond to curate personalized experiences that cater to your desires. Whether you crave adventure, relaxation, or a blend of both, their expert team will craft an itinerary tailored specifically to your preferences. Engage in thrilling water sports, enjoy tranquil moments in secluded coves, or savor delectable gourmet cuisine prepared by world-class chefs. Platin Yachting ensures that every moment is designed to create memories that last a lifetime.
Unmatched Service and Hospitality
Step into a world of unparalleled service as Platin Yachting's professional and attentive crew members cater to your every need. From the skilled captains navigating the stunning coastlines to the dedicated staff providing discreet assistance, the team at Platin Yachting prides itself on creating an atmosphere of comfort, relaxation, and personalized attention. Sit back, relax, and let their hospitality elevate your journey to new heights.
Book Your Unforgettable Adventure
Don't miss the opportunity to embark on a luxurious motor yacht charter with Platin Yachting. Contact their experienced team today to start planning your bespoke journey through the captivating landscapes of Bodrum, Marmaris, Fethiye (Turkey), and Greece. Whether you're seeking a romantic escape, a family vacation, or a corporate retreat, Platin Yachting guarantees a voyage that will exceed all expectations and leave you with memories to cherish forever.
Platin Yachting invites you to experience the epitome of luxury and adventure with their motor yacht charter services in Bodrum, Marmaris, Fethiye (Turkey), and Greece. Discover a world of opulence onboard their meticulously designed yachts, explore captivating destinations, and indulge in unparalleled service and hospitality. Your dream voyage awaits contact Platin Yachting today and embark on a remarkable journey that will redefine your perception of luxury yacht charters.
Motor yacht charter refers to the rental or hiring of a motor yacht for a specified period, typically for leisure purposes. It allows individuals, families, or groups to enjoy a luxurious and personalized experience on the water, exploring various destinations and enjoying the amenities and services provided by the charter company.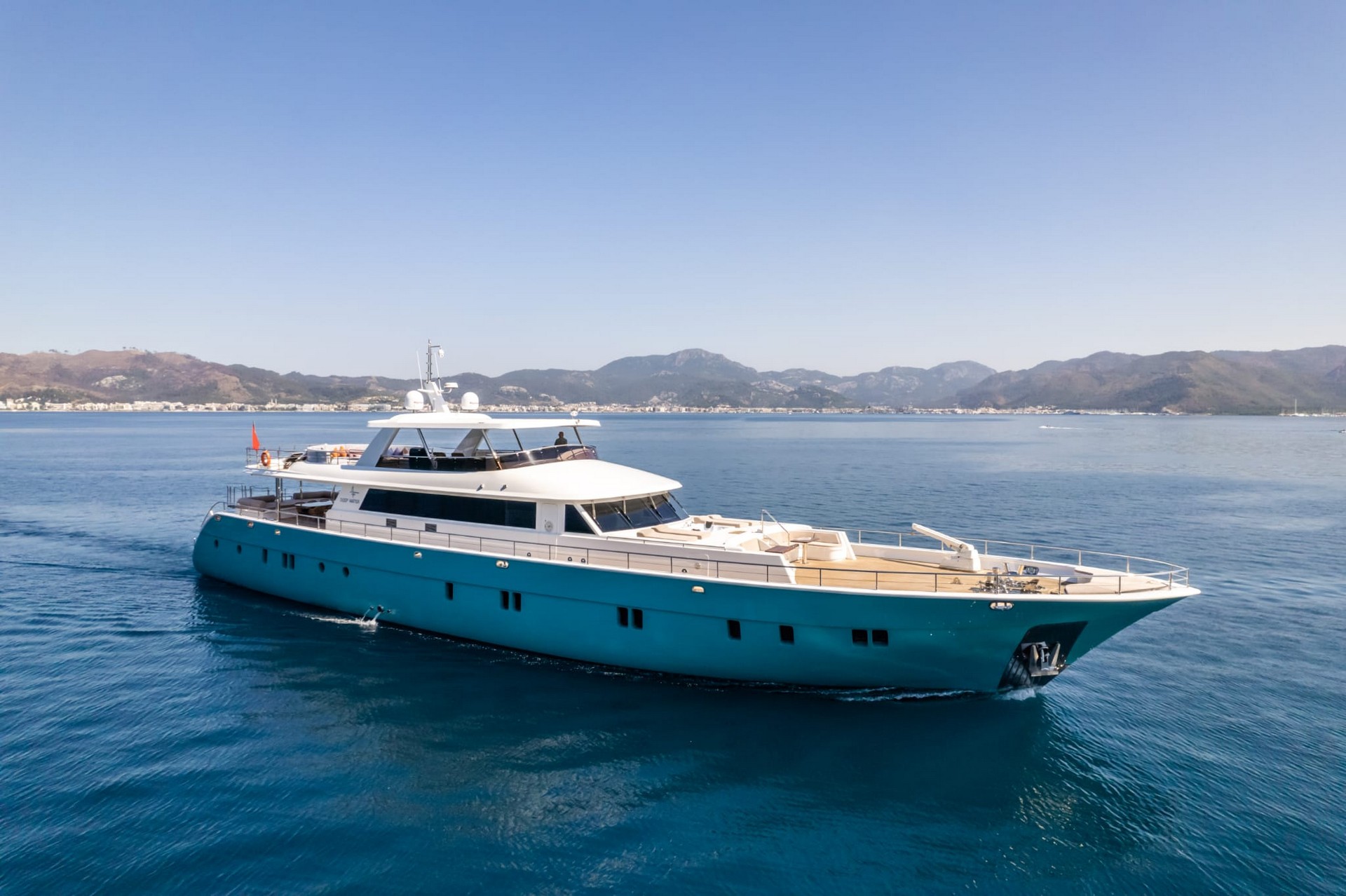 When chartering a motor yacht, clients have the opportunity to select from a range of motor yachts, each offering different sizes, styles, and onboard facilities. Motor yachts are powered by engines, providing them with greater speed and maneuverability compared to sailing yachts. They often feature luxurious cabins, spacious decks, dining areas, lounges, entertainment systems, and other amenities to ensure a comfortable and enjoyable journey.
The process of motor yacht charter involves selecting a desired destination, determining the duration of the charter, and choosing the specific motor yacht that best suits the client's preferences and requirements. Charter companies, such as Platin Yachting, assist in planning the itinerary, providing professional crew members (including captains, deckhands, and chefs), and ensuring that all necessary arrangements, such as provisioning and logistics, are taken care of.
During the charter period, clients have the freedom to explore different coastal areas, islands, and ports, according to the agreed-upon itinerary. They can engage in a variety of activities, including swimming, snorkeling, water sports, and shore excursions, while enjoying the comfort and luxury provided by the motor yacht.
Motor yacht charter offers a unique and exclusive way to experience the beauty of the sea and coastal destinations, providing the freedom to tailor the journey to individual preferences and creating unforgettable memories on a private floating sanctuary.
Popular Charter Destinations