Yacht Holiday
Yacht Holiday It is very important for everyone to have an affordable and nature holiday in the summer months. All year, our bodies become alienated from their own nature among concrete and high-rise buildings. We recommend you to take advantage of sea holidays to relieve your tiredness and experience the relaxation your body needs. Surrounded by sea on 3 sides, Turkey is a holiday destination for many people from all over the world. Aegean and Mediterranean coasts come alive in the summer months and welcome local and foreign tourists from many different cultures. Turkey is a wonderful holiday destination for millions of people who want to relax and witness the magnificent nature. Would you like to spend your holiday both in touch with nature and in a private area for yourself? If your answer is yes, Yacht Holiday service of Platin Yachting is just for you…
Platin Yachting offers many different boat rental services for holiday lovers who want to experience the nature of Turkey on the open seas or in undiscovered bays. Would you like to enjoy the sea and the sun with your friends or family on private boats? If your answer is yes, you can get detailed information on the website by clicking on the link. https://www.platinyachting.com/
You can yacht Holiday many different types of yachts on Platin Yachting and choose the boat that suits you among the options. While doing this, you can benefit from images and compare prices. The types of yachts you can rent from Platin Yachting are as follows:
Gulets,
Bareboats,
Motor Yachts,
Trawler.
You can reach the difference and detailed information of these yachts via the link (https://www.platinyachting.com/yacht-charter-turkey/).
Gulets
Gulets are small 2-masted boats. Gulets, whose lengths vary between 14-35 meters, are generally used for touristic trips. Relatively small and simple gulets can easily reach unexplored bays and small beaches. To find the gulet suitable for you, you can follow the link and examine the features of the gulets. https://www.platinyachting.com/yacht-type/gulets/
Bareboats
Bareboats are small sailing yachts. The biggest difference of bareboats from other yachts is that they are chartered without a crew and without personnel. Do you want to organize your holiday completely yourself and take care of all kinds of work on the yacht by yourself? If your answer is yes, bareboats are for you. Choose the bareboat you want, make a reservation, enjoy the nature of the sea freely. https://www.platinyachting.com/yacht-type/bareboats/
Motor Yachts
Motor yachts are motorized watercraft. They use fuels such as gasoline or diesel for transportation. The cabins of Motor Yachts are generally comfortable and luxurious. Thanks to their large cabins, they serve a comfortable and stylish holiday opportunity to large families and groups of friends. You can easily rent a motor yacht you like from Platin Yachting. https://www.platinyachting.com/yacht-type/motor-yachts/
Trawler
Trawlers are yachts that were originally produced for use in fishing activities. They are usually made of wood and are ideal for those who want to spend a long time at sea. Trawlers can be simple and small, or they can be luxurious and modern. You can click on the link to view the trawlers on Platin Yachting. https://www.platinyachting.com/yacht-type/trawler/
Yacht Holiday: Exploring Turkey and Greece in Style

A yacht holiday is the epitome of luxury and freedom, offering an unparalleled experience of indulgence, relaxation, and exploration. Imagine cruising along the stunning coastlines of Turkey and Greece, visiting idyllic islands, anchoring in secluded bays, and basking in the beauty of the turquoise waters. In this blog post, we will delve into the essence of a yacht holiday, the magnificent destinations it encompasses, the duration needed, the types of yachts available, and the unique experiences that await.
Unveiling the Charms of Turkey and Greece:
A yacht holiday allows you to embark on a remarkable journey through the enchanting waters of Turkey and Greece, two countries renowned for their captivating landscapes, rich history, and warm hospitality. Here are some of the incredible destinations you can explore:
Turkey:
Bodrum: Known for its ancient ruins, vibrant nightlife, and stunning marina, Bodrum offers a perfect starting point for your yacht adventure.
Marmaris: Surrounded by picturesque bays and verdant landscapes, Marmaris boasts a vibrant atmosphere and serves as a gateway to the mesmerizing Greek islands.
Fethiye: Nestled along the Turquoise Coast, Fethiye captivates with its pristine beaches, turquoise waters, and the famous Blue Lagoon.
Greece:
Rhodes: Explore the medieval charm of Rhodes with its ancient city walls, stunning beaches, and historical sites.
Symi: Discover the neoclassical beauty of Symi, adorned with colorful houses and a picturesque harbor.
Kos: Indulge in the vibrant atmosphere of Kos, known for its ancient ruins, sandy beaches, and lively town.
Duration of a Yacht Holiday:
The duration of a yacht holiday can vary depending on your preferences and the destinations you wish to explore. A week-long itinerary is a popular choice, allowing ample time to visit multiple destinations, indulge in water activities, and soak in the local culture. However, shorter or longer durations can be tailored to your specific needs, ensuring a personalized experience that suits your preferences.
Types of Yachts for Your Dream Voyage:
Yacht holidays offer a diverse range of vessels to suit every preference and group size. Here are some common types of yachts available for charter:
Gulets: Traditional wooden sailing vessels that blend authentic charm with modern comforts, providing a unique and classic experience.
Motor Yachts: Sleek and powerful vessels equipped with engines, offering faster cruising speeds and luxurious amenities.
Catamarans: Multihull yachts known for their stability, spaciousness, and comfort, ideal for those seeking a balance of performance and relaxation.
Sailboats: Elegantly designed vessels that harness the power of the wind, allowing you to experience the art of sailing while enjoying the comforts of a modern yacht.
Price Considerations:
The cost of a yacht holiday varies depending on several factors, such as the type and size of the yacht, the duration of the charter, the destination, and the time of year. Prices can range from a few thousand euros to tens of thousands of euros per week. It is advisable to consult with reputable yacht charter companies like Platin Yachting to obtain accurate and up-to-date pricing information based on your specific requirements.

Yacht holiday in Turkey and Greece is a dream come true for those seeking a luxurious and unforgettable experience. From the mesmerizing coastlines of Turkey to the enchanting Greek islands, every moment spent on board your private yacht will be filled with beauty, relaxation, and exploration. Whether you choose to sail for a week or longer, the memories you create and the destinations you discover will leave an indelible mark on your soul. So, set sail on the journey of a lifetime and let the magic of the Mediterranean embrace you.
Embark on an Unforgettable Yacht Holiday: Explore Bodrum, Marmaris, Fethiye, and the Enchanting Greek Islands
 Experience the Ultimate Mediterranean Adventure on a Luxurious Yacht
BODRUM – MARMARIS – FETHIYE – GREEK ISLANDS: Set your sights on the breathtaking coastlines of Bodrum, Marmaris, Fethiye, and the captivating Greek islands, as a yacht holiday promises an extraordinary and unforgettable Mediterranean adventure. With the azure waters as your playground and a luxurious yacht as your vessel, prepare to indulge in unparalleled beauty, discover hidden gems, and create cherished memories along the way.
Explore the Turkish Riviera:
Begin your journey in Bodrum, a picturesque town steeped in history and charm. Admire the impressive Bodrum Castle, stroll through the narrow streets of the old town, and immerse yourself in the vibrant atmosphere of its marina. From there, set sail to Marmaris, renowned for its stunning bays and vibrant nightlife. Discover the enchanting beauty of Fethiye, with its turquoise waters, secluded coves, and the famous Blue Lagoon. Each destination along the Turkish Riviera offers a unique blend of natural wonders, rich culture, and warm hospitality.
Venture into the Greek Islands:
As you sail from the Turkish coast, prepare to be captivated by the allure of the Greek islands. From Kos to Rhodes, Symi to Kalymnos, each island presents its own charm and beauty. Explore the medieval streets of Rhodes Old Town, indulge in the vibrant atmosphere of Kos, and soak in the neoclassical elegance of Symi. Discover pristine beaches, visit ancient ruins, and savor the flavors of Greek cuisine, all while immersing yourself in the rich history and vibrant culture of these idyllic islands.
Luxury Onboard:
Your yacht holiday will be filled with the utmost luxury and comfort. From sleek motor yachts to traditional wooden gulets, a wide range of yachts are available for charter, catering to your preferences and group size. Bask in the spacious and elegantly appointed cabins, savor gourmet meals prepared by talented chefs, and enjoy the personalized service provided by a professional crew. Dive into the crystal-clear waters, relax on sun-kissed decks, and take in the panoramic views of the Mediterranean's stunning landscapes.
Creating Unforgettable Memories:
Whether you choose to swim in secluded bays, explore ancient ruins, or simply unwind on pristine beaches, a yacht holiday in Bodrum, Marmaris, Fethiye, and the Greek islands offers endless opportunities for adventure and relaxation. Dive into the vibrant underwater world, partake in exhilarating water sports, or simply bask in the tranquility of remote anchorages. Every moment spent on board your private yacht will be a treasure, with unforgettable sunsets, cultural discoveries, and cherished memories that will last a lifetime.
Plan Your Yacht Holiday:
To embark on this remarkable Mediterranean adventure, consult with reputable yacht charter companies, such as Platin Yachting, who specialize in creating bespoke itineraries tailored to your preferences. From the planning stage to the journey itself, their expertise ensures a seamless and unforgettable yacht holiday.
Prepare to be enthralled by the beauty of Bodrum, Marmaris, Fethiye, and the Greek islands. The Mediterranean awaits, offering a yacht holiday that will exceed all expectations and leave you with memories to cherish forever.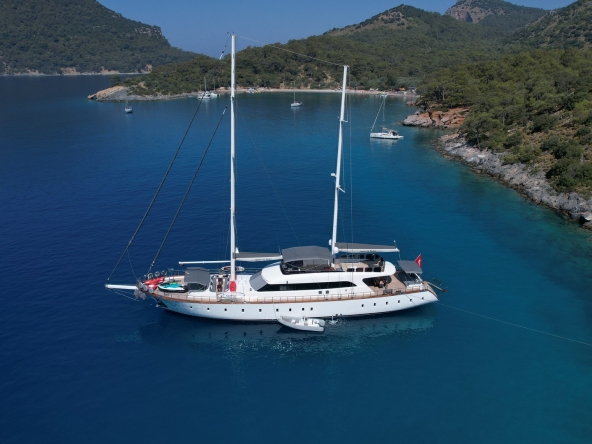 Unique Bays to Explore with Blue CruisesUnique Bays to Explore with Blue Cruise in Turkey The...