Gulet Charter Prices
Gulet Charter Prices Turkey Greece Do you like to explore the magnificent Aegean coasts with Platin Yachting & Sailing? If your answer is yes, you can charter your own Gulet and start enjoying your blue voyage. We seem to hear you wondering how much this blue vacation will cost you. We would like to say in advance that Gulet Charter Prices are much more advantageous than many hotels.
Gulet Charter Prices Video
The Gulet Fleet Turkey Greece that we operate is for many different types of customers:
Small family groups
Large groups of friends
Couples
In addition, much more…
If you want to explore the Aegean Coasts in a comfortable mood and enjoy the highest level of comfort and privacy, you can easily prefer Platin Yachting & Sailing.
Our Gulet Charter options are divided into categories so that you can find the best Gulet that matches your criteria. Each Gulet and the group has its characteristics. 
Gulet categories lend assistance to you clearly understand the differences in prices and the service you are purchasing.
As of Platin Yachting & Sailing, we offer you Gulet Charter options from three different categories: standard, luxury, and deluxe.
While determining three different Gulet categories Turkey Greece, the features you see below were taken into consideration:
Size
Length
Service quality
Indoor comfort
Water sports
Number of Activities
Number of cabins and bathrooms
For example, standard Gulets often have smaller cabins, less space on the deck, and fewer private amenities compared to five-star hotels or deluxe Gulets.
Luxury or Deluxe Gulets are larger and have more rooms and bathrooms. They offer you luxury facilities such as a Jacuzzi and various water sports on the deck. It has the highest standards to add extra value to your moments. For more information about this Gulet group, you can visit the Deluxe Gulet page.
Standard (Economic and Air-conditioned) Gulet Prices
If you want to spend an economic blue holiday, this Gulet category is for you! 
Economic and air-conditioned Gulets with more modest interior equipment are our most affordable Gulet collection Turkey Greece. Although it has a smaller size and length, every moment you spend in the blended areas of blue and green will remain a beautiful memory in your mind.
Luxury or Deluxe Gulet Prices
The Luxury Gulet section is the number one choice for those who want to spend their holidays on a more equipped Gulet, but do not want to increase their budget too much.
Platin Yachting & Sailing has nearly 30 luxury Gulet options. All luxury Gulets have rich spaces of different qualities and tastefully decorated interiors. Enjoying your summer vacation in the blue waters of the Aegean on a luxury Gulet you have chartered will be one of the best decisions you have made. For more information about Deluxe Gulets, you can visit this page.
Contact Us
Gulet Charter Prices of Platin Yachting & Sailing vary according to the Gulet and Gulet category you choose. We recommend that you carefully examine our pages to decide the Gulet that best suits your budget and sense of vacation.
For more information, you can contact us from this page.
Gulet Charter Destinations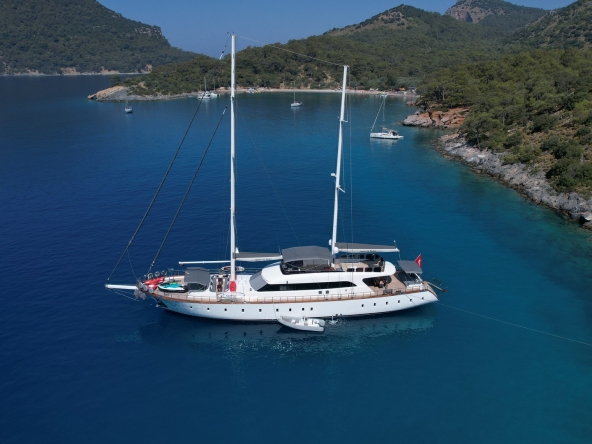 Unique Bays to Explore with Blue CruisesUnique Bays to Explore with Blue Cruise in Turkey The...
Platin Yachting, a leading yacht charter company renowned for its premium services, has recently unveiled its highly anticipated gulet charter prices, making luxurious seafaring adventures more accessible than ever before. With an impressive fleet of handpicked gulets, Platin Yachting aims to offer unparalleled experiences to those seeking unforgettable vacations along the mesmerizing coastlines of Turkey and Greece.
Gulets, traditional wooden sailing vessels known for their spaciousness, elegance, and charm, have become increasingly popular among travelers seeking a unique and luxurious way to explore the captivating Mediterranean waters. Platin Yachting's extensive selection of gulets caters to a variety of group sizes and preferences, ensuring a tailor-made experience for each guest.
The recently released gulet charter prices by Platin Yachting promise to deliver exceptional value without compromising on quality. Whether for a family vacation, a romantic getaway, or a corporate event, Platin Yachting offers a range of gulet charter options to suit different budgets and requirements.
For those seeking a lavish experience, the company's premium gulet options boast spacious cabins, luxurious amenities, and professional crew members dedicated to providing impeccable service. Platin Yachting's gulets feature state-of-the-art facilities, including spacious sun decks, comfortable lounging areas, fully equipped kitchens, and elegant dining spaces where guests can savor gourmet meals prepared by onboard chefs.
Platin Yachting's gulet charter prices start at 700 € per day for a standard gulet, accommodating up to 10 guests comfortably. For those desiring an elevated experience, luxury gulets are available at prices ranging from €3,500 to €6,000 per day, accommodating larger groups and offering enhanced amenities such as Jacuzzis, water sports equipment, and opulent interiors.
Additionally, Platin Yachting provides the option for guests to personalize their gulet charter experience, with various add-ons available to create a customized itinerary. Guests can explore the enchanting Turkish Riviera, discover hidden bays and remote islands, or embark on cultural excursions to historic sites along the coast.
To ensure utmost convenience, Platin Yachting offers all-inclusive packages, encompassing accommodation, crew services, fuel costs, and harbor fees, providing guests with a worry-free vacation experience. The company's dedicated team of professionals is committed to tailoring every detail to match guests' desires and guarantee an extraordinary journey on the shimmering waters of the Mediterranean.
Platin Yachting Gulet Charter invites eager travelers and adventure seekers to embark on a once-in-a-lifetime gulet charter experience, promising cherished memories, breathtaking landscapes, and the ultimate luxury at competitive prices. With their unparalleled fleet, top-notch services, and customer-centric approach, Platin Yachting sets the stage for an unforgettable seafaring adventure.
For more information on gulet charter prices and reservations, please visit Platin Yachting's official website or contact their experienced team directly.
Contact Information:
Website: www.platinyachting.com
Phone: +90 546 454 28 58
Email: [email protected]
Disclaimer: The above prices are subject to change and may vary depending on the specific gulet, charter duration, and seasonal fluctuations.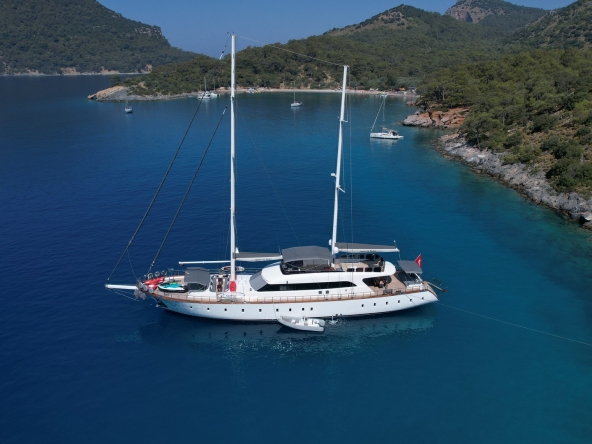 Unique Bays to Explore with Blue CruisesUnique Bays to Explore with Blue Cruise in Turkey The...