Gocek Gulet Charter
Göcek Gulet Charter Located in Muğla, Göcek is one of the best holiday destinations. With its beautiful nature and wonderful bays, lots of people visit Göcek each year. The best way to spend time in Göcek is gulet charter. By chartering the gulet, you can have a chance to visit views of the most beautiful tones of blue and green. As a pioneer gulet charter agency in Turkey, Platin Yachting offers you Göcek gulet charter. With our best gulets, you can experience an unforgettable times on the best sea route of the Aegean Sea. gocek gulet
Gocek Gulet Charter Video
Göcek offers its visitors wonderful nature as well as its spectacular sea. If you have decided to visit these landscapes, you will be needed our most modern gulets. Our gulets include five-star hotel comfort, experienced cabin crew and all technological equipments you may need.
Göcek Luxury Gulet Charter
To set another level for your holiday, you can choose Göcek luxury gulet charter. With the luxury gulets, you will have a chance to trip in the most comfortable gulets. Witnessing the unique nature of Göcek may be awesome, but witnessing it with our luxury gulets will be more awesome. Why you should choose our luxury gulets for your vacation. gocek gulet charter
The reasons why you should choose our luxury gulets:
Lots of cabin, WC, and bathrooms
Every technological equipment you may need
Five – star hotel comfort
Special foods prepared for your taste
If you don't want to be deprived of advantages on the above, our luxury gulets are waiting for you. In addition to this, you may want to more affordable holiday. For that Our standard gulets are waiting for people who want to spend an affordable trip without being deprived of our wonderful comfort. By visiting the address https://www.platinyachting.com/gulet-rental/ you can have more information about our gulets. gocek gulet charter
Gocek Gulet and Yacht Charter
Famous for its wonderful nature and awesome bays, Göcek is visited each year by thousands of tourists. With the Göcek gulet and yacht charter, you can experience a holiday that is hassle – free. When it comes to choose your gulet or yacht, there are some factors you should pay attention to.
When selecting the most suitable gulet or yacht for yourself, the first thing you should pay attention to is cabin room. In the next days of your travel, you may want to welcome your guests. So, you will have to need a gulet with lots of cabins. In addition to this, the number of WC and bathroom are the second thing you should pay attention to when choosing the gulet or yacht.
Gocek Gulet Charter Prices
Göcek gulet charter prices can vary depending gulet's features. For example, if you have decided on a luxury gulet, the prices will be higher. Also, factors like cabin room, bathroom ad WC number can be effective in gulet charter prices. To get more information, you can contact us from our numbers.
As a Platin Yachting, we offer you to most modern gulet trip in Göcek. If you have get more information to choose the most suitable gulet for your holiday, you can visit https://www.platinyachting.com/yacht-type/gulets/ address and see what our gulets offer for you.
Gocek Gulet Charter with Platin Yachting

Welcome to the serene coastal town of Gocek, located on the stunning Turquoise Coast of Turkey. Known for its crystal-clear waters, picturesque bays, and untouched natural beauty, Gocek is a haven for those seeking an unforgettable yacht charter experience. With Platin Yachting, renowned for their excellence in service and attention to detail, your Gocek gulet charter promises a journey of luxury, relaxation, and breathtaking exploration. Join us as we embark on a virtual voyage and discover the tranquility that awaits in Gocek.
Setting Sail: A Gateway to Paradise
As you step aboard your luxurious gulet with Platin Yachting, the journey begins in the charming harbor of Gocek. Departing from this idyllic coastal town, you'll be mesmerized by the turquoise hues of the Aegean Sea and the refreshing sea breeze that beckons you to explore the hidden treasures of this coastal paradise.
Gocek Bay: A Sailor's Delight
Gocek Bay, with its pristine azure waters and secluded coves, is a sailor's delight. Platin Yachting will guide you through this magnificent bay, revealing breathtaking anchorages where you can soak up the sun on the spacious deck, dive into the refreshing waters for a swim, or indulge in exhilarating water sports activities. Each day presents a new opportunity to discover a hidden gem within this coastal wonderland.
Twelve Islands: Nature's Masterpiece
Just beyond the shores of Gocek, the Twelve Islands await your exploration. Platin Yachting will take you on a journey through these mesmerizing islands, each offering its own unique charm. Discover stunning landscapes, secret beaches, and tranquil bays where you can unwind in nature's embrace. Swim in secluded coves, witness captivating sunsets, and immerse yourself in the serenity that envelops these pristine islands.
Yacht Comfort and Luxury
Platin Yachting ensures that your gulet charter experience in Gocek is nothing short of exceptional. The meticulously crafted gulets offer luxurious accommodations, elegant interiors, and top-of-the-line amenities. Relax in your spacious cabin, enjoy the panoramic views from the deck, and savor delectable meals prepared by the professional onboard chef. Platin Yachting's attentive crew is dedicated to providing personalized service, ensuring your every need is met with utmost care and attention.
Explore the Gocek Town: A Charming Escape
During your gulet charter, take time to explore the delightful town of Gocek itself. Stroll along its charming streets, discover local shops offering traditional crafts and souvenirs, and indulge in the flavors of Turkish cuisine at waterfront restaurants. Gocek provides a tranquil retreat where you can immerse yourself in the warm hospitality of the locals and experience the authentic charm of coastal Turkey.
Conservation and Sustainability: Preserving Paradise
Platin Yachting takes pride in their commitment to sustainable and responsible tourism. They work closely with local communities and organizations to protect the natural beauty of Gocek and its surroundings. By choosing a gulet charter with Platin Yachting, you contribute to the preservation of this pristine destination, ensuring its beauty remains for generations to come.
 Gocek gulet charter with Platin Yachting offers an escape to a world of tranquility, luxury, and natural beauty. From the captivating Gocek Bay to the enchanting Twelve Islands, each moment of your journey unveils a new facet of this coastal paradise. Immerse yourself in the peaceful embrace of the Aegean Sea, indulge in luxurious comforts, and create memories that will last a lifetime. Platin Yachting's unwavering dedication to excellence ensures that your Gocek gulet charter experience is truly extraordinary, leaving you with a profound sense of relaxation and wonderment.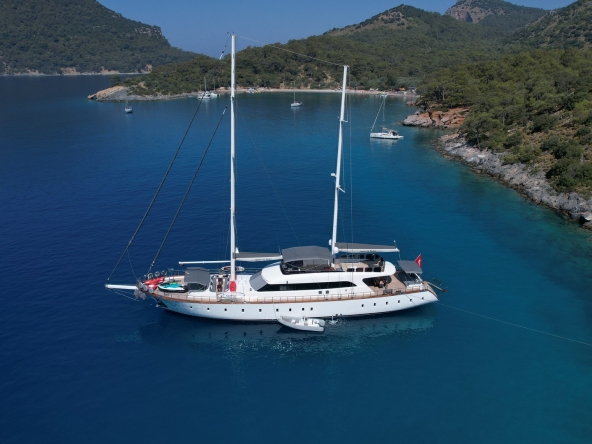 Unique Bays to Explore with Blue CruisesUnique Bays to Explore with Blue Cruise in Turkey The...