Deluxe Gulet Charter Do you want to have an incredible blue vacation adventure by chartering a luxury Gulet? Gulet is a type of boat that is unique to Turkey and particularly preferred at the Aegean and Mediterranean coasts. Blue holiday lovers frequently preferred Luxury Gulets due to the many benefits and comfort they offer to the users. For example, compared to standard Gulets, it offers more space and freedom to users, making their holidays more comfortable. You can review our deluxe Gulets from this page to decide what kind of choice you will make.
Deluxe Gulet Charter , designed with every need and comfort of the users in mind, offer you the magnificent sea holiday you have dreamed of. Since Deluxe Gulets have a larger size and interior volume, they are ideal for larger groups and those who want to enjoy luxury holiday comfort. Each cabin has a private bathroom and toilet, which provides private use and privacy. At Platin Yachting & Sailing, you can benefit from our Deluxe Gulet service.
Benefits of Deluxe Gulets
Luxury Gulets offer their users a much more comfortable holiday experience compared to other holiday options and Gulet types. We can shorten the benefits of luxury Gulets as follows:
Size: The capacity and size of luxury Gulets are quite large compared to other Gulets. The large space of the deck provides more activity options. Its huge capacities provide a luxurious holiday experience to all users.
Design: You can feel the extraordinary design concept of luxury Gulets in every detail during the time you spend in it.
Privacy: Each cabin has its own bathroom and these bathrooms are quite large. Private bathroom and toilet facilities enable you to have a healthier and more hygienic holiday experience.
VIP Cabin: Each Luxury Gulet has a VIP cabin that allows you to host your special guests.
Interior equipment: This type of Gulet has all kinds of technological equipment that users may need. LCD TV, DVD, and music system possibilities enhance the dose of entertainment and allow you to have unforgettable moments with your guests.
Deluxe Gulet Charter Video
Deluxe Gulet Early Booking
Platin Yachting's early booking opportunity starts from November – December and continues until the first weeks of the summer season.
Thanks to early booking:
You can charter the deluxe Gulet you want to charter at a much more affordable price.
By planning your holiday much earlier, you can avoid last-minute surprises.
While the discount rate you can benefit from is the highest in the first months of the campaign period, this rate decreases as the summer season approaches. Because, as the holiday season approaches, the interest in this type of vacation increases. 
Do not miss our early booking discount so that you can freely choose the dates of your holiday and benefit from discounted prices!
MAIN PORTS
Contact Us
The blue voyage you have always dreamed of is now closer than ever!
By chartering a Deluxe Gulet, you can have a wonderful sea vacation by taking advantage of all the privileges specially designed for Platin Yachting and Sailing users.
For more information about the Deluxe Gulet charter, you can contact us from this page.

A Deluxe Gulet Charter refers to a premium and luxurious experience offered aboard a gulet, which is a traditional wooden sailing vessel. Deluxe gulets are known for their high-end amenities, spacious cabins, elegant interior design, and exceptional service provided by professional crew members. These charters cater to those seeking an elevated level of comfort and luxury during their sailing vacation.
Joining a Deluxe Gulet Charter is typically done by contacting reputable charter companies or brokers specializing in luxury yacht rentals. These companies have a selection of deluxe gulets in their fleet and can assist in finding the perfect vessel based on your preferences, group size, desired itinerary, and budget. They will guide you through the booking process, handle the necessary paperwork, and address any additional requirements or inquiries you may have.
The average price of a deluxe gulet charter can vary depending on factors such as the size and specifications of the vessel, the duration of the charter, the time of year, and the chosen destination. Deluxe gulets generally have higher rates compared to standard or mid-range gulets due to their luxurious features and services. Prices can range from several thousand to tens of thousands of dollars per week. It's advisable to consult with charter companies or brokers to obtain accurate and up-to-date pricing information for deluxe gulet charters.
The main difference between a deluxe gulet and other types of gulets lies in the level of luxury and amenities offered. Deluxe gulets often feature larger sizes, more spacious cabins with en-suite bathrooms, air conditioning, and state-of-the-art entertainment systems. They may also include additional amenities such as jacuzzis, onboard bars, gym facilities, and lavish outdoor dining areas. The interior design of deluxe gulets is often meticulously crafted with high-quality materials, offering an elegant and sophisticated ambiance. Moreover, deluxe gulets usually have highly trained and professional crews who provide top-notch service, ensuring a seamless and luxurious experience for guests.
In contrast, standard or mid-range gulets may have simpler interiors, fewer amenities, and more modest accommodations. While they still offer a comfortable and enjoyable sailing experience, they may lack some of the extra features and luxurious touches found on deluxe gulets.
Ultimately, the choice between a deluxe gulet charter and other types of gulet charters depends on your personal preferences, budget, and the level of luxury you seek for your sailing vacation.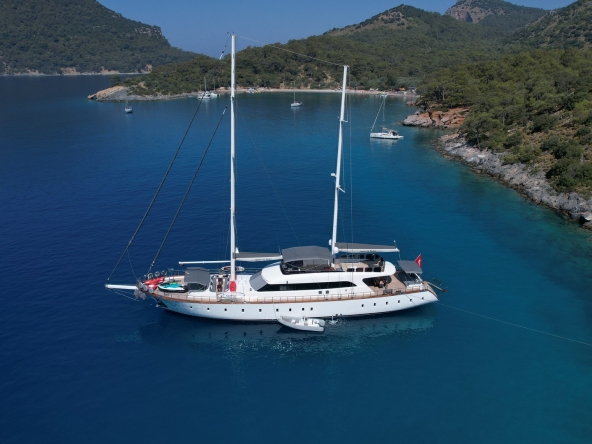 Unique Bays to Explore with Blue CruisesUnique Bays to Explore with Blue Cruise in Turkey The...