Bodrum Yacht Charter
Bodrum Yacht Charter People from different cultures from every country meet in the same yacht and leave it in the lap of the blue.
It is possible to explore the unique beauty by renting a yacht in Bodrum, swimming in calm and clean waters and diving into the depths of history. You can rent a yacht from the aquarium, Gumbet, Yalikavak, Tilkicik and many other seas.
Bodrum Yacht Charter Video
Yachting offers yacht charter service in Bodrum, offering the best size and quality yachts with the best price advantage. Our alternative yachts are at your service according to the criteria you have and the number of your group from 2 cabins to 15 cabins. Whether you want to rent a yacht in Bodrum or the Gokova Gulf, you can visit the nearby Greek Islands. Yachting team will always be at your side as far as your booking, from the airport, from your rented yachts, to your needs from your transfer.
Bodrum Yacht Charter; It is an ideal holiday option for our guests who want to make a special "Blue Voyage" with their family or friends' group. You can rent one of our crewed yachts and take advantage of the private yacht charter.
Bodrum houses are a corner of paradise where white houses and charming architects meet with citrus trees, turquoise blue waters, warm sunshine and fine sand. It is only 32 km from Bodrum Mila's Airport, which serves all tourism areas in the region. Bodrum has many natural and cultural riches as well as historical richness. There are many historical monuments in and around Bodrum such as Bodrum Castle, Mausolea Open Air Museum and ancient city in Gumusluk.
One of the most important centres of Turkish tourism is Bodrum, a very convenient way to explore yacht charters. You can reach each other by taking a beautiful blue-lap tour, you can enjoy the sea, the nature and the history. Blue tours of Bodrum, the number one choice for travellers and holidaymakers who seek calmness and peace but do not give up on fun while searching for it.
Bodrum yacht charter offers a remarkable opportunity to explore the captivating beauty of the Turkish coastline and the Aegean Sea. With its rich history, vibrant culture, and stunning landscapes, Bodrum serves as an ideal starting point for a yacht charter adventure. Here is detailed information about Bodrum yacht charter:
Yacht Options:
Bodrum yacht charters provide a range of yacht options to suit different preferences and group sizes. These include motor yachts, sailing yachts, and luxurious gulets. Motor yachts offer speed and comfort, sailing yachts provide a classic sailing experience, and gulets offer the charm of traditional Turkish wooden vessels with modern amenities.
Tailored Itineraries:
Yacht charters from Bodrum offer the flexibility of tailored itineraries to suit your desires. Whether you prefer to explore the stunning Bodrum Peninsula, visit nearby Greek islands, or embark on a longer journey along the Turkish coast, charter companies can assist in designing a customized itinerary that combines must-see destinations and hidden gems.
Bodrum Peninsula:
Embark on a yacht charter along the Bodrum Peninsula, and you'll discover an array of breathtaking bays, pristine beaches, and picturesque coastal towns. Visit popular destinations like Bitez, Gümüşlük, or Yalıkavak, each with its unique charm, cultural sites, and vibrant atmosphere. The Bodrum Peninsula offers a delightful blend of history, natural beauty, and coastal delights.
Greek Island Exploration:
For those seeking to expand their horizons, a Bodrum yacht charter offers the opportunity to venture into the enchanting Greek islands. Explore nearby islands such as Kos, known for its sandy beaches and ancient ruins, or venture further to the stunning Rhodes, with its medieval architecture and rich history. The Greek islands offer a captivating mix of culture, gastronomy, and idyllic landscapes.
Watersports and Activities:
Bodrum yacht charters provide a range of watersports and activities to enhance your experience. Dive into the crystal-clear waters for snorkeling or scuba diving adventures, glide along the coastline on a kayak, or try your hand at stand-up paddleboarding. The yacht's crew can also arrange fishing excursions, jet ski rentals, or arrange visits to popular watersports spots.
Culinary Delights:
Indulge in the culinary delights of Bodrum during your yacht charter. The region offers a rich tapestry of flavors, combining fresh seafood, locally sourced ingredients, and traditional Turkish cuisine. Sample delicious mezes, savor grilled fish, or indulge in a feast of Mediterranean dishes prepared by the onboard chef or experienced crew.
Historical and Cultural Sites:
Bodrum is steeped in history, and a yacht charter allows you to explore its ancient and cultural treasures. Visit the iconic Bodrum Castle, home to the Museum of Underwater Archaeology, which houses fascinating artifacts from ancient shipwrecks. Explore the ruins of the Mausoleum of Halicarnassus, one of the Seven Wonders of the Ancient World, or wander through the charming streets of Bodrum's old town with its whitewashed houses, boutique shops, and lively markets.
Experienced Crew and Services:
Bodrum yacht charters provide experienced crews who ensure your comfort, safety, and memorable experiences. The crew includes a captain, chef, and deckhands, who take care of navigation, meal preparations, and maintaining the yacht. They are knowledgeable about the local area, culture, and can provide insights into the best spots to visit and activities to enjoy.
Embarking on a Bodrum yacht charter promises an extraordinary journey of exploration, relaxation, and cultural discovery. The captivating beauty of the Turkish coastline, the charm of Bodrum, and the allure of nearby Greek islands make it an exceptional destination for yacht enthusiasts. Experience the freedom of the sea, indulge in luxury, and create unforgettable memories aboard a yacht charter from Bodrum.
Bodrum Yacht Charter with Platin Yachting
Discover the Beauty of the Aegean Sea in Style and Luxury
Are you ready to set sail on a remarkable journey along the captivating Turkish coastline? Look no further than Platin Yachting's Bodrum Yacht Charters. Immerse yourself in the allure of the Aegean Sea, experience the thrill of the open water, and indulge in luxury and comfort on a voyage tailored to your desires.
Luxury Yachts Designed for Your Pleasure:
Platin Yachting offers a fleet of meticulously maintained and luxurious yachts for your Bodrum yacht charter experience. Whether you prefer the elegance and speed of a motor yacht or the classic charm of a sailing yacht, our collection boasts an array of options to suit your style and preferences. Each yacht is equipped with modern amenities, spacious cabins, and a professional crew dedicated to delivering an unforgettable charter experience.
Tailored Itineraries to Unveil Hidden Gems:
Embark on a personalized journey with Platin Yachting's Bodrum Yacht Charters. Our experienced team will work closely with you to create a bespoke itinerary that reflects your desires and interests. Explore the stunning Bodrum Peninsula, discover secluded coves, visit charming coastal towns, or venture into the enchanting Greek islands. We ensure that every stop along the way unveils hidden gems, allowing you to immerse yourself in the region's rich history, natural beauty, and vibrant culture.
Unparalleled Luxury and Service:
At Platin Yachting, we believe in delivering a luxurious and unforgettable experience. From the moment you step aboard, our professional crew will cater to your every need. Indulge in gourmet cuisine prepared by our skilled chefs, sip on refreshing cocktails on the spacious deck, and unwind in comfortable cabins designed for your relaxation. Our crew's expertise and attention to detail ensure that your journey is seamless, allowing you to focus on creating cherished memories.
Activities to Delight Every Adventurer:
A Bodrum yacht charter with Platin Yachting offers a world of activities to delight every adventurer. Dive into the crystal-clear waters for snorkeling or scuba diving excursions, glide along the coast on kayaks or paddleboards, or simply bask in the sun on the deck, taking in the panoramic views. For those seeking a taste of thrill, our crew can arrange jet ski rentals, fishing expeditions, or watersports excursions tailored to your preferences.
Unveil Bodrum's Treasures:
Bodrum is a treasure trove of historical and cultural wonders, and our yacht charters allow you to explore its hidden gems. Visit Bodrum Castle, a majestic fortress housing the Museum of Underwater Archaeology, and delve into the city's rich maritime heritage. Wander through the charming streets of Bodrum's old town, immerse yourself in the vibrant atmosphere of its markets, and discover the remnants of ancient civilizations at historical sites like the Mausoleum of Halicarnassus.
Embark on an Unforgettable Journey:
Platin Yachting invites you to embark on an unforgettable journey of luxury and adventure with our Bodrum Yacht Charters. Allow the Aegean Sea to be your guide, and let our expertise and passion for sailing create a personalized experience that exceeds your expectations.
Visit our website or contact us today to begin planning your Bodrum yacht charter with Platin Yachting. Set sail on a voyage that combines luxury, exploration, and relaxation, and create memories that will last a lifetime.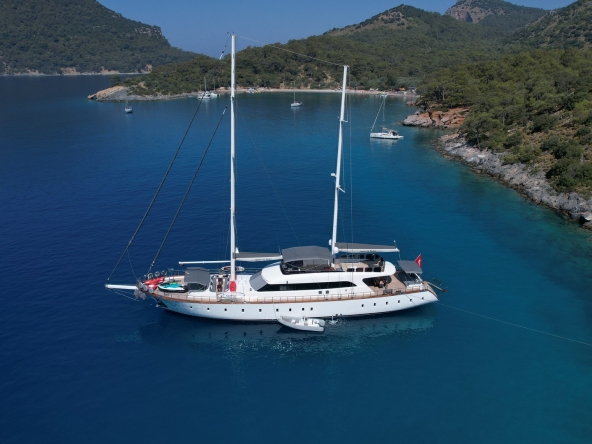 Unique Bays to Explore with Blue CruisesUnique Bays to Explore with Blue Cruise in Turkey The...