Gulet Charter and Blue Cruise in Turkey
Gulet Charter and Blue Cruise in Turkey One of the preferred choices for those seeking a luxurious, exclusive, and comfortable holiday is chartering a gulet. The most popular gulets for blue cruises are traditional wooden sailboats commonly found in the Aegean and Mediterranean regions. These yachts are suitable for blue cruises in the Aegean, Mediterranean, and even for tours abroad. Gulets are produced to suit all budgets, offering a wide range of options. From economical gulets to luxury and deluxe ones, they provide the opportunity to experience an unparalleled vacation with their services.
By renting a gulet and embarking on a blue cruise, you can discover many different things depending on the routes you take. Our country is highly suitable for blue cruises, and each moment of this journey will be filled with unique beauty. During the blue cruise with a gulet, you will not only have fun but also enjoy a truly luxurious and comfortable holiday experience.
What is a Gulet?
A gulet is the name given to traditional wooden sailboats specific to the coasts of the Aegean and Mediterranean. These gulets, built in traditional architecture, are wooden, motorized, and sail-equipped yachts. The construction of these yachts first began in Bodrum. They are generally used for blue cruises near the coast but are also suitable for long sea voyages. Gulets, with their spacious and comfortable cabins and living areas, are an ideal choice for those seeking a comfortable holiday. Nowadays, gulets are produced in Bodrum, Fethiye, Bozburun, Marmaris, and Istanbul.
Types of Gulets
Gulet yachts are the most preferred type for blue cruises. Nowadays, gulets are produced in various forms. At the back of the gulet, there is a seating area and a dining table. At the front, there are cushions and sofas for customers to sunbathe. Additionally, depending on the size of the gulet, each gulet has a closed salon and a dining table. There are several common types of gulets: "Karpuz kıç" (watermelon stern), "aynalı kıç" (mirrored stern), and "tirhandil" gulets. Each of these gulet types has its own advantages and is suitable for use in different coasts.
Economical and Air-Conditioned Gulets
Many people today prefer gulets for their vacations. Gulet holidays offer comfort and numerous advantages. They are a popular choice to maximize enjoyment during holidays. However, due to the high prices of gulet charters, many people either give up on the idea of a gulet holiday or never consider it in the first place. Yet, the economic aspect is not a restricting factor for having a gulet holiday. There are gulet yachts that are affordable and can be chartered with relatively lower budgets. Economical gulets are usually older yachts with a length ranging from 17 to 50 meters. They typically have a minimum of 3 cabins and can have more. Economical gulets are favored by many people due to their reasonable prices. They offer a budget-friendly holiday opportunity for families or groups of friends. These gulets often come equipped with air-conditioning for use in hot weather, although there may be certain limitations on its usage
Luxury Gulet
Luxury gulets are yacht types that offer much more amenities than regular boats. These gulets are quite expensive and equipped with all the facilities required for a luxurious lifestyle. One of the essential features of these gulets is the presence of private bathrooms and toilets in each cabin for the guests' comfort. The interior of luxury gulets is elegantly designed, and they provide various entertainment options such as TV, music player, DVD, etc., for your leisure time. These yachts come with a crew that will assist you with all your needs. Another significant advantage of luxury gulets is the availability of air-conditioning that operates day and night. Furthermore, with navigation devices on board, you can have a safe journey. Luxury gulets, equipped with all kinds of exclusive amenities, offer a 5-star hotel comfort.
De-Luxe Gulet
De-Luxe Gulets are yachts preferred by those who seek a luxurious and comfortable holiday. These yachts come with every possible amenity you can imagine. De-Luxe gulets are better equipped than luxury gulets and have fewer cabins, ensuring spaciousness. The cabins are large, and they provide the ultimate luxury experience. Each cabin is equipped with facilities like WC, bathroom, kitchen, mini-bar, TV, DVD, and some cabins even have a jacuzzi and a seating group. De-Luxe gulets have larger sunbathing and seating areas compared to other gulet types, providing an enjoyable and pleasurable holiday experience. With their discreet and peaceful atmosphere, these gulets allow you to have a tranquil and serene vacation. The crew of De-Luxe gulets will be there to fulfill all your needs, and you can plan your own holiday itinerary during the blue cruise with De-Luxe gulets.
Vip Gulet
Exclusive gulets are ultra-luxury gulets. They belong to a class that offers the highest quality and most luxurious services. These yachts come with all the equipment necessary for a comfortable holiday. You will find everything you need for leisure time, such as TV, internet connection, and snorkeling equipment for fishing. These yachts have a vast space, making them suitable for accommodating multiple people. If you want a unique and delightful holiday experience, you should choose exclusive gulets.
How to Rent a Gulet?
In recent times, the concept of blue cruises has gained popularity, and many people consider taking a vacation with a blue cruise. Gulets are widely preferred for blue cruises. In our country, gulets have been produced in different forms for many years, and renting one is quite simple. With the increasing production of gulets in our country, it has become possible to rent a gulet suitable for every budget. If you are considering renting a gulet, the first thing you need to do is determine your budget for the charter. Once you have a budget in mind, you can find a gulet that fits your budget and get in touch with the companies to charter your gulet. The most crucial point to consider when renting a gulet is to choose a reliable company. A reputable and trustworthy company will prevent any problems during your blue cruise.
Experience a Blue Cruise with a Gulet
In our country, which is ideally located for blue cruises, renting a gulet allows you to encounter turquoise bays, lush forests, numerous ancient cities, and historical structures. With various types of gulets available for every budget, you can have an extraordinary vacation experience and fully enjoy your blue cruise. By exploring suitable gulet options, you can have an unforgettable holiday experience with private design gulets offering a 5-star hotel comfort.
The gulets, frequently preferred for blue cruises, are eye-catching with their unique structures. With these distinctive and comfortable yachts, you can explore the magnificent bays of the Aegean and Mediterranean and enjoy the crystal clear waters to the fullest. You can experience an unforgettable vacation with specially designed gulets that cater to every budget, providing a 5-star hotel comfort
Blue Cruise Gulet Charter Destinations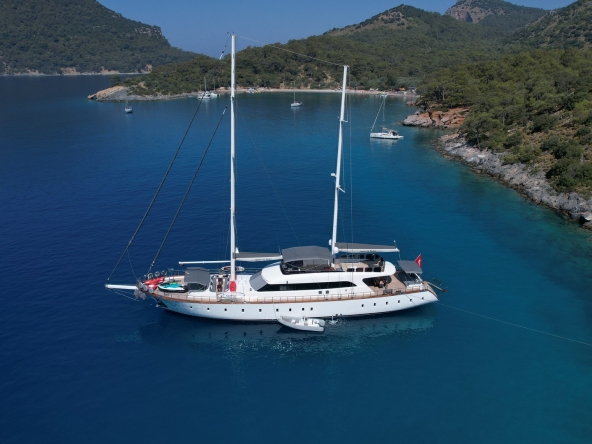 Unique Bays to Explore with Blue CruisesUnique Bays to Explore with Blue Cruise in Turkey The...