What is Gulet
What is Gulet We wanted to introduce you to the most popular and beloved yacht, namely the Gulet, when it comes to visiting bays and enjoying the sea. Let us start with the etymology of the word 'gulet' so that we get overall information about it without a single missing part. This word origins from the word 'goleta' in Venetian. However, it is also stated that this word 'goleta' was obtained by the Venetians from the French word 'gouëlette' that has the meaning of French Uskuna.
Gulet Charter Destinations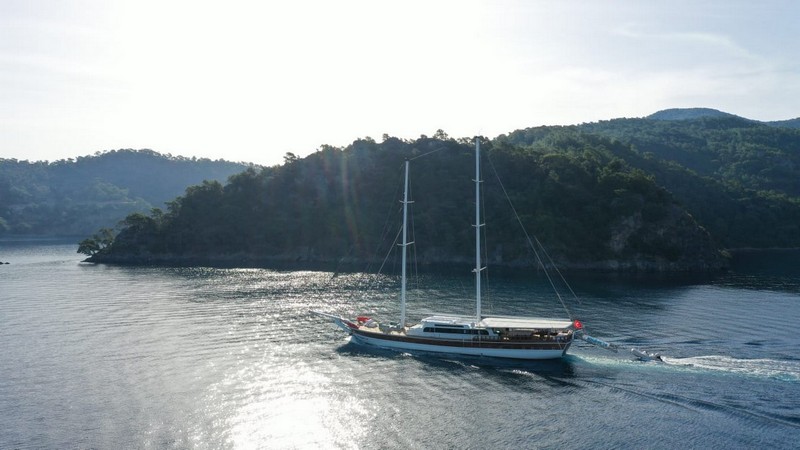 The word 'gouëlette', stems from the word 'gouelan' with the meaning of Breton Seagull. The very first meaning of the word 'gulet' is actually very interesting since it is in a big relation with the blue seas and the beautiful nature. Apart from the etymology, the gulet has been a boat type appropriate for various activities such as fishing and transportation. Besides, sponge-makers were using the gulet thanks to its functionality. Now that we have come to an end with the answer to the question 'what is gullet?!
How Gullets Gained Popularity
After answering the question 'what is gulet?', lets continue with the history of it. The gulet started to serve for mercantile purposes at the very beginning. However, the blue voyage gained popularity among the country's intellectuals and later in the world; thanks to the development and significant increase in the shipyard and ship production in the 1970s. With the increase in production, the interest in gullets has been enhanced as well since it was not only affordable why rich people anymore. The blue cruise was catering for everyone and at the end of the 1980s, various entertaining azure blue sea activities were made on gullets. Now that we have got knowledge about the history of gullets,
what is Gulet ?
Different from the past designs that gullets had, their construction has been adjusted to the modern devices, motors, and equipment. Diesel engines are attached yet the wooden appearance is kept so that the authentic signature of a gulet is never lost. Preserving its traditional wooden style, gullets serve with various features and facilities which is the reason why it is so much preferred.
What is Gulet and its types?
There are three gulet types that differ in terms of their designs and functions. However, all keep the traditional wooden design. The three gulet types are stated below as followed:
Gulet Type #1 – Watermelon Rump
With its durability and stability ensuring design, the most popular gulet type has got the name 'watermelon pump' from the fact that it has an oval shape with a round and flat stern. This gulet type is very comfortable and offers advanced safety against bad weather conditions. Due to its safety guarantee, most of the largest gulets are designed with a watermelon rump design.
Gulet Type #2 – Mirror Stern
If you are looking for a large internal space in a gulet, you will make the right choice by choosing the mirror stern gulet type. Compared to the size of the gulet, the internal volume of the gulet is huge. Thanks to its angular and flat design, the mirror stern is suitable for cabin charters and long-term sailing holidays. However, these boats are very slow and not as mechanical as the other types. Yet, they are perfect to visit bays and islands.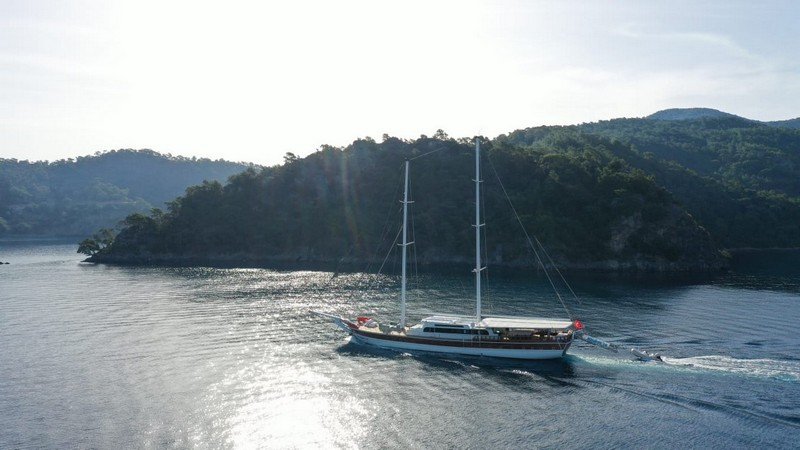 Gulet Type #3 – Tirhandil
Last but not least, this type of gulet has survived through history and is known as the oldest gulet type. With their small but functional design, they are durable and modern sailboat like.  If you are looking for a small boat with modest spaces, you can get a Tirhandil and entertain the hot sun with the turquoise blue sea!
What is Gulet
A ketch gulet is a specific type of gulet that is distinguished by its sail configuration. The term "ketch" refers to the number and arrangement of masts and sails on the vessel. A ketch gulet typically has two masts: a mainmast located towards the center of the vessel and a shorter mizzen mast situated aft, closer to the stern.
The distinguishing feature of a ketch gulet is the presence of a mizzen mast, which sets it apart from other gulets that may have only a single mast or multiple masts of different configurations. The mizzen mast on a ketch gulet is typically smaller and positioned behind the mainmast.
The sail setup on a ketch gulet generally includes triangular or quadrilateral sails. The mainmast carries the main sail, while the mizzen mast supports the mizzen sail. The sail area of the main sail is typically larger than that of the mizzen sail.
The presence of the mizzen mast on a ketch gulet offers several advantages. It allows for more flexible sail handling and control, as the mizzen sail can be used to balance the vessel and provide additional propulsion options. The mizzen sail can be utilized to improve stability, especially in challenging wind conditions or when maneuvering.
Ketch gulets are known for their elegant appearance and balanced sail performance. The combination of the mainmast and mizzen mast allows for efficient sailing and comfortable cruising experiences. Additionally, ketch gulets often provide ample deck space and comfortable accommodations, making them popular choices for those seeking a classic sailing experience with modern comfort.
When considering a yacht charter or gulet rental, if you specifically prefer the sail configuration of a ketch gulet, it's advisable to communicate your preferences to the charter company or broker. They can provide information on the availability of ketch gulets in their fleet and help you find the right vessel that suits your desires for a memorable sailing adventure.
A tirhandil gulet is a specific type of gulet that has its origins in Turkey. It is characterized by its unique and traditional design, which sets it apart from other types of gulets. Here's some information about tirhandil gulets:
Design and Construction: Tirhandil gulets are typically smaller in size compared to other gulets. They are characterized by a distinctive pointed bow and stern, which gives them a sleek and elegant appearance. The hull of a tirhandil gulet is usually made of wood, with traditional craftsmanship techniques employed in its construction.
Sailing Performance: Tirhandil gulets are primarily designed for sailing, and their design allows for excellent maneuverability and performance under sail. They are known for their ability to handle various wind conditions, making them ideal for those seeking an authentic and exhilarating sailing experience.
Sails and Rigging: Tirhandil gulets usually feature a single mast with a triangular or quadrilateral sail configuration. They typically carry a mainsail and a headsail, which provide the necessary propulsion for sailing. The rigging is designed to ensure optimal sail control and efficiency.
Traditional Charm: Tirhandil gulets embody the traditional Turkish maritime heritage and reflect the country's rich seafaring culture. They offer a glimpse into the historical and traditional aspects of Turkish boatbuilding and are often appreciated by those seeking an authentic and unique sailing experience.
Intimate and Cozy Atmosphere: Due to their smaller size, tirhandil gulets generally accommodate fewer guests compared to larger gulets. This creates a more intimate and cozy atmosphere on board, ideal for small groups or couples looking for a private and romantic sailing experience.
Comfort and Amenities: While tirhandil gulets may be smaller in size, they still provide comfortable and well-appointed accommodations for guests. They typically feature cabins with basic amenities, including sleeping quarters and limited facilities, while focusing more on the sailing experience and immersion in the natural surroundings.
Experienced Crew: Like other gulets, tirhandil gulets are typically operated by a professional crew that includes a captain and deckhands. The crew members are experienced in sailing and navigation and provide hospitality services to ensure a safe and enjoyable charter experience.
Tirhandil gulets offer a unique and authentic sailing experience, allowing guests to immerse themselves in the traditional maritime culture of Turkey. Their smaller size and sailing capabilities make them ideal for those seeking a more intimate and adventurous voyage along the Turkish coastline.
A gulet is a traditional wooden sailing vessel originating from the Eastern Mediterranean, particularly Turkey. These vessels have a rich history and are commonly used for leisure cruising and yacht charters in the region. Here is some detailed information about gulets:
Design and Construction: Gulets are typically constructed from wood, often using pine, mahogany, or teak. They feature a distinctive design with a broad beam and a rounded stern. Gulets come in various sizes, ranging from around 15 meters to over 35 meters in length, accommodating different group sizes.
Sailing and Power: Gulets traditionally have two or three masts with sails, allowing them to be propelled by wind power. However, many modern gulets are equipped with engines to ensure reliable power and provide flexibility for cruising in areas with varying wind conditions.
Spacious Decks and Comfort: Gulets are known for their spacious decks, providing ample room for relaxation, sunbathing, and socializing. They often feature a large aft deck with cushioned seating, dining tables, and a raised forward deck area known as the "forecastle" or "fo'c'sle." Some gulets also have an additional deck level called the flybridge, offering panoramic views.
Cabins and Accommodation: Gulets typically have multiple cabins that serve as accommodation for guests. The cabins can vary in size and layout, ranging from cozy twin or double cabins to spacious master suites. Many cabins have en-suite bathrooms with showers, air conditioning, and other amenities to ensure guest comfort.
Facilities and Amenities: Gulets are designed to provide a comfortable and enjoyable cruising experience. They are equipped with various amenities, which may include indoor and outdoor dining areas, a saloon or lounge with entertainment systems, fully equipped kitchens, and water sports equipment such as kayaks, paddleboards, and snorkeling gear.
Professional Crew: A crew is an integral part of a gulet charter. Depending on the size of the gulet, the crew typically includes a captain, chef, deckhands, and sometimes additional crew members. The crew is responsible for navigating the vessel, preparing meals, maintaining the yacht, and providing hospitality services to ensure a seamless and enjoyable experience for guests.
Charter Experiences: Gulets offer a unique and relaxed way to explore coastal regions and islands. They are popular for private charters, family vacations, group getaways, and special celebrations. With their comfortable accommodations, onboard amenities, and the ability to access remote bays and hidden coves, gulets provide an opportunity to experience a combination of leisurely sailing, water activities, and cultural exploration.
Gulet Charters in Turkey: Turkey is renowned for gulet charters, as it offers a vast and picturesque coastline to explore. The Turkish Riviera, also known as the Turquoise Coast, is a particularly popular cruising area for gulets, with destinations like Bodrum, Marmaris, Fethiye, and Kas offering stunning landscapes, historical sites, and crystal-clear waters.
Gulets have gained popularity worldwide due to their unique charm, comfort, and the opportunity to experience a blend of traditional sailing and modern luxury. Whether it's a relaxing vacation or an adventurous exploration of coastal beauty, gulet charters offer a memorable and enchanting yachting experience.
Gulets come in various types and models, each with its own distinct features and characteristics. Here are some common types and models of gulets:
Classic Gulets: Classic gulets represent the traditional design and style of these vessels. They often have two or three masts with sails, providing an authentic sailing experience. Classic gulets feature a spacious aft deck, foredeck, and sometimes a flybridge. The interior design showcases the warmth of wooden craftsmanship.
Luxury Gulets: Luxury gulets are built with a focus on high-end amenities and comfort. They feature modern and stylish interiors with luxurious finishes. These gulets often have spacious cabins, well-appointed bathrooms, air conditioning, entertainment systems, and sometimes additional facilities like Jacuzzis, swimming pools, or dedicated spa areas.
Motorsailer Gulets: Motorsailer gulets combine the charm of traditional sailing with the convenience of motor power. These gulets have both sails and engines, allowing them to sail when conditions permit and rely on the engines when necessary. Motorsailers offer flexibility and efficiency for cruising, ensuring a comfortable and enjoyable experience.
Ultra-Luxury Gulets: Ultra-luxury gulets represent the epitome of indulgence and opulence. These models often feature the latest advancements in design, technology, and amenities. Ultra-luxury gulets boast extravagant interiors, spacious decks, premium entertainment systems, dedicated crew quarters, and additional features like private balconies, water toys, and lavish outdoor lounging areas.
Modern Gulets: Modern gulets showcase contemporary design elements, combining sleek lines, large windows, and innovative features. These models often have open-plan layouts, maximizing natural light and providing panoramic views. Modern gulets may also incorporate eco-friendly technologies for sustainability, such as solar panels and efficient propulsion systems.
Custom-Built Gulets: Some gulets are custom-built according to specific owner or charter company preferences. These gulets are designed and constructed to meet unique requirements, incorporating personalized layouts, design elements, and features. Custom-built gulets offer a level of exclusivity and customization for a truly bespoke charter experience.
It's important to note that gulet types and models can vary across different shipyards, builders, and individual gulet owners. Each gulet may have its own unique design, size, and features based on the specific builder's craftsmanship and customization choices.
When considering a gulet charter, it's advisable to inquire about the specific types and models available with the charter company or broker. They can provide detailed information on the gulets in their fleet, including their design, amenities, and features, allowing you to select the most suitable gulet for your preferences and needs.