Gocek Yacht Charter
Göcek Yacht Charter is one of the most popular yacht charter points in Turkey and for years, this magnificent area hosts foreign and local motoryachts, boats, or gullets. Göcek offers a great Yacht Charter with the beautiful islands and the bays around; and also welcomes rental yachts to the inernational marinas which have modern services and adequate equipments.
Gocek Yacht Charter Video
Gocek Yacht Charter
Göcek, which is quite close to Dalaman Airport and Fethiye, provides great comfort the the charter yacht guests come from different cities or countries. This lovely tourism destination hosts thousands of tourist at the sea as well as in the town center. Gocek has lots of boutique hotels, chic restaurants, shops with effective designs and natural images is a point that should be visited during the charter yacht trip.
Yacht charter in Göcek  is the best option tol ive the advantages of great sea in a holiday. Day stars with a magnificient breakfast at the yacht. The bays and the islands that surrounds Gocek are ideal to visit in the day time. You can have a break in some points or meet with the neighbour yachts or daily boats. Also to eat an alfresco dinner at the deck under the stars with a cool breeze give great pleasure to the guests.
İnlice, Katrancı and Günlüklü Baysa re at Fethiye side and Sarıgerme, Dalyan at Dalaman side is the best stopping places at this beautiful Göcek Yacht Charters. Besides, twelve islands and splendid islands are quite popular at Göcek yacht tours.
With the dark blue sea and the green nature, Göcek, offers a peaceful and a pleasent holiday to people that would like to spend their holiday at rental yachts.
Gocek Yacht Charter
Göcek Yacht Charter
Göcek Yacht Charter As platin Yachting, we provide you to visit open sea areas and seasides with our yachts. We want to ensure that you will spend quality time with our yachts. So that we provide you many possibilities that you can enjoy your vacation. Also, the other significant issue is that you can choose the most suitable yacht for your budget and capacity. Therefore, as Platin Yachting, we offer you many different yachts charter options. It is divided into classes as
Economic and air-conditioned,
Luxury,
Deluxe,
Exclusive yachts.
Renting a yacht is a great choice to have a nice vacation with your friends or family. There are four different groups offered for you to enjoy your holiday by choosing any type of yacht. These; consist of gulets, catamarans, sailboats, and motor yachts.
Gulet Yacht Charter
Gulet yachts, which is the first of the options, will be an option that holds out both classic and comfy for you. Especially if you want to see the natural beauties, wander around the bays, and have fun while doing them, chartering a gulet will be a perfect option for you. When the comfort we offer with our gulets meets the lush nature and the deep blue sea, you will have an unforgettable experience. This tour, which adorns the dreams of many, is still not as inaccessible as it seems. You can also charter a gulet suitable for your budget to experience this luxury that will make you feel special.
While visiting the uniquely beautiful bays of Göcek, you can rest your head or take advantage of the facilities on our gulets. Our gulets have services such as plasma TV, DVD, internet connection that will provide you with hotel comfort. If you want to charter a luxury gulet with a suitable capacity for you, you can consider the options at https://www.platinyatcilik.com/tekne-tip/kiralik-gulet-yelkenli-tekne /.
MAIN PORTS
Catamaran Yachts Charter
Catamaran yachts are a very popular option, especially for the blue cruise experience where you can enjoy amazing destinations. In addition, if you have a captain's license, you will not need another person for the journey when you charter a catamaran yacht. You can visit our page at https://www.platinyatcilik.com/tekne-tip/kiralik-katamaran/  to browse the catamarans priced on a weekly basis.
Sailing Yatch Charter
Another option we offer you is a sailing yacht charter. This is one of our top choices for your leisure trip. While renting a sailboat is a great option, you need to take responsibility and be conscious about some issues. Initially, you should not forget that you should be cautious against the waves. Also, you should definitely carry medicine with you in case of seasickness. If you want to use a sailboat, you can rent the most suitable one from https://www.platinyatcilik.com/tekne-tip/kiralik-bareboat-yelkenli-fiyat/.
Motor Yacht Charter
Motoryachts will probably be one of the options that speed-loving explorers will love the most. Also, motor yachts will be a good option for those who want to either sunbathe take a vacation or make a very cool 'business trip'. For this, you can rent a motor yacht suitable for you at https://www.platinyatcilik.com/tekne-tip/kiralik-motoryat/.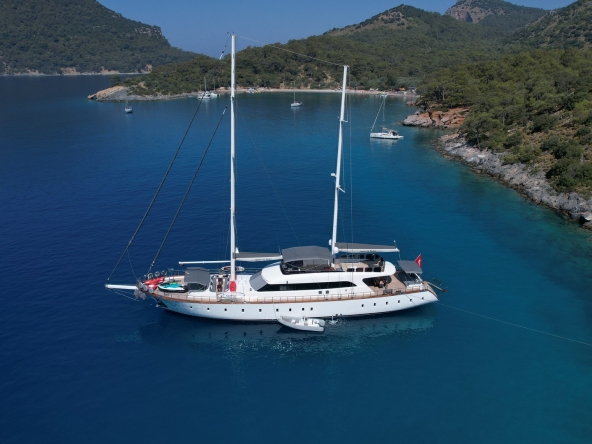 Unique Bays to Explore with Blue CruisesUnique Bays to Explore with Blue Cruise in Turkey The...