Fethiye Gulet Charter 
Fethiye Gulet Charter  Summer has arrived; everyone wants to have a great holiday. People depressed by urban life all year round want to spend their lives at sea. That is why these people generally prefer to rent Gulets. So, where is the first place to rent Gulets? Of course, Fethiye! Fethiye, with its beautiful nature and world-class beaches, manages to attract tourists. Most of the tourists that visits Fethiye to take a boat trip. Also In Fethiye, tourists want to see the Valley of Butterflies and 12 islands. So, they generally prefer renting Gulets. Fethiye is Turkey's paradise for a lot of people. If you wish to have enough of the turquoise seas of this paradise, do not forget to rent Gulets. For more information you can visit https://www.platinyachting.com/.
Fethiye Gulet Charter Video
Affordable Gulet Charter
Are you ready to discover Fethiye, full of natural beauties, on a blue cruise? You can enjoy the pristine and azure sea with the Fethiye Gulet charter option. You can start by choosing the gulet that suits your budget at https://www.platinyachting.com/. Also, you may discover the perfect locations like Oludeniz, Saklikent, and Lovers Hill by Gulets. Choose the boat of your dreams, send your request with your details, and let us plan your vacation. You can charter our Gulets for your honeymoon, or if you want, it is possible to rent it to have a good holiday with your family too. Also if you want to have a fun holiday experience with your friends, you can rent a Gulet with your group of friends. To rent a Gulet in Fethiye at an affordable price, all you have to do is visit our website. You do not have to think about the price because we have Gulets that are available for every budget.
A Luxury Holiday Opportunity on a Gulet
It is no longer a dream to have a luxury holiday at an affordable price. You can enjoy a easeful and luxurious holiday by visiting https://www.platinyachting.com/. Equipped with the latest technology, our Gulet is at your service. Our Gulets, which are safe, serve you with our experienced and friendly team members. Besides, we can list the other facilities available on our Gulets as follows:
Open and closed eating areas,
Equipped bar,
American bar,
Equipped kitchen,
High quality sound system.
Our team members will be working 24/7 to serve you during your holiday and try to keep your happiness at the highest level. But, there is another option that you can choose. If you want to spend your holiday without any crew member we can arrange this also. That option which includes no crew member is generally cheaper than the other option.
YACHT CLASSES
Advantages of Gulet Charter
There are many advantages of chartering a Gulet. When you charter a Gulet, you will have a luxury and easfull holiday. With a Gulet, you can visit incredible places that have never you visited before. You can take a nice trip to the blue of the sea and lose yourself in the turquoise color of the sea. When you charter a Gulet with your family or friends, you can enjoy a wonderful holiday away from other people. Chartering a gulet provides you a vacation in touch with nature in peace. So are you ready to discover Fethiye, which is among the most beautiful paradises of Turkey, with us? If you want to have an incredible holiday experience with Gulet, do not forget to visit our website.
Fethiye – In an exciting development for sea lovers and adventure seekers, Fethiye has become a premier destination for gulet charter vacations. Nestled on the southwestern coast of Turkey, this charming coastal town offers a gateway to the stunning beauty of the Mediterranean Sea. With its crystal-clear turquoise waters, picturesque coastline, and enchanting coves, Fethiye has emerged as a must-visit location for those seeking an unforgettable sailing experience.
Gulet charters in Fethiye have gained immense popularity, providing an opportunity for travelers to explore the region's breathtaking landscapes in comfort and style. Gulets, traditional Turkish wooden sailing vessels, serve as floating havens of luxury, offering spacious accommodations, exceptional amenities, and a dedicated crew to cater to guests' needs.
One of the key advantages of a Fethiye gulet charter is the ability to design a personalized itinerary. Whether you wish to discover secluded bays, visit historical sites, or simply relax on pristine beaches, the charter companies in Fethiye work closely with guests to create tailor-made routes that suit their preferences.
The Fethiye region boasts a myriad of captivating destinations to explore during a gulet charter. From the world-famous Ölüdeniz, known as the Blue Lagoon, with its postcard-perfect beach and crystal-clear waters, to the stunning Butterfly Valley, home to an array of butterfly species, every stop on the itinerary promises a unique experience.
For history enthusiasts, Gemiler Island presents an opportunity to delve into the remnants of the ancient city of Karmylassos. With its Byzantine ruins and captivating mosaics, this island offers a fascinating glimpse into the past.
Göcek Bay, another popular destination on the Fethiye gulet charter route, enchants visitors with its secluded coves, lush greenery, and pristine beaches. Guests can partake in a range of activities, from snorkeling and swimming in the crystal-clear waters to simply basking in the serenity of the surroundings.
With the return to Fethiye, travelers have the chance to explore the town's charming streets, sample the local cuisine, and immerse themselves in the warm hospitality of the region.
The growing popularity of Fethiye gulet charters has prompted an expansion of charter companies and services available in the area. Travelers now have a wide range of gulets to choose from, accommodating various group sizes and preferences.
As the word spreads about the remarkable experiences and unforgettable memories that Fethiye gulet charters provide, more and more sea enthusiasts are flocking to this coastal haven. Whether it's for a family vacation, a romantic getaway, or a gathering of friends, Fethiye's gulet charters offer an extraordinary opportunity to explore the wonders of the Mediterranean Sea.
For those seeking an unparalleled adventure on the open waters, a Fethiye gulet charter promises a journey filled with awe-inspiring beauty, tranquility, and a deep appreciation for the treasures that the Turkish coastline has to offer.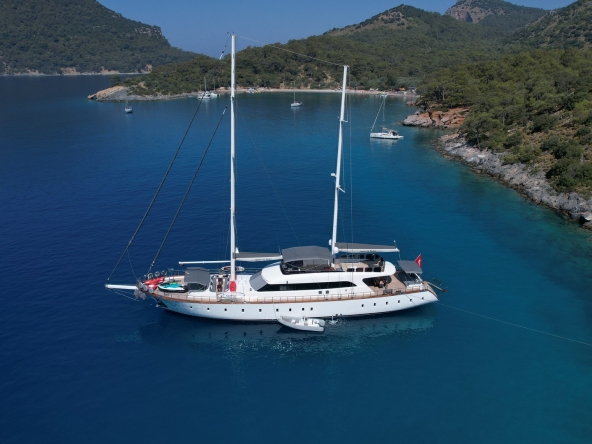 Unique Bays to Explore with Blue CruisesUnique Bays to Explore with Blue Cruise in Turkey The...