Fethiye Yacht Charter
Fethiye Yacht Charter Having the best sea route of the Aegean Sea and amazing nature, Fethiye is one of the best places in Turkey. In Fethiye, you can visit the unique nature and the beautiful bays of Mugla. While witnessing the greatness of nature, our most modern yachts will accompany you with an experienced cabin crew. Thanks to Platin Yachting, you can have a chance to experience an unforgettable vacation with our five–star hotel comfort yachts.
YACHT CLASSES
Fethiye Yacht Charter Video
Fethiye has beautiful tones of blue and green when it comes to experience two types of trips. Also, you can change your vacation rotation whenever you want thanks to our yachts. You can witness the most beautiful sea of the Aegean and wonderful nature that is covered by beauty.
Fethiye Luxury Yacht Charter
As a pioneering yacht charter agency in Turkey, Platin Yachting offers you the most comfortable yachts equipped for all your requirements. Our yacht types vary according to their advantages, such as comfort level and other equipment. If you have decided on our most modern luxury yachts, the following advantages await you:
Five–star hotel comfort
All equipment according to your requirements
Experienced cabin crew 
Specially prepared menus for your taste
Ultra – lux cabins, WC's and bathrooms
If you want to have an experience in our most modern yachts, you can get in touch with us from our website. Also, by visiting the https://www.platinyachting.com/yacht-type/motor-yachts/ address, you can take a look at our yacht types. As a Platin Yachting, we offer you the most modern yachts, gulets, and bareboat for your lovely journey.
Fethiye Bareboat Charter
Bareboats are wonderful ways to discover Fethiye's unique views. Thanks to their speed, bareboat allow people to discover many places. Thanks to our most modern bareboats, you can have a chance to visit the beautiful bays of Fethiye. So, bareboat and yachts are the best way to discover the amazing views of Fethiye.
When it comes to renting a bareboat or yacht, we offer you the best features for your adventure. First of all, besides visiting the beautiful landscapes of Fethiye, you may want to travel within comfortable boats and yachts. In addition to this comfort, our experienced cabin crew will accompany you on this lovely journey by giving you extraordinary information.
If you want to have more detailed information about our bareboats, you can get in touch with us or by visiting the https://www.platinyachting.com/yacht-type/bareboats/ address, you can have brief information about features of bareboats.
Fethiye Yacht Prices
Some factors that may be effective on Fethiye yacht prices. If you want to discover the beauties of Fethiye with our most modern yachts, there are some points you can consider. First of all, our luxury yachts have a great number of cabins, WC's and bathrooms. In addition to this, the comfort level of yachts can vary the yacht prices as well as the rental period. 
As a pioneer of yacht charter agencies in Turkey, Platin Yachting offers you the most modern yachts in this unique adventure. If you want to have more detailed information about prices and your rotations, you can get in touch with us on our website.
Fethiye is a popular destination for yacht charters in Turkey, offering a perfect combination of natural beauty, historical sites, and a vibrant coastal atmosphere. Here's some information about Fethiye yacht charters:
Yacht Options: Fethiye provides a wide range of yacht options to suit different preferences and group sizes. From luxury motor yachts to traditional Turkish gulets, you can choose the type of yacht that best fits your requirements. Gulets, with their wooden craftsmanship and spacious decks, are particularly popular for their authentic sailing experience.
Itineraries: Fethiye yacht charters typically offer diverse itineraries, allowing you to explore the stunning coastline and nearby islands. Popular stops include Ölüdeniz (Blue Lagoon), Gemiler Island, Göcek Bay, Butterfly Valley, and nearby secluded coves. The itineraries can be customized based on your preferences, providing flexibility to visit specific destinations and engage in desired activities.
Natural Beauty: Fethiye is known for its exceptional natural beauty. Sailing along the turquoise waters of the Mediterranean, you'll be treated to breathtaking landscapes of rugged cliffs, pristine beaches, and hidden coves. The region also offers opportunities for swimming, snorkeling, diving, and water sports, allowing you to immerse yourself in the vibrant marine life and crystal-clear waters.
Historical Sites: Fethiye and its surrounding areas boast a rich historical heritage. Gemiler Island, for instance, houses the remains of an ancient city with Byzantine ruins, including churches and mosaic floors. The Lycian rock tombs in Fethiye are another fascinating historical site worth exploring. A yacht charter in Fethiye provides the chance to combine relaxation and adventure with cultural discoveries.
Gastronomy and Nightlife: Fethiye offers a vibrant culinary scene and lively nightlife. You can indulge in delicious Turkish cuisine, including fresh seafood and local specialties. Fethiye's marina area is known for its restaurants, bars, and cafes, where you can enjoy a memorable dining experience or unwind with a refreshing drink while overlooking the sparkling waters.
Charter Services: Platin Yachting operate in Fethiye, providing professional crew, personalized services, and well-maintained vessels. They can assist you in choosing the right yacht, planning itineraries, and ensuring a comfortable and enjoyable experience throughout your charter.
Whether you're seeking a relaxing getaway, an adventure-filled journey, or a mix of both, a Fethiye yacht charter offers an extraordinary opportunity to explore the stunning Turkish coastline, immerse yourself in nature's beauty, and create unforgettable memories.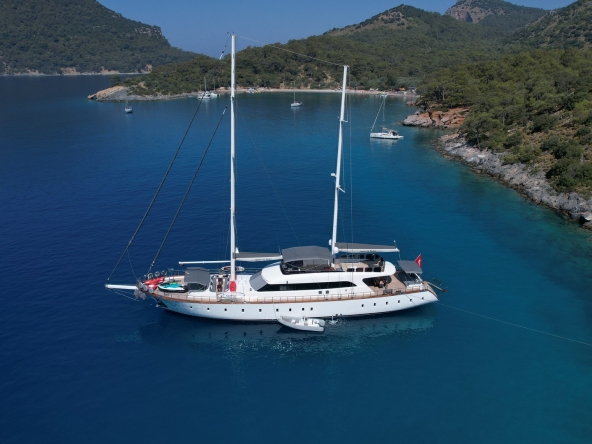 Unique Bays to Explore with Blue CruisesUnique Bays to Explore with Blue Cruise in Turkey The...