Private Gulet Charter
Private gulet Charter Aegean Coasts, where glamorous beaches meet with lush nature, attract the attention of sea vacation lovers. Do you want to experience the extraordinary blue seas by chartering a private Gulet? A private Gulet holiday will enable you to swim with your loved ones in the unique bays of the Aegean and Mediterranean and rediscover nature. If you want to charter a private Gulet and discover the beauties within the itinerary scheduled based upon your wishes, you are at the right place! 
Private Gulet Charter Video
Platinum Yachting & Sailing allows you to experience the incredible sea holiday you have always dreamed of, with the privilege of a private Gulet. You can visit this page for more detailed information about our charter options.
The cost of chartering a private Gulet depends on the service you aspire and the choice you make. Gulet prices are defined mainly by the size of the Gulet and the facilities it has.
Our current Gulet types are as follows:
Standard (Economic and Air-conditioned) Gulet: It is the number one choice of those looking for a more economical option. It has a simple interior design and a more affordable price.
Luxury Gulet: This type of Gulet is large because it has more luxurious cabins. Since its size, the opportunities it offers are much more.
Deluxe Gulet: It has deluxe cabins with the highest segment design. It has the best facilities, thus giving users a high-end holiday experience.
Advantages of Private Gulet Charter
There are many advantages of chartering a private Gulet compared to other holiday options. Our Gulets, which are equipped with special design details, promise you the ultimate holiday experience. 
The main advantages of chartering a private gulet are:
Plan your vacation route as you wish! Just tell us the destinations you want to go to.
Enjoy the most luxurious accommodation and transportation! Our high-end designed Gulets will make every moment of your holiday unique.
Host many guests at the same time! Numerous cabins allow you to provide privacy to your guests.
Our experienced staff makes your holiday the most comfortable by taking care of what needs to be done.
Enjoy the extra advantages possible to you depending on the Gulet type you choose.
How to Charter a Private Gulet?
If you have decided to enjoy the Aegean and Mediterranean coasts by chartering a Private Gulet, do not worry, you are in the right place! Our experienced team, which has been serving for many years, will answer any questions you may have. Firstly, we listen carefully to the requests of our customers. Then plan your gulet route according to your wishes.
How many people do you plan for a vacation?
Which destinations do you want to visit?
What kind of service do you expect?
How long do you plan a vacation?
What additional possibilities would you like to take advantage of?
We offer the options for you by looking for answers to all these questions and much more. We plan your dream holiday for you by considering all your wishes. Now you are closer than ever to a vocation where you can relieve the tiredness of the whole year and spend time with your loved ones. You can contact us from this page.
Private Gulet Charter Redefines Maritime Luxury
In the realm of luxury travel, a new era has dawned with the introduction of Private Gulet Charter, an extraordinary experience that combines opulence, exclusivity, and unrivaled beauty. Offering a unique way to explore the world's most stunning coastlines, Private Gulet Charter promises a voyage of a lifetime aboard a private gulet, where every desire is meticulously catered to. Let's delve into the exquisite world of Private Gulet Charter and discover the unparalleled luxury it provides.
The Allure of Private Gulet Charter:
A private gulet charter takes luxury cruising to new heights. Picture yourself aboard a magnificent traditional wooden sailing vessel, known as a gulet, gliding through turquoise waters with the warm sun kissing your skin and a gentle sea breeze caressing your face. The gulet, with its elegant design and classic charm, offers a unique blend of old-world allure and contemporary luxury.
Unparalleled Comfort and Elegance:
Private Gulet Charter is synonymous with unsurpassed comfort and elegance. Each gulet is meticulously crafted with attention to detail, combining traditional craftsmanship with modern amenities. Luxurious cabins adorned with plush furnishings and en-suite bathrooms provide a sanctuary of relaxation and privacy. Spacious decks offer panoramic views and ample space for lounging, sunbathing, and alfresco dining, allowing you to indulge in the ultimate maritime experience.
Tailored Itineraries:
Private Gulet Charter provides the freedom to embark on a customized itinerary tailored to your preferences. From the mesmerizing coastlines of the Mediterranean to the hidden gems of the Caribbean, the world becomes your oyster. Explore secluded bays, visit picturesque villages, and discover pristine beaches accessible only by sea. The dedicated crew, including an experienced captain and knowledgeable staff, will guide you to the most captivating destinations, ensuring an unforgettable journey.
Indulge in Exquisite Cuisine:
Culinary delights are an essential part of the Private Gulet Charter experience. Onboard, you will be treated to a gastronomic journey curated by a talented chef. Indulge in delectable dishes prepared with the finest local ingredients, showcasing the flavors of the region. From freshly caught seafood to Mediterranean delicacies, each meal is a celebration of taste and a testament to the exceptional culinary expertise of the onboard team.
Activities and Entertainment:
Private Gulet Charter offers a plethora of activities and entertainment options to enhance your maritime adventure. Dive into the crystal-clear waters for a refreshing swim, explore vibrant coral reefs during a snorkeling excursion, or try your hand at thrilling water sports such as kayaking, paddleboarding, or jet skiing. For those seeking relaxation, unwind on the deck, bask in the sun, or enjoy a rejuvenating massage in the onboard spa. Evenings come alive with onboard entertainment, including live music, movie screenings under the stars, and themed parties, ensuring a vibrant and unforgettable experience.
Impeccable Service:
The hallmark of Private Gulet Charter is its unwavering commitment to impeccable service. A professional crew, including a captain, chef, and attentive staff, is dedicated to providing personalized attention and fulfilling every guest's needs. From arranging special celebrations and private shore excursions to ensuring your comfort and safety throughout the voyage, the crew is there to create a seamless and extraordinary journey.

Private Gulet Charter introduces a new realm of maritime luxury, offering an unparalleled experience for discerning travelers seeking exclusivity, comfort, and adventure. Embark on a voyage of a lifetime aboard a private gulet, where breathtaking landscapes, personalized service, and unparalleled elegance converge. Whether you desire a tranquil escape or an exhilarating adventure, Private Gulet Charter promises to redefine your perception of luxury travel. Book your private gulet charter today and set sail on a remarkable journey that will forever be etched in your memory.
Note: This news report is fictional and created for illustrative purposes only.
Private Gulet Charter with Platin Yachting: Sail into Unforgettable Luxury
Have you ever dreamt of sailing the open seas, exploring pristine coastlines, and indulging in the ultimate luxury experience? Look no further than Private Gulet Charter with Platin Yachting. Prepare to embark on an extraordinary voyage aboard a private gulet, where you can immerse yourself in opulence, adventure, and unrivaled beauty. In this blog post, we'll take you on a virtual journey into the world of Private Gulet Charter with Platin Yachting and discover the epitome of maritime luxury.
The Allure of Private Gulet Charter:
Private Gulet Charter with Platin Yachting invites you to experience the allure of sailing aboard a private gulet, a traditional wooden sailing vessel that exudes elegance and charm. The gulets offered by Platin Yachting are meticulously designed, combining authentic craftsmanship with contemporary luxury. Each vessel is a masterpiece, featuring spacious decks, exquisite interiors, and a range of modern amenities, ensuring the utmost comfort and indulgence throughout your journey.
Tailored Itineraries:
One of the most captivating aspects of Private Gulet Charter with Platin Yachting is the opportunity to embark on a tailor-made itinerary. Whether you dream of exploring the hidden coves and vibrant towns of the Mediterranean or cruising the idyllic islands of the Caribbean, Platin Yachting will curate a personalized voyage based on your desires. From secluded bays to bustling harbors, you'll discover the most enchanting destinations, guided by an experienced captain and crew who possess extensive knowledge of the area.
Unparalleled Luxury Onboard:
Prepare to be pampered in luxurious surroundings as you step aboard your private gulet. Platin Yachting ensures that every detail is thoughtfully considered to create an ambiance of refined elegance. The cabins exude comfort and style, providing a peaceful retreat for relaxation. The expansive deck spaces invite you to soak up the sun, indulge in alfresco dining, and savor breathtaking panoramic views. With Platin Yachting, every moment onboard is a testament to their commitment to impeccable luxury.
Gourmet Delights:
Private Gulet Charter with Platin Yachting elevates the culinary experience to new heights. Talented chefs onboard craft exquisite menus inspired by the flavors of the region, using the freshest local ingredients. From succulent seafood dishes to Mediterranean delicacies and international cuisine, each meal is a culinary masterpiece that tantalizes the taste buds. Whether you prefer an intimate dinner on deck or a beachside picnic under the stars, the dining experience is as unforgettable as the journey itself.
Endless Adventures:
The allure of Private Gulet Charter lies not only in the luxury onboard but also in the endless adventures that await you. Dive into the crystal-clear waters for a refreshing swim, explore hidden coves and secret beaches accessible only by sea, or engage in thrilling water sports such as snorkeling, kayaking, or jet skiing. Platin Yachting ensures that you can create memories filled with adventure, relaxation, and connection with the natural wonders that surround you.
Impeccable Service:
Platin Yachting prides itself on delivering impeccable service throughout your private gulet charter. The highly trained crew, including the captain, chef, and attentive staff, are dedicated to making your journey seamless and unforgettable. From arranging special celebrations and shore excursions to tending to your every need, their warm hospitality and attention to detail create an atmosphere of unparalleled comfort and relaxation.
Conclusion:
Private Gulet Charter with Platin Yachting offers an unparalleled luxury experience that combines sailing, adventure, and indulgence. Sail into a world of refined elegance, where personalized itineraries, opulent accommodations, exquisite cuisine, and impeccable service create a voyage unlike any other. Whether you're seeking a romantic escape, a family adventure, or a gathering of friends, Platin Yachting ensures that your private gulet charter exceeds all expectations. Embark on this extraordinary journey with Platin Yachting and let the winds of luxury guide you to unforgettable moments on the open seas.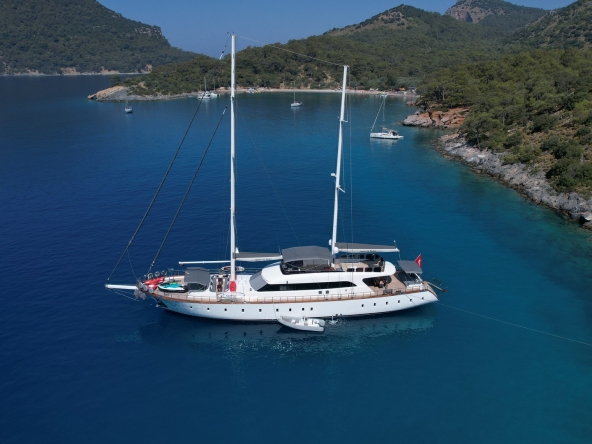 Unique Bays to Explore with Blue CruisesUnique Bays to Explore with Blue Cruise in Turkey The...