Marmaris Yacht Holiday
Marmaris Yacht Holiday With the beautiful sea of the Aegean and unique nature views, Marmaris is one of the best vacation destinations in Turkey. Each year thousands of tourists visit to discover the beautiful landscapes of Marmaris. While their wonderful journey, our most modern yachts accompany them to witness amazing bays and the beautiful atmosphere of the green. As a pioneer yacht charter agency in Turkey, Platin Yachting offers you the most modern yachts for your unforgettable journey.
Marmaris Yacht Holiday Video
By renting our modern yachts, you will have a chance to visit the wonderful sea of the Aegean besides to amazing landscapes of nature. Platin Yachting not only provides you to service of yachting with the aim of wander, but we also provide you to five – star hotel comfort with our yachts.
Marmaris Luxury Yacht Holiday
Marmaris Yacht Holiday As a Platin Yachting, we provide you most modern yachts with different vacation budgets and comfort types. If you want to have a vacation with the most comfortable atmosphere, we have our luxury yachts for this endless adventure. Our luxury yachts provide you following advantages:
Modern cabins, WC's and bathrooms
Equipped cabins according to your requirements
Experienced cabin crew
Five–star hotel comfort
Delicious menus prepared for your taste
Our luxury yachts are designed for our special guests. In addition to these advantages, our luxury yachts have lots of cabin rooms for you and your guests. Also, we have standard yachts for our clients who want to have a more affordable vacation. To have detailed information and look at our types of yachts, you can visit https://www.platinyachting.com/yacht-type/motor-yachts/. 
Marmaris Yacht holiday
Marmaris Yacht Holiday With our most modern yachts, you can have a chance to discover wonderful nature and the sea of Marmaris. Our experienced cabin crew will gladly guide you in this lovely journey. Thanks to our experienced team, you can visit the beautiful bays and historical lands of Marmaris and you can learn what history lies behind them.  
If you have decided to luxury yacht trip to discover beautiful views of Marmaris, you can take a look at our yacht types. While choosing the most suitable yachts, there are some factors you can consider. First of all, the cabin number may be important for your yacht if you want to welcome your guests on the following days of your vacation. Also, you can have the most comfortable Marmaris yacht trip with our luxury yachts. 
As a pioneer yacht charter agency in Turkey, Platin Yachting offers you the most modern yachts, gulets, and bareboat to discover beautiful views of Marmaris. By visiting the https://www.platinyachting.com/yacht-type/bareboats/ page, you can see our bareboat types.
Marmaris Yacht and Bareboat Prices
When it comes to Marmaris yacht and bareboat prices, some factors may be effective on it. Especially, the comfort level of yachts, cabin, WC, and bathroom number may vary prices of yachts. In addition to these, your special requirements also can change the prices. So, if you want to have more detailed information about the yacht and bareboat prices, you can take look at our yachts or you can get in touch with us on our website. 
Yacht Selection: Marmaris offers a variety of yacht options to suit different preferences and budgets. You can choose from motor yachts, sailing yachts, or traditional gulets. Consider factors such as the size of the yacht, amenities, and the number of cabins to accommodate your group comfortably.
Destinations to Explore: Marmaris is ideally located for exploring the stunning Turkish Riviera and nearby Greek islands. Popular destinations include Paradise Island, Aquarium Bay, Cleopatra Island, and the Datça Peninsula. Consult with your yacht charter company or crew for recommended routes and hidden gems along the coast.
Activities to Enjoy: A Marmaris yacht holiday offers an array of activities to enrich your experience. Engage in water sports like snorkeling, diving, paddleboarding, or jet skiing in the crystal-clear waters. Relax on secluded beaches, explore charming coastal villages, and soak in the breathtaking landscapes as you sail along the coastline.
Sightseeing and Culture: Marmaris boasts a rich history and vibrant culture. Take time to visit historical sites such as Marmaris Castle, ancient ruins, or nearby attractions like the ancient city of Kaunos. Immerse yourself in the local culture by exploring the bustling markets, trying traditional cuisine, and interacting with friendly locals.
Budget Considerations: The cost of a Marmaris yacht holiday can vary depending on factors such as the type and size of the yacht, the duration of the charter, and any additional services or activities. It's best to consult with reputable yacht charter companies to get accurate pricing and discuss your budget and preferences to find the best options available.
Remember to plan your itinerary, choose activities that align with your interests, and take advantage of the professional expertise of your yacht charter company or crew. They can provide valuable insights, suggestions, and help tailor the experience to make your Marmaris yacht holiday truly unforgettable.
Nestled along the stunning Turkish Riviera, Marmaris offers a perfect blend of natural beauty, rich history, and vibrant culture. For travelers seeking a truly unforgettable vacation, a Marmaris yacht holiday is the epitome of luxury and adventure. Imagine cruising along the azure waters, exploring secluded bays, and indulging in the finest experiences onboard your private yacht. In this blog post, we invite you to embark on a virtual journey to discover the magic of a Marmaris yacht holiday.
Unraveling the Turkish Riviera:
Marmaris, with its breathtaking coastline and pristine beaches, serves as the ideal starting point for your yacht adventure. As you set sail, be prepared to be captivated by the rugged cliffs, hidden coves, and crystal-clear waters that surround you. Every moment on your yacht will be a feast for the senses, with the soothing sound of lapping waves and the refreshing sea breeze enveloping you.
Secluded Bays and Beaches:
One of the highlights of a Marmaris yacht holiday is the opportunity to explore secluded bays and pristine beaches accessible only by boat. Paradise Island, with its untouched natural beauty, offers a tranquil escape from the bustling world. Aquarium Bay boasts vibrant underwater life, inviting you to snorkel and dive into a mesmerizing underwater wonderland. And no visit to Marmaris is complete without stepping foot on the iconic Cleopatra Island, famous for its powdery white sand said to have been brought from Egypt by Mark Antony for Cleopatra herself.
A Tapestry of Culture and History:
Beyond the natural beauty, Marmaris holds a rich history waiting to be discovered. Explore the ancient ruins of Knidos, an archaeological site that transports you back to the time of the Greeks and Romans. Take a journey to the nearby city of Kaunos, where ancient Lycian tombs perch on cliffs overlooking the Dalyan River. And don't forget to immerse yourself in the vibrant local culture by visiting Marmaris Castle, exploring the lively bazaars, and indulging in traditional Turkish cuisine.
The Luxurious Yacht Experience:
A Marmaris yacht holiday is synonymous with luxury and indulgence. Your private yacht becomes your floating sanctuary, where every detail is meticulously curated to cater to your desires. Relax on the spacious decks, soak up the sun, and enjoy breathtaking panoramic views of the coastline. Gourmet meals prepared by talented chefs tantalize your taste buds, and the attentive crew ensures your every need is met, creating a seamless and unforgettable experience.
Planning Your Marmaris Yacht Holiday:
When planning your Marmaris yacht holiday, consider the duration of your trip, the type of yacht that suits your preferences, and your desired destinations. Reputable yacht charter companies, like those in Marmaris, can assist you in crafting a customized itinerary tailored to your interests and ensuring a smooth and enjoyable journey.
A Marmaris yacht holiday promises an unparalleled experience, where luxury, adventure, and natural beauty intertwine. Sail along the Turkish Riviera, discover hidden gems, immerse yourself in history and culture, and embrace the indulgent pleasures of a private yacht. Whether you seek relaxation, exploration, or a blend of both, a Marmaris yacht holiday will create lifelong memories, leaving you with a sense of awe and wonder for years to come.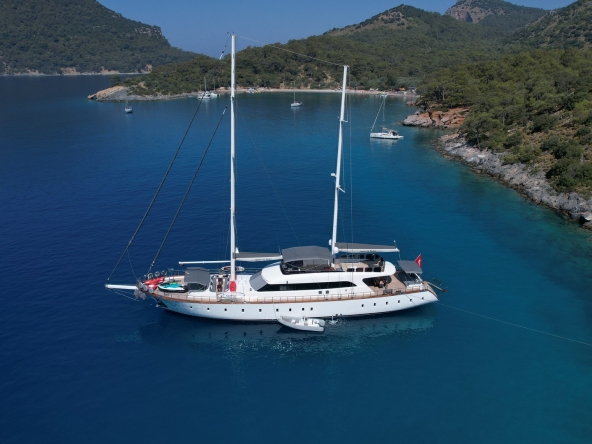 Unique Bays to Explore with Blue CruisesUnique Bays to Explore with Blue Cruise in Turkey The...