Private Yacht Charter 
Private Yacht Charter  As cruising is getting more and more popular, the demand for private yacht chartering is on the rise. After all, what's better than having the vacation of your dreams with your beloved partner? The breathtakingly beautiful turquoise waters surrounding you, the stunning view of greenery visible at every side of your view – your vacation is bound to be unforgettable! Platin Yachting offers a great vacation all around the much-famed Turkish coasts and is here to present you with some wonderful memories. 
Private Yacht Charter Video
As the summer season begins to approach, we are all on the lookout for a nice vacation. Here in Platin Yachting, we do our best to provide you with a vacation away from the city crowd, a vacation where nothing can disturb your peace. Discover the beautiful seas of Turkey and the wonderful islands of Greece, all at your discretion. Our service provides you with a lot of personalization options both for the yachts and the route of your chartering trip. 
What Private Yacht Chartering Can Offer You
Private Yacht Charter  What private yacht chartering can offer is, as you can tell by its name, a private vacation. With the coziness we offer, it'll basically be like a floating hotel you're exploring the seas with. And hey, have you ever seen the night stars glancing at you while you're roaming through the seas? You'll love it. A glass of wine and the person you love just fits so well with the amazing scenery. You can decide which ports to go to and what routes to take. You can also decide on the speed of the yacht as well, as long as we don't go beyond the speed limit. The food, the drinks, the number of the personnel – all depend upon your request. At Platin Yachting, we do our best to make your vacation absolutely special.
There are also a number of activities you can enjoy with your partner during your trip.  
You'll get endless opportunities to go swim in the open seas. You can also swim near the bays you choose as well. Swimming is best enjoyed together when you are in a free environment. Sunbathing is also a great option which you can do as you like.
 Do you enjoy sea sports? Yacht chartering gives you wonderful opportunities to practice them freely. 
Do you enjoy exploring new areas and going on adventures? Platin Yachting's private chartering service can offer you just that – an adventure to go on with your partner. 
If you enjoy fishing, you will also have plenty of chances to engage in this activity. 
Private Yacht Chartering – Contact Us
Platin Yachting is a yacht chartering service with many years of experience in the field. We offer many different options of yachts –both luxury and budget-friendly- depending on your budget and taste. For any inquiries which you might have, please use our contact info given on this page right here. Your dream vacation might just be here. 
They specialized in providing extraordinary private yacht charter experiences that were tailored to fulfill the wildest dreams of their esteemed clientele. The story begins with Sarah and Michael, a couple who sought the ultimate luxury getaway and decided to embark on a private yacht charter with Platin Yachting.
As they arrived at the Platin Yachting office, Sarah and Michael were greeted by a team of friendly professionals who introduced them to the concept of private yacht charter. They learned that a private yacht charter offered an exclusive and personalized experience, allowing them to have complete control over their journey. The couple's excitement grew as they discovered the advantages that awaited them.
Platin Yachting showcased a magnificent fleet of yachts, ranging from sleek motor yachts to elegant sailing yachts and luxurious catamarans. Each vessel was meticulously maintained, equipped with state-of-the-art amenities and adorned with opulent interiors. Sarah and Michael were in awe as they browsed through the options, envisioning themselves aboard these floating paradises.
They decided to embark on a week-long adventure along the stunning Turkish coastline, with Platin Yachting assisting in creating an itinerary that encompassed the highlights of the region. Their journey would take them to iconic destinations such as Bodrum, Marmaris, and Fethiye, offering a tapestry of landscapes, history, and culture.
Setting sail on their chosen yacht, Sarah and Michael marveled at the azure waters and rugged cliffs that framed their voyage. As they cruised along the coast, they were captivated by the hidden coves, secluded beaches, and picturesque villages that unfolded before their eyes. The crew, meticulously selected by Platin Yachting, ensured their comfort and provided attentive service, leaving the couple feeling like royalty.
The advantages of a private yacht charter became evident throughout their journey. Sarah and Michael relished the privacy and exclusivity that came with having a yacht all to themselves. They reveled in the freedom to explore off-the-beaten-path destinations, anchor in remote bays, and immerse themselves in the beauty of nature undisturbed.
Onboard, the couple indulged in luxurious amenities, from spacious cabins to gourmet dining experiences prepared by a talented chef. Platin Yachting had thoughtfully curated a menu that showcased the best of Turkish cuisine, tantalizing their taste buds with delectable flavors and ensuring a culinary journey like no other.
As they sailed into the sunset, Sarah and Michael realized that the advantages of a private yacht charter extended beyond the breathtaking landscapes and lavish experiences. The journey allowed them to reconnect with one another, away from the distractions of everyday life. It offered an escape into a world of tranquility, where time seemed to stand still, and they could savor each moment in each other's company.
Platin Yachting's dedication to service and their expertise in creating bespoke experiences ensured that Sarah and Michael's private yacht charter was nothing short of perfection. They forged memories that would forever be etched in their hearts, a testament to the exceptional service, attention to detail, and sheer beauty that Platin Yachting and a private yacht charter in Turkey had to offer.
And so, the story of Sarah and Michael stands as a testament to the wonders of a private yacht charter. With Platin Yachting at the helm, they discovered a world of unparalleled luxury, privacy, and adventure. Their journey had taken them on an extraordinary exploration of the Turkish coastline, creating memories that would be cherished for a lifetime.
Private Yacht Charter: The Epitome of Luxury and Exclusivity
Private yacht charter has emerged as the epitome of luxury travel, offering an unparalleled experience of indulgence, freedom, and personalized service. Whether it's exploring pristine coastlines, unwinding in opulent surroundings, or immersing oneself in breathtaking landscapes, private yacht charters provide a gateway to a world of unrivaled elegance. In this news story, we delve into the essence of private yacht charter, its advantages, and the growing popularity of this extraordinary form of travel.
What is Private Yacht Charter?
Private yacht charter refers to the exclusive rental of a yacht for a specified period, allowing guests to enjoy the pleasures of cruising in utmost privacy and comfort. It provides the opportunity to customize every aspect of the journey, from selecting the yacht that matches individual preferences to tailoring the itinerary to explore desired destinations. Private yacht charter allows guests to embark on a voyage curated to their unique tastes, creating memories that will last a lifetime.
Advantages of Private Yacht Charter:
Privacy and Exclusivity: The foremost advantage of private yacht charter is the unparalleled privacy and exclusivity it offers. Guests have the entire yacht at their disposal, ensuring an intimate experience without the presence of other travelers. This level of seclusion allows for uninterrupted relaxation, cherished moments with loved ones, and the freedom to enjoy the journey at one's own pace.
Customized Experience: Private yacht charters cater to the desires and preferences of guests, providing the opportunity to design a truly bespoke experience. From choosing the size and type of yacht that suits their needs to crafting personalized itineraries that encompass dream destinations, guests have the freedom to curate their ideal voyage. This customization ensures that every moment is tailored to their specific tastes, creating an unforgettable journey.
Exceptional Service: Private yacht charters are accompanied by professional crew members who deliver unparalleled service. From highly skilled captains navigating the waters to talented chefs preparing gourmet meals, the crew attends to guests' every need. Their expertise ensures a seamless and memorable experience, allowing guests to relax, unwind, and savor the luxuries of their floating sanctuary.
Luxurious Amenities: Yachts available for private charter are equipped with a range of luxurious amenities that rival the most opulent resorts. From sumptuous cabins and spacious living areas to state-of-the-art entertainment systems and water toys, every detail is designed to provide ultimate comfort and indulgence. Guests can bask in the lap of luxury, relishing in the lavish surroundings and enjoying the finest amenities available.
Rising Popularity and Availability:
Private yacht charter has witnessed a surge in popularity as travelers seek exclusive and tailor-made experiences. Charter companies, such as the renowned Platin Yachting, offer an extensive selection of meticulously maintained yachts in desirable destinations worldwide. From the captivating coastlines of Turkey, including Bodrum, Fethiye, and Marmaris, to the breathtaking Greek islands and beyond, private yacht charters provide access to the world's most sought-after destinations.
Private yacht charter has redefined luxury travel, elevating it to new heights of opulence, exclusivity, and personalized service. The advantages of privacy, customization, exceptional amenities, and dedicated crew ensure an unmatched experience. As more travelers embrace the allure of private yacht charters, renowned companies like Platin Yachting continue to redefine the boundaries of luxury, offering an enchanting escape that combines exploration, relaxation, and the sheer joy of sailing the open seas.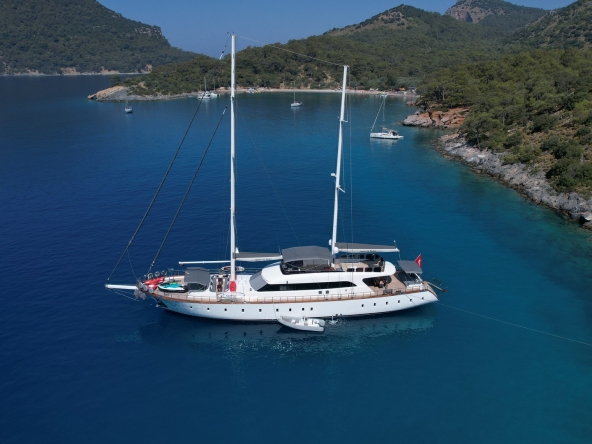 Unique Bays to Explore with Blue CruisesUnique Bays to Explore with Blue Cruise in Turkey The...