Crewed Yacht Charter Everyone wants a holiday that is quiet, calm, and away from everyone. Especially the pandemic period we're in has changed our lives. But, our understanding of the holiday has also changed. Holidaymakers now prefer to holiday away from other people. If you are one of those who love the sea and swimming, Yacht Charter is an ideal holiday option for you. Don't you want to have a wonderful holiday experience by chartering a yacht? If the answer is yes, you should visit our website: https://www.platinyachting.com/ . After visiting our website, choose the place you want to go and the yacht you want to charter. As Platinum Yachting, we handle the rest of the planning in the best possible way. Our company has two different yacht charter options. These options are:
Crewless Yacht Charter Option
Crewed Yacht Charter Option
YACHT CLASSES
Crewless Yacht Charter Option
When it comes to vacationing by chartering a yacht, people think that they will pay a lot of money. Yet, the crewless yacht charter option is very affordable. It's nice to have only people you want to spend your vacation with on a luxury yacht. All yachts under Platin Yachting are equipped with the latest technology. Besides, our luxury yachts that appeal to your eyes are waiting for you for a holiday. To charter a yacht suitable for your budget and have a wonderful holiday with your loved ones, you can visit our website from https://www.platinyachting.com/ and get more detailed information. 
Crewed Yacht Charter Option
Crewed yacht charter is another yacht charter option in our company. In this option, our crew accompanies you throughout your holiday. Our experienced and friendly crew will work to serve you 24/7. Our crew will always be with you to meet your wishes while you enjoy the holiday on your chartered yacht. When you choose the crewed yacht charter option, you feel like a king or queen while you are on your holiday. Our yachts have luxurious equipment a decoration. Also when those and the turquoise color of the sea are combined, you can even forget your own name. Instead of going to a 5-star hotel for a holiday, the chartering yacht will be more affordable for you. If you want, you can choose the crewless yacht or crewed yacht to charter. To get more information about yacht charter you can visit our website: https://www.platinyachting.com/. 
Advantages of Yacht Charter
The number of people who charter yachts for vacation is increasing day by day. There are several reasons for this increase. These reasons are: 
Due to the pandemic, we are in, people want to have an isolated holiday from the environment and other people.
5-star hotels in our country generally follow a price per person policy. For this reason, it is so expensive to spend a holiday with a large group or family in a 5-star hotel.
When you choose a hotel for a holiday, you cannot know how good the beach and sea are. However, this situation changes when you rent a yacht. You can swim wherever you want to go and swim with your yacht during your holiday.
You do not need to spend a lot of money on 5-star hotels or elsewhere to have a luxury vacation at an affordable price. Instead of it, you can have a holiday with your loved ones at a more affordable price.
If you want to have a real holiday, you can contact us without waiting any longer.
crewed yacht charters in Turkey, there are several types available to cater to different preferences and group sizes. Here are some common options:
1. Gulets: Gulets are traditional wooden sailing vessels with spacious decks and comfortable cabins. They are a popular choice for families due to their ample space, stability, and family-friendly atmosphere.
2. Motor Yachts: Motor yachts are known for their speed and sleek design. They offer a luxurious and comfortable experience, often featuring spacious cabins, modern amenities, and water sports equipment.
3. Catamarans: Catamarans are multi-hulled vessels that provide stability and spaciousness. They offer generous deck areas and are ideal for families seeking ample space to relax and play.
To rent a crewed yacht charter in Turkey, there are a few options available:
1. Charter Brokers: Charter brokers specialize in matching clients with the right yacht and crew based on their preferences and budget. They provide guidance throughout the process and handle all the logistics of the charter.
2. Yacht Charter Companies: There are various yacht charter companies that offer a range of crewed yachts in Turkey. They typically have a fleet of vessels available for rent and can assist in finding the most suitable option for your family.
.
When it comes to the location of the charter, there are several popular destinations along the Turkish coast:
1. Bodrum: Located in southwestern Turkey, Bodrum is renowned for its vibrant nightlife, ancient ruins, and picturesque bays. It offers a perfect blend of culture and relaxation.
2. Gocek: Situated in the Gulf of Fethiye, Gocek is a charming town surrounded by beautiful islands and secluded bays. It provides a tranquil setting and easy access to nearby attractions.
3. Marmaris: Marmaris is a bustling coastal town with a lively marina, vibrant markets, and a range of entertainment options. It serves as a gateway to explore the stunning coastline and nearby islands.
For families, gulets and catamarans are often the preferred choices for crewed yacht charters. These vessels provide ample space for children to move around and play, and their stable design ensures a comfortable and safe experience. Gulets, in particular, offer a family-friendly ambiance with their spacious decks and accommodations.
When planning a crewed yacht charter for your family, it's essential to consider factors such as the number of cabins, onboard facilities, and the expertise of the crew in catering to families' needs. Discussing your requirements with a charter broker or yacht charter company will help ensure you find the most suitable option that caters to your family's preferences and provides a memorable experience for everyone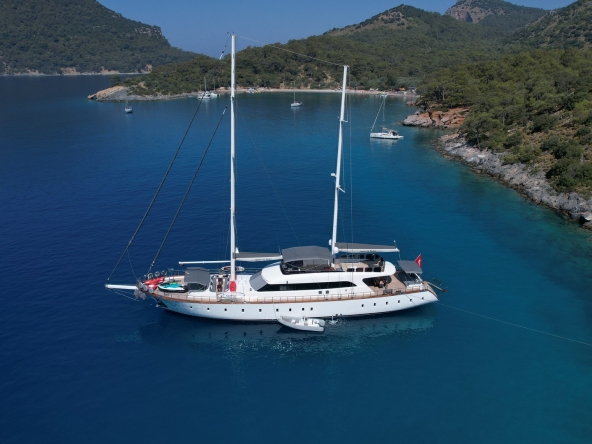 Unique Bays to Explore with Blue CruisesUnique Bays to Explore with Blue Cruise in Turkey The...