Deluxe Yacht Charter
Deluxe Yacht Charter Turkey is the choice of many people who want to have a sea holiday. Surrounded by seas on 3 sides, this beautiful country manages to attract millions of local and foreign tourists to the coastline every year. Its extraordinary nature has hosted ancient civilizations on the Mediterranean and Aegean coasts. From this point of view, you can enjoy the sea, sand, and sun while on holiday in Turkey and witness thousands of years of history. Of course, you can't expect such a versatile place to be deserted during the holiday seasons. But it is also possible to have a quiet holiday away from the crowds in this place, which hosts thousands of visitors. With the deluxe yacht charter service of Platin Yachting, your comfort and convenience are assured.
Deluxe Yacht Charter Video
It is possible to choose the yacht you want on the Platin Yachting website https://www.platinyachting.com by making use of the images and comparing prices. By examining many different types of yachts, you can choose the one that suits your holiday concept. Some of our yacht types where you can get yacht charter service are as follows:
YACHT TYPES
Gulets
Gulets are relatively smaller and simple cruise boats. Gulets, which were originally produced for fishing activities, have changed considerably over time. Today, gulets with a very luxurious and modern design adorn the Mediterranean and Aegean coasts. You can review the gulet types you can charter by following the link. ( https://www.platinyachting.com/yacht-type/gulets/ )
Bareboats
Bareboats are the ideal choice for those who want to make their vacation completely private. When you charter a bareboat, you do not receive crew and staff service. This means that you will do all the work on the boat yourself. Bareboats are perfect for customers who are free-spirited and care about privacy. You can view the bareboat via the link. ( https://www.platinyachting.com/yacht-type/bareboats/ )
Motor Yachts
Motor yachts are ideal for large groups of friends with their spacious cabins. With motor yachts with many cabins, you can experience the comfort of a hotel on the water. Motor yachts, which vary in size and passenger capacity, allow you to experience luxury and comfort at the same time. By clicking on the link, you can examine the motor yachts and make a selection. ( https://www.platinyachting.com/yacht-type/motor-yachts/ )
Trawlers
Trawlers are fishing boats designed to spend a long time at sea. These functional yachts, whose first appearance dates back to the Middle Ages, have undergone many changes over time. Today, luxury trawlers are very common for passengers who prioritize comfort. With these relatively small yachts, you can crown your most special moments with the vast sea and moonlight. By following the link, you can review the trawlers you can rent from Platin Yachting. ( https://www.platinyachting.com/yacht-type/trawler/ )
Deluxe Yachts
Platin Yachting offers many luxury yachts to your liking. Yachts are designed with the safety and comfort of passengers in mind. The possibility of passengers spending a long time on the sea is also taken into account. In this context, many services have been considered and prepared in advance. Some of the services included in order to increase comfort on yachts are as follows:
Air conditioning,
Bar lounge,
Shower unit in each cabin,
Music system,
Ice machine,
DVD player,
Coffee machine,
Hairdryer,
Safebox.
Contact us now and create a reservation to crown your holiday pleasure on luxury yachts. (https://www.platinyachting.com/contact/ )
Deluxe Yacht Charter in Turkey's Fethiye, Bodrum, Marmaris, and the Greek Islands
Are you craving a unique and extravagant vacation experience? Look no further than a deluxe yacht charter in the stunning coastal regions of Turkey, including Fethiye, Bodrum, Marmaris, and the captivating Greek Islands. These idyllic destinations offer the perfect blend of natural beauty, rich history, and unparalleled luxury, providing an unforgettable adventure on the high seas. In this blog post, we will explore the different types of yachts available, the regions that produce them, the cost of chartering, and the distinguishing features that set deluxe yacht charters apart from traditional hotel holidays.
The Epitome of Luxury: Yacht Types and Manufacturing:
Deluxe yacht charters offer a range of options when it comes to selecting the perfect vessel for your voyage. From sleek motor yachts to elegant sailing yachts, there is a yacht to suit every taste and preference. These vessels are crafted with precision and artistry by expert shipbuilders, combining innovative design, cutting-edge technology, and opulent interiors.
In Turkey, renowned shipyards in Bodrum, Marmaris, and Fethiye produce some of the world's finest luxury yachts. These shipyards have a long-standing tradition of excellence, and their craftsmen are highly skilled in creating magnificent vessels that epitomize elegance, comfort, and safety. By blending traditional craftsmanship with modern techniques, Turkish shipyards have gained a reputation for producing some of the most sought-after yachts in the industry.
Exploring the Cost of Deluxe Yacht Charters:
The cost of a deluxe yacht charter can vary depending on several factors, including the size and type of yacht, the duration of the charter, the cruising area, and the time of year. Typically, the charter fee covers the use of the yacht, crew wages, fuel expenses, onboard amenities, and various other services. It's essential to discuss the specifics with a reputable yacht charter company to get an accurate estimate based on your preferences and requirements.
While deluxe yacht charters may have a higher price tag compared to traditional hotel holidays, the level of luxury, privacy, and personalization they offer is unparalleled. A yacht charter provides an all-inclusive experience, with dedicated crew members attending to your every need, gourmet meals prepared by private chefs, and the freedom to explore multiple destinations at your leisure. The memories and experiences gained from a deluxe yacht charter are truly priceless.
The Distinction: Deluxe Yacht Charter vs. Hotel Holiday:
Deluxe yacht charters offer a distinct and remarkable alternative to traditional hotel holidays. Here are a few key differences that set them apart:
a. Unmatched Privacy and Exclusivity: When you embark on a deluxe yacht charter, you enjoy complete privacy and exclusivity. The yacht becomes your own floating oasis, allowing you to explore hidden coves, remote islands, and picturesque coastlines away from the crowds.
b. Tailored Itineraries: Unlike hotel holidays with fixed locations, a deluxe yacht charter allows you to create a personalized itinerary. You have the freedom to choose the destinations, activities, and duration of your voyage, ensuring a truly customized experience.
c. Exceptional Service: The crew on a deluxe yacht charter is dedicated solely to your enjoyment and satisfaction. From a captain and chef to stewardesses and deckhands, the crew members provide impeccable service, making your journey effortless and luxurious.
d. Uninterrupted Connection with Nature: Imagine waking up to breathtaking sunrises over pristine turquoise waters, swimming in secluded bays, and feeling the gentle sea breeze on your face as you sail from one enchanting destination to another. A deluxe yacht charter offers an unparalleled connection with nature.
Deluxe yacht charter in Turkey's Fethiye, Bodrum, Marmaris, and the mesmerizing Greek Islands offers a luxurious and personalized vacation experience that surpasses traditional hotel holidays. With an array of meticulously crafted yachts, expertly manufactured in Turkish shipyards, you can embark on a journey of opulence, comfort, and unparalleled beauty. While the cost may be higher, the memories and experiences gained from a deluxe yacht charter are truly priceless, leaving you with indelible memories that will last a lifetime. So, set sail on your dream vacation and immerse yourself in the lap of luxury on the enchanting waters of the Aegean and Mediterranean seas.
(Note: The cost of yacht charters can vary significantly, so it's best to contact Platin Yachting for accurate pricing based on your specific preferences and requirements.)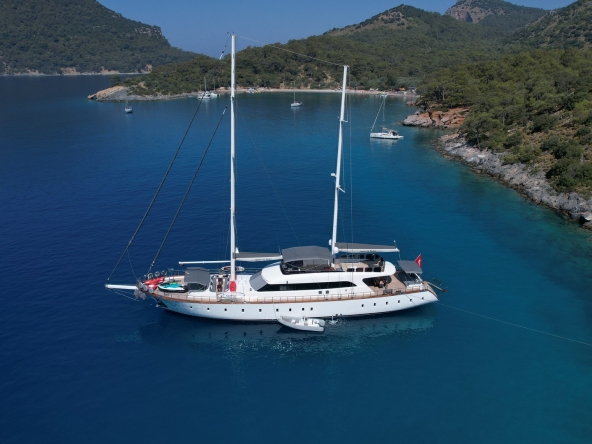 Unique Bays to Explore with Blue CruisesUnique Bays to Explore with Blue Cruise in Turkey The...