Bodrum Gulet Charter
Bodrum Gulet Charter with the beautiful landscapes and unique nature, Bodrum is one of the best places for the trip of Aegean Sea. Each year thousands of people visit Bodrum to experience this unforgettable nature. In this lovely adventure, our most modern gulets will accompany you. Being the most known gulet charter agency in Turkey, Platin Yachting offers its modern gulets to its clients to explore Bodrum's amazing bays. With the Bodrum gulet charter, you can find the best prices for your Aegean trip.
Bodrum Gulet Charter Video
Bodrum offers its visitors a great nature as well as its unique sea. To visit beautiful views of Bodrum, our most modern gulets will be your best friend on this trip. People who want to experience a comfortable and unforgettable holiday on the best sea route of Turkey can contact us and begin this lovely journey.
Bodrum Luxury Gulet Charter
Our gulet charter agency offers you the most modern gulets as well as the most comfortable ones. Especially, our luxury gulets are the most preferred ones because of their advantages. By witnessing the unique nature and amazing bays of Bodrum, you may also want to benefit from these advantages. Here are what our luxury gulets offer to you:
A great number of cabins, WC and bathrooms
Technological equipments for your requirements
Five – star hotel comfort
Experienced cabin crew
Bodrum is one of the best locations for the sea route in Turkey. As well as our luxury gulets, you may want to experience a more affordable trip. With our standard gulets, you can have a vacation both comfortable and affordable. To witness Bodrum's unique nature and beatiful bays, you can visit https://www.platinyachting.com/gulet-rental/ address and get more information about our gulets.
Bodrum Gulet and Yacht Charter
To witness the awesome atmosphere of Bodrum, you can either choose a gulet or yacht option. Whatever your choice, you can have a vacation with our most comfortable services. When choosing a gulet or yacht which is suitable for you, there are some factors you should pay attention to. One of these factors is cabin number of the gulet or yacht. As you may want to welcome your guest on the next days of your vacation, the cabin room number is quietly important. Another factor you should pay attention to when you are choosing the most accurate gulet for you is the number of WC's and bathrooms located in gulets. When it is time to choose the best gulet for you, you don't have to be worried. Contact Turkey's Pioneer gulet and yacht charter agency Platin Yachting and enjoy your vacation.
Bodrum Gulet Charter Prices
Types of gulets and advantages they have can change the gulet charter prices. If you want to experience your trip with more cabin room, WC, and bathroom, the price will be different than those of the standard gulets. To get more information and see our most modern gulets, you can visit https://www.platinyachting.com/yacht-type/gulets/ page or contact us directly from our contact information. To experience an unforgettable trip in the unique nature of Bodrum, the only thing you should get in touch with us.
Bodrum gulet charter refers to the rental of a traditional Turkish gulet, a wooden sailing vessel, from the vibrant coastal town of Bodrum. Bodrum is located on the southwestern coast of Turkey and is known for its rich history, lively atmosphere, and stunning natural beauty. Gulet charters in Bodrum offer the opportunity to explore the picturesque coastline, visit enchanting islands, and experience the allure of the Aegean Sea.
Gulets come in various classes, offering different levels of comfort and amenities. Here are some common gulet classes:
Standard Class: Standard class gulets are typically more affordable and provide basic accommodation and facilities. They are an excellent choice for those seeking a budget-friendly option without compromising the essence of a gulet cruise.
Comfort Class: Comfort class gulets offer a higher level of comfort, with well-appointed cabins, private bathrooms, and additional amenities. They provide a cozy and pleasant onboard experience, ensuring a comfortable stay for guests.
Luxury Class: Luxury class gulets are the epitome of elegance and indulgence. They feature luxurious cabins, spacious decks, and a range of high-end amenities such as jacuzzis, gourmet dining areas, and top-of-the-line entertainment systems. These gulets provide the utmost in comfort, style, and service.
The routes for Bodrum gulet charters can be customized based on the preferences of the charterers. However, some popular routes from Bodrum include:
Bodrum Peninsula: Explore the beautiful bays and beaches of the Bodrum Peninsula, including destinations such as Orak Island, Cokertme Bay, and Tuzla Bay.
Datça Peninsula: Cruise along the stunning Datça Peninsula, visiting charming villages like Palamutbükü, Knidos, and Datça town, renowned for their natural beauty and historical sites.
Greek Islands: Depart from Bodrum and venture into the enchanting Greek islands, including destinations like Kos, Rhodes, Symi, and Kalymnos. Explore the rich history, vibrant culture, and stunning landscapes of these idyllic islands.
The number of people that can be accommodated on a gulet depends on the size and class of the vessel. Gulets range in size from around 15 meters (50 feet) to over 40 meters (130 feet) and can typically accommodate groups ranging from 6 to 20 or more passengers, depending on the yacht's layout and cabin configurations.
During a Bodrum gulet charter, you can expect to visit beautiful coastal towns, swim in crystal-clear waters, explore hidden bays, and indulge in local cuisine. Bodrum itself offers attractions such as Bodrum Castle, the bustling marina, vibrant nightlife, and the ancient city of Halicarnassus. Other notable destinations that can be included in the routes from Bodrum are the nearby Greek islands, secluded coves, and charming coastal villages.
Charter companies, such as Platin Yachting, can assist in designing customized routes and itineraries, ensuring a seamless and unforgettable gulet charter experience from Bodrum.
 Bodrum Gulet Charter Offer Unforgettable Adventures
Explore the Beauty of the Aegean Sea with a Tailored Gulet Charter Experience
 In the heart of the Aegean Sea, the vibrant coastal town of Bodrum has long been a magnet for travelers seeking sun, sea, and an authentic sailing experience. With Bodrum gulet charters on the rise, adventurers can now embark on unforgettable journeys along the stunning Turkish coastline, discovering hidden gems, tranquil bays, and ancient wonders.
Bodrum gulet charters offer a perfect blend of adventure, relaxation, and cultural exploration. Let the sea be your guide as you sail on a traditional wooden gulet, immersing yourself in the captivating landscapes and azure waters of the Aegean. With its rich maritime history, vibrant nightlife, and breathtaking surroundings, Bodrum serves as an ideal starting point for a gulet charter adventure.
Experience the Comfort and Elegance of Gulets:
Gulets, the traditional Turkish sailing vessels, are known for their graceful beauty and exceptional comfort. These wooden yachts provide a unique blend of authenticity and luxury, offering spacious decks, cozy cabins, and various onboard amenities. Whether you choose a standard class for a budget-friendly option or indulge in the opulence of a luxury class gulet, the experience is guaranteed to be memorable.
Tailored Itineraries to Suit Your Desires:
Bodrum gulet charters allow you to design a personalized itinerary that caters to your preferences. Work with experienced charter companies, such as Platin Yachting, to create a route that combines the must-see highlights with off-the-beaten-path destinations. Explore the magnificent Bodrum Peninsula, uncover secluded coves, visit charming coastal villages, and soak in the natural beauty of the surrounding bays.
Discover the Rich History and Culture:
A Bodrum gulet charter is not only about sailing; it is an opportunity to immerse yourself in the rich history and vibrant culture of the region. Visit Bodrum Castle, an ancient fortress that has stood the test of time, housing the Museum of Underwater Archaeology. Explore the remains of the Mausoleum of Halicarnassus, one of the Seven Wonders of the Ancient World. Delve into the charming streets of Bodrum's old town, filled with boutique shops, quaint cafes, and bustling markets.
Greek Island Adventures:
For those seeking to expand their horizons, Bodrum gulet charters offer the option to venture into the enchanting Greek islands. Set sail towards the nearby island of Kos, with its sandy beaches and fascinating historical sites. Explore the picturesque island of Rhodes, where medieval architecture and cobblestone streets transport you back in time. Discover the hidden gems of Symi or venture further to the captivating island of Kalymnos. The possibilities are endless.
Unforgettable Memories at Sea:
Bodrum gulet charters provide an unparalleled opportunity to create lifelong memories. Dive into the crystal-clear waters for a refreshing swim, bask in the sun on the deck while taking in the panoramic views, and savor delicious meals prepared by the onboard chef using fresh local ingredients. Whether you're seeking adventure, relaxation, or a combination of both, a gulet charter from Bodrum promises an extraordinary experience.
As Bodrum continues to enchant travelers with its charm and allure, gulet charters have become a preferred choice for those seeking a unique sailing adventure. Experience the beauty of the Aegean Sea, delve into ancient history, and indulge in the pleasures of the sea on a Bodrum gulet charter. Let the wind guide your sails and embark on a journey of a lifetime.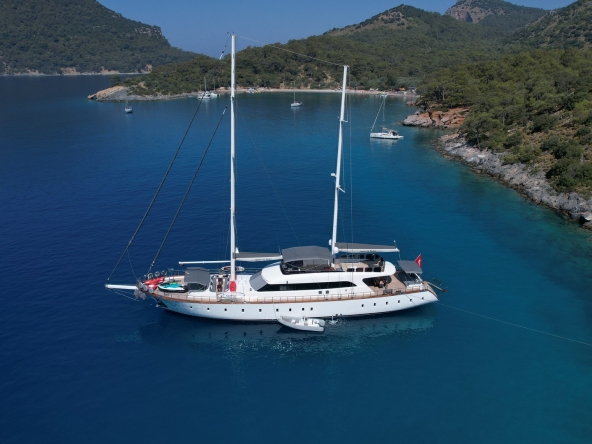 Unique Bays to Explore with Blue CruisesUnique Bays to Explore with Blue Cruise in Turkey The...