Luxury Gulet Charter
Luxury Gulet Charter Get ready to feel like kings during your vacation. If you ask how it is possible, it means that you have not seen our luxury Gulets special for you. You will enter a different world when you charter one of our luxury Gulets. You don't have to wait any longer to have a wonderful holiday experience. All you have to do is visit our website https://www.platinyachting.com/ and choose a Gulet that suits you.
Luxury Gulet Charter Video
Our Luxury Gulets have 5-star hotel facilities. Thanks to that you can spend a more comfortable and beautiful holiday. Besides, these Gulets have equipped with the latest technology. Also to technological equipment, safe luxury Gulets designed to serve you. There are many beautiful seas in Turkey. We guarantee you that you will fall in love with the blue of those seas once again thanks to our Gulets. Don't forget to visit our website to rediscover Turkey's incredibly beautiful seas with us.
Luxury Gulet Charter Prices
Everyone wants to spend a day on a luxury Gulet. But, even though it may seem expensive to charter a Gulet due to its name being "luxury", it is not exactly like that. At Platin Yachting, we have Gulet options for every budget. Tell us the route you want to explore, don't worry about the rest. Would you like to have a luxurious, comfortable, and convenient holiday? If your answer is yes, our Gulets are waiting for you. You can visit our website for a peaceful and comfortable holiday. On our Gulets, which have a very luxurious design, our crew can go with you to serve you during your holiday if you wish. Our experienced and friendly team is at your service 24/7 to please you.
What Should Be Considered When Charter A Luxury Gulet?
The most important issue to consider when chartering a Gulet is the price issue. The thing you need to pay attention to about the price is in which months you want to take a vacation. Because luxury Gulet charter prices vary according to the months. For example, if you want to take a vacation in July or August, you may have to pay more. The reason for this is that many people want to take a holiday in these months. Almost all yacht charter companies offer higher prices in these months. So before you charter a luxury Gulet, you need to check all these conditions. For the best prices, you can visit our web site: https://www.platinyachting.com/
Advantages of Luxury Gulet Charter
Luxury Gulets have more than one feature for you to make a comfortable holiday. After renting a luxury Gulet, you will feel almost living a dream. Especially because of the pandemic, we're in; everyone is trying to stay away from each other. Away from other people, only you and the people you want to holiday with can have fun in these Gulets. Considering the other advantages of luxury Gulets;
The opportunity to experience an incredible holiday with your loved ones,
The opportunity to holiday at a luxury and affordable price,
VIP rooms,
The opportunity to explore the unexplored places of the sea,
The opportunity to spend a great time away from Covid-19.
Platin Yachting Offers Exquisite Gulet Charters in Turkey and Greece's Bodrum, Fethiye, and MarmarisIn the world of luxury travel, Platin Yachting stands at the forefront, offering discerning travelers a gateway to unrivaled opulence and breathtaking experiences. With their extensive fleet of luxurious gulets, Platin Yachting presents an exclusive opportunity to embark on a remarkable luxury gulet charter along the stunning coastlines of Turkey and Greece, specifically in the enchanting destinations of Bodrum, Fethiye, and Marmaris.
Renowned for their commitment to personalized service and attention to detail, Platin Yachting curates extraordinary experiences that exceed the expectations of even the most discerning travelers. With a fleet of meticulously designed gulets, each boasting elegant interiors, spacious decks, and state-of-the-art amenities, Platin Yachting sets the stage for an unforgettable journey through the turquoise waters of the Mediterranean.
Bodrum, nestled on the Aegean coast of Turkey, invites travelers to immerse themselves in its rich history, vibrant nightlife, and stunning landscapes. With Platin Yachting's luxury gulet charters, guests can explore the captivating beauty of Bodrum's coastline, visit ancient ruins such as the Mausoleum at Halicarnassus, and discover hidden coves and secluded beaches accessible only by yacht.
Further along the Turkish coast lies the picturesque town of Fethiye, a gateway to breathtaking wonders. Platin Yachting's gulet charters allow guests to cruise through the mesmerizing Blue Lagoon, visit the captivating Butterfly Valley, and immerse themselves in the vibrant culture and warm hospitality of the region.
Marmaris, a jewel on the Turkish Riviera, offers a perfect blend of natural beauty and cosmopolitan charm. Platin Yachting's luxury gulet charters in Marmaris allow travelers to explore the stunning coastline, discover the idyllic bays of the Datça Peninsula, and experience the vibrant atmosphere of the Marmaris Marina.
Not limited to Turkey, Platin Yachting also presents the opportunity to embark on a luxury gulet charter in Greece. With their expert knowledge and seamless coordination, guests can sail through the picturesque Greek islands, experiencing the enchanting allure of destinations such as Rhodes, Kos, and Symi. Immerse yourself in the rich history, explore ancient ruins, and enjoy the vibrant Greek culture along the way.
Luxury gulet charter with Platin Yachting is a feast for the senses, where personalized service, breathtaking landscapes, and sumptuous onboard amenities converge to create an unforgettable journey. From gourmet dining experiences crafted by talented onboard chefs to the attentive and professional crew ensuring every need is met, Platin Yachting's commitment to excellence sets the stage for a truly indulgent escape.
As luxury travel continues to evolve, Platin Yachting redefines the boundaries, inviting travelers to experience the epitome of luxury aboard their magnificent gulets. With Bodrum, Fethiye, Marmaris, and the Greek islands as their playground, guests can create cherished memories, embrace the beauty of the Mediterranean, and embark on a voyage of a lifetime.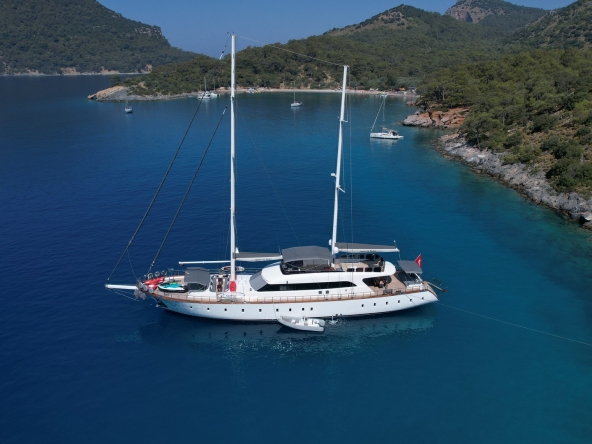 Unique Bays to Explore with Blue CruisesUnique Bays to Explore with Blue Cruise in Turkey The...