Crewed Gulet Charter There are quite a lot of people excited about the arrival of summer. The biggest reason for this is that people want to go to the sea as soon as possible. Because people get rid of the tiredness of a whole year in this way. People want to relax by swimming in the ice-cold sea, rest and, rejuvenate. However, resting peacefully on crowded beaches can be very difficult for people. This is where Platin Yachting & Sailing comes into play.
With the crewed gulet charter service offered by Platin Yachting & Sailing, a holiday beyond your dreams awaits you! A blue cruise with a crewed gulet that you will charter can make you forget all your stress and give you a unique holiday experience.
Blue Cruise with Crewed Gulet Charter
Don't you think it's time to go on a vacation that you've wanted to go for a long time but haven't been able to? If you think this way, it's time to charter a crewed gulet and embark on a blue cruise! There are many wonderful coves in Turkey where you can charter a gulet for a holiday. In this way, you can enjoy a peaceful and comfortable holiday as well as discovering many different places. 
Also, you can let yourself go with the deep blue sea and enjoy the beautiful natural landscapes. In addition, the crewed gulets you will charter are equipped with state-of-the-art technology such as DVD players, fully equipped music players and, LCD TVs. Thus, you do not have to compromise on your comfort inside the gulet. If you have any questions about going on a blue cruise with a crewed gulet, you can visit the https://www.platinyachting.com/what-is-gulet/ website.
Price of a Crewed Gulet Charter
Do you want to plan an unusual holiday but do not have an idea? It's understandable that people get bored of going on vacation the same way all the time. For this reason, it is possible to spend quality time on the gulets you charter in many popular holiday resorts in Turkey. 
Of course, such a luxury vacation is usually not cheap. However, you can charter a crewed gulet with Platin Yachting & Sailing's superior service and reasonable price. The prices of gulets are varied by type there are some factors that affect the price of the gulets you will charter. These factors are:
The size of the gulet
Number of personnel to work on the gulet
Equipment on the gulet (jet ski, jacuzzi, etc.)
For more detailed information about crewed gulet charter, you can visit the https://www.platinyachting.com/gulet-rental/ website.
Why should Platin Yachting & Sailing be preferred when chartering a crewed gulet?
Platin Yachting & Sailing ensures that your summer vacation will be just like your dreams. Thus, you can have the chance to experience a very comfortable and luxurious holiday. The company, which provides service with superior quality standards, considers all the needs of its customers and acts accordingly. The holiday you will take with the gulets that Platin Yachting & Sailing has meticulously rented will be a complete substitute like the comfort of a five-star hotel. So you do not have to deal with daily tasks such as cooking or cleaning on your holiday with the gulets you will rent with a professional crew. If you are also considering chartering a crewed gulet and want to learn more about this subject, you can visit the https://www.platinyachting.com/yacht-type/gulets/ website.
Crewed Gulet Charter in Turkey
Introduction:
If you're seeking a truly unforgettable vacation, look no further than a crewed gulet charter in Turkey. Set sail along the mesmerizing Turkish coast on a traditional wooden gulet, and allow yourself to be immersed in the beauty of the turquoise waters, picturesque landscapes, and rich cultural heritage. With a professional crew taking care of your every need, you can relax, unwind, and indulge in a truly luxurious and personalized experience. Let's delve into the captivating world of crewed gulet charter in Turkey.
1. What is a Gulet?
A gulet is a traditional wooden sailing vessel, typically constructed from pine and oak, featuring elegant lines and spacious decks. These luxurious vessels blend authentic Turkish craftsmanship with modern amenities, providing a perfect blend of comfort and authenticity. Gulets come in various sizes, accommodating different group sizes and preferences. From cozy cabins to expansive lounges and dining areas, gulets offer ample space for relaxation, entertainment, and socializing.
2. Professional Crew:
One of the key advantages of a crewed gulet charter is the attentive and professional crew that accompanies you throughout your journey. The crew typically includes a captain, chef, and other supporting staff who are well-versed in providing top-notch service. They handle navigation, safety, and maintenance, ensuring a smooth and worry-free voyage. The chef on board prepares delicious meals using fresh local ingredients, catering to your dietary preferences and creating a culinary experience like no other.
3. Tailored Itineraries:
With a crewed gulet charter, you have the freedom to design a personalized itinerary that suits your interests and desires. Whether you prefer exploring historical sites, snorkeling in secluded bays, or simply basking in the sun, the crew can create a bespoke journey just for you. Visit ancient ruins like Ephesus or the Lycian Rock Tombs, discover hidden coves and vibrant marine life, or dock in picturesque harbors and charming fishing villages. The possibilities are endless, and the crew is there to ensure that every moment is memorable.
4. Relaxation and Luxury:
One of the greatest pleasures of a crewed gulet charter is the opportunity to relax and unwind in a luxurious setting. Lounge on spacious decks, soak up the sun, or dive into the crystal-clear waters directly from your yacht. Pamper yourself with onboard amenities such as jacuzzis, sunbeds, and even water sports equipment. Indulge in rejuvenating spa treatments or enjoy a refreshing cocktail as you watch the stunning coastline pass by. The crew's attention to detail and commitment to your comfort will make you feel like royalty on the high seas.
5. Cultural Immersion:
Turkey is a land steeped in history and culture, and a crewed gulet charter offers a unique opportunity for cultural immersion. Explore ancient ruins, such as the UNESCO World Heritage Site of Troy, or visit the captivating city of Istanbul with its rich blend of European and Asian influences. Experience traditional Turkish hospitality as you interact with locals in coastal towns and sample the delectable cuisine that has been influenced by centuries of diverse cultural exchanges.
Conclusion:
A crewed gulet charter in Turkey is the epitome of luxury, relaxation, and adventure. With a professional crew attending to your every need, you can immerse yourself in the beauty of the Turkish coast, indulge in gourmet meals, and explore fascinating historical sites. Whether you're seeking a romantic getaway, a family adventure, or a unique celebration, a crewed gulet charter promises an unforgettable experience tailored to your desires. So, set sail on a voyage of a lifetime and create cherished memories in the enchanting waters of Turkey.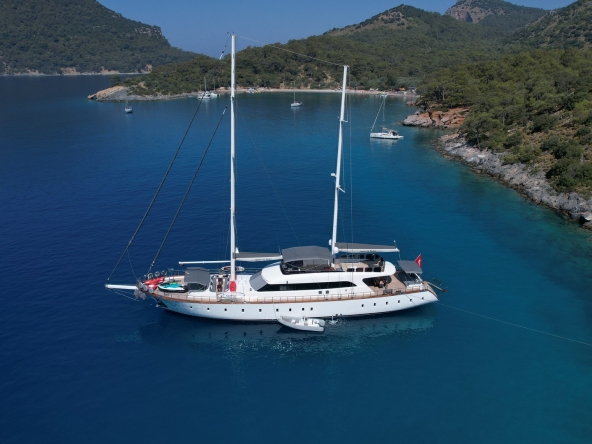 Unique Bays to Explore with Blue CruisesUnique Bays to Explore with Blue Cruise in Turkey The...
Crewed Gulet Charters in Turkey
 Sail the Turquoise Coast in Style with a Professional Crew on Board
Travel enthusiasts and adventure seekers can now embark on the journey of a lifetime along the stunning Turkish coast with the introduction of crewed gulet charters in Turkey. This new offering allows travelers to experience the epitome of luxury, relaxation, and personalized service as they set sail on traditional wooden gulets accompanied by a professional crew.
A crewed gulet charter offers a truly immersive and unforgettable experience for those who seek the perfect blend of adventure, comfort, and cultural discovery. These elegant vessels, crafted with meticulous attention to detail, provide the ideal platform for exploring the turquoise waters and picturesque landscapes that make the Turkish coast so renowned.
One of the key highlights of a crewed gulet charter is the presence of a highly trained and dedicated crew on board. The crew consists of a skilled captain, a talented chef, and other experienced staff members who ensure smooth sailing, safety, and a seamless voyage. From navigating the intricate coastlines to providing personalized services, the crew's expertise and attentiveness cater to the individual needs and preferences of each guest.
Travelers opting for a crewed gulet charter can indulge in a wealth of tailored experiences. The itineraries are designed to showcase the very best of Turkey, including visits to historical sites, exploration of secluded bays and beaches, and opportunities for water sports and snorkeling in vibrant marine environments. Guests can immerse themselves in the rich cultural heritage of the region, discovering ancient ruins, charming fishing villages, and picturesque harbors along the way.
Onboard, guests are treated to a haven of luxury and relaxation. The spacious decks provide ample space for lounging, sunbathing, and dining, while the cabins offer a retreat of comfort and privacy. Gulets often come equipped with modern amenities, such as jacuzzis, water sports equipment, and even spas, allowing guests to indulge in rejuvenating experiences while surrounded by breathtaking views of the coast.
One of the great advantages of a crewed gulet charter is the opportunity to savor the flavors of Turkish cuisine. The onboard chef prepares delectable meals using the freshest local ingredients, creating a culinary journey that reflects the diverse flavors and influences of the region. From traditional Turkish delicacies to international favorites, the dining experience onboard is a feast for the senses.
With crewed gulet charters gaining popularity, Turkey continues to solidify its position as a premier destination for luxury yacht vacations. The country's rich history, vibrant culture, and breathtaking natural beauty provide the perfect backdrop for an unforgettable adventure.
As travelers seek unique and personalized experiences, crewed gulet charters in Turkey offer an unparalleled opportunity to explore the coast in style and comfort. From the moment guests step aboard their private gulet, they embark on a voyage filled with wonder, relaxation, and cultural immersion.
Whether it's a romantic getaway, a family vacation, or a celebration with loved ones, a crewed gulet charter in Turkey promises a journey of a lifetime, leaving guests with cherished memories and a yearning to return to the enchanting Turkish coast.