Gulet Charter Turkey
Gulet Charter Turkey is the best way to experience a unique sea of Aegean. With the most modern gulets, you can have a chance to visit the beautiful bays of Marmaris, Bozburun, Fethiye. Gulets include hotel room comfort and many technological types of equipment you need. By traveling the most beautiful sea of Turkey, you can also witness wonderful views of nature.
Gulet Charter Turkey Video
In addition to comfort and a great holiday, an experienced cabin crew will also accompany you to meet your requirements. To begin your unforgettable journey with our most modern gulets, the first thing you should do is to choose the most suitable gulet for you.
How To Choose Best Gulet
The best gulet is the most suitable one for you. There are some factors while choosing the best gulet. These factors are sortable like this:
The cabin number you need
The comfort level you want
Your special requests
While choosing the best gulet for your travel, you should consider these factors. If you have many guests, you may think to choose a gulet which has many cabin rooms. Many travelers want to have hotel room comfort in their trip. In this situation, a luxury gulet charter will be a better choice for your adventure. To investigate our most modern gulets, you can visit https://www.platinyachting.com/yacht-type/gulets/ page or contact us. As a pioneer gulet charter agency in Turkey, Platin Yachting will help you to choose the most suitable gulet for your trip. 
Gulet and Yacht Charter Turkey
If you have decided on your holiday destination to Marmaris, Bozburun or Fethiye, gulets and yachts will be your best friends. With our gulet and yacht charter services, you can have a trip in which beautiful bays and views of great nature. Gulet and yacht charter is the best way to experience this unique atmosphere because of their advantages. You can find these advantages in our most modern gulets and yachts:
Five-star hotel room comfort
Experienced cabin crew
Technological equipment
Special menu for your taste
In the Aegean Sea, there are many views you would like to see. By traveling to see them, you can have a chance to visit the most beautiful bays in near locations. Yachts may be the best choice for this lovely trip because of their acceleration. As an experienced gulet and yacht charter in Turkey, Platin Yachting provides the most modern yachts to its clients. To see our yachts with their features, you can visit https://www.platinyachting.com/yacht-type/bareboats/ address.
Gulet Charter Prices Turkey
Gulet charter prices may vary depending on some factors. These factors are the type of gulets, their features, and their rental period. You may want to have an affordable trip as well as being comfortable. For this, you can choose our standard gulets for your trip. Standard gulets have modern equipment as well. They are more suitable for not crowded groups. In addition to this, they have WC's in every cabin.
If your choice is to have the most comfortable gulets, then our deluxe gulets will meet your requirements. Deluxe gulets have all equipment you may need, lots of cabins for your guests.
Gulet Charter
Gulet charter Turkey which is an important section of marine tourism, is the perfect choice to see the unique beauty of the Aegean and Mediterranean coast. Blue cruise in modern, classic or ultra-luxury gullets, is a great alternative to enjoy the holiday and the beautiful sea.
Gulet Charter Turkey with Crewed Gulets to rent and Gulet Cruise in Turkey Bodrum Marmaris Fethhiye Datça Göcek , Turkish Gulet Cruise
To stay in the magnificent bays, route through the untouched coastline and lush islands, is the most important advantages of the blue voyages. Gulet charters offer luxury and comfort trips to the customers as well as give a chance to discover the unique beauty of nature at the blue marine.
Gulet Cruise provide latest features like LCD, DVD and internet access to catch the speed of the daily life. Also, water sports toys and other equipment allow the guests to spend a fun time on the cruise. Most enjoyable moments of the blue journey, is an alfresco dinner break with an open sea breeze or a musical feast under the stars at nights.
With an experienced captain and crew, charter gullets provide all the comfort to the blue voyage lovers who want to spend their summer holiday in the deep blue sea, cruise to the popular blue voyage destinations or anchor on the shores of the peaceful coast towns.
Gulet Charter Turkey: A Luxurious Voyage Along the Turkish Coastline
Turkey's enchanting coastline has long been a magnet for travelers seeking awe-inspiring landscapes, rich history, and warm hospitality. Amidst this breathtaking backdrop, gulet charters have emerged as the epitome of luxury travel, offering an exclusive and unforgettable experience. Today, we dive into the captivating world of gulet charter in Turkey, where discerning travelers embark on remarkable voyages along the country's stunning shores.
A gulet, a traditional Turkish wooden sailing yacht, serves as the vessel of choice for these luxurious charters. With their distinctive design, spacious decks, and comfortable cabins, gulets combine elegance and authenticity, providing the perfect platform for indulging in the beauty of the Mediterranean. These floating havens of opulence have caught the attention of travelers worldwide, seeking a truly unique vacation experience.
From Bodrum to Fethiye, Marmaris to Antalya, the Turkish coast is a treasure trove of hidden coves, pristine beaches, and captivating historical sites. Gulet charters allow guests to explore these wonders, each charter tailored to the desires of the passengers. Whether it's unwinding in secluded bays, visiting ancient ruins, or simply relishing in the tranquility of the open sea, the possibilities are limitless.
Leading the charge in the world of gulet charters is Platin Yachting, a renowned provider dedicated to delivering unparalleled luxury experiences. With their fleet of meticulously designed gulets, Platin Yachting offers a range of options to suit diverse preferences and group sizes. Each vessel exudes elegance, featuring state-of-the-art amenities, spacious cabins, and exceptional craftsmanship.
What truly sets Platin Yachting apart is their commitment to personalized service. Their team of seasoned professionals collaborates closely with guests to curate bespoke itineraries that cater to their desires and interests. Whether it's exploring ancient cities like Ephesus, swimming in the crystal-clear waters of the Blue Lagoon, or enjoying a sunset cruise along the coast, Platin Yachting ensures every moment is tailored to perfection.
The onboard crew of Platin Yachting is a cornerstone of the charter experience, providing impeccable service and creating a welcoming atmosphere. From the captain skillfully navigating the yacht to the talented chefs preparing gourmet delights, the crew members are dedicated to making each voyage a seamless and unforgettable journey. Their expertise, warm hospitality, and attention to detail ensure that guests are pampered and catered to throughout their time aboard.
While onboard, guests have the opportunity to indulge in an array of water sports and activities. From snorkeling and paddleboarding to jet skiing and kayaking, the azure waters of the Mediterranean beckon adventurers to explore their depths. The crew of Platin Yachting is on hand to guide and assist guests in making the most of these exhilarating experiences while ensuring safety and enjoyment.
As gulet charters continue to gain popularity, the Turkish coast has become a sought-after destination for luxury travel enthusiasts. The sheer beauty of the landscapes, combined with the cultural richness and warm hospitality of the Turkish people, creates an experience that lingers in the hearts of all who embark on this extraordinary journey.
In conclusion, gulet charters in Turkey offer a gateway to a world of opulence, relaxation, and exploration. With Platin Yachting at the helm, guests can expect nothing short of a truly exceptional voyage, where every detail is meticulously planned, and every desire is met. As the sun sets on the Turkish horizon, gulet charters continue to redefine luxury travel, inviting adventurers to create lasting memories along the captivating Turkish coastline.
Gulet Charter in Turkey: Experiencing Luxury with Platin Yachting
When it comes to luxury yacht charters in Turkey, Platin Yachting stands out as a premier provider, offering an exceptional gulet charter experience. With their attention to detail, impeccable service, and a fleet of top-quality vessels, Platin Yachting ensures an unforgettable journey along the stunning Turkish coastline. In this blog post, we will delve into the captivating world of gulet charter in Turkey, highlighting the remarkable features and services provided by Platin Yachting.
The Fleet of Platin Yachting:
Platin Yachting boasts a diverse fleet of luxurious gulets, each meticulously designed to provide comfort, style, and elegance. From classic wooden gulets to modern and contemporary designs, they offer a wide range of options to suit different preferences and group sizes. Platin Yachting's gulets are equipped with state-of-the-art amenities, spacious cabins, en-suite bathrooms, comfortable lounges, and ample deck spaces for relaxation and entertainment.
Personalized Itineraries:
Platin Yachting understands that every charter is unique, and they go above and beyond to create personalized itineraries tailored to your desires. Their knowledgeable team will work closely with you to understand your preferences, whether it's exploring historic sites, swimming in secluded bays, or indulging in local cuisine. With their expertise, they will craft a bespoke itinerary that maximizes your enjoyment and ensures an immersive experience along the Turkish coast.
Professional Crew and Service:
One of the distinguishing features of Platin Yachting is their highly trained and professional crew members who are dedicated to providing exceptional service throughout your charter. From the captain navigating the waters to the chef preparing delectable meals, the crew members are skilled, friendly, and attentive to your needs. Their warm hospitality and willingness to go the extra mile contribute to a truly luxurious and comfortable charter experience.
Gourmet Dining:
Platin Yachting takes pride in offering gourmet dining experiences on board their gulets. The talented onboard chefs prepare a delightful array of dishes, blending Turkish and international flavors using the freshest local ingredients. Whether you prefer a casual beachside barbecue or an elegant candlelit dinner, the culinary team will ensure that each meal is a memorable highlight of your charter.
Water Sports and Activities:
For those seeking adventure and excitement, Platin Yachting provides a wide range of water sports and activities. From snorkeling in pristine coves to kayaking, paddleboarding, and jet skiing, there are endless opportunities to explore the turquoise waters. The crew will guide and assist you in enjoying these activities safely and to the fullest, adding an extra layer of fun to your charter experience.
Exceptional Attention to Detail:
Platin Yachting prides itself on its attention to detail, ensuring that every aspect of your charter is meticulously planned and executed. From the initial inquiry to the final farewell, their team is committed to delivering excellence. Whether it's the cleanliness of the yacht, the quality of the amenities, or the seamless logistics, Platin Yachting leaves no stone unturned to ensure your utmost satisfaction.
Gulet charter in Turkey with Platin Yachting is an unparalleled luxury experience, combining the natural beauty of the Turkish coastline with the highest standards of comfort and service. From their exceptional fleet to personalized itineraries, professional crew, gourmet dining, and attention to detail, Platin Yachting sets the stage for an unforgettable journey. Whether you're seeking relaxation, adventure, or cultural exploration, Platin Yachting will provide a seamless and luxurious gulet charter that exceeds your expectations and creates cherished memories to last a lifetime.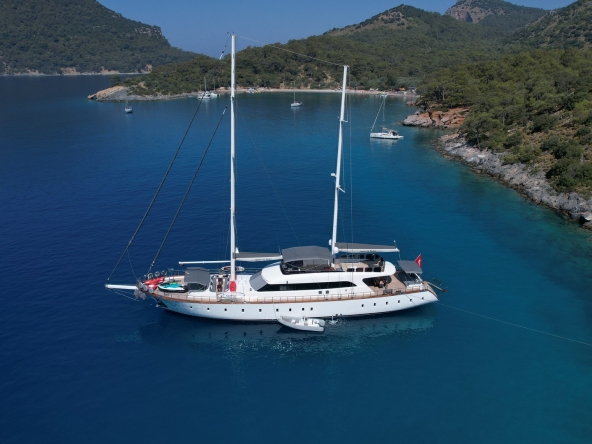 Unique Bays to Explore with Blue CruisesUnique Bays to Explore with Blue Cruise in Turkey The...