Yoga Gulet Charter
Yoga Gulet Charter As Platin Yachting, which organizes various boat tours on the Aegean and Mediterranean coasts of Turkey, we offer our guests the most comfortable and peaceful holiday. We have been serving at tourism sector for many years with our various boat and yacht options in our portfolio. We are proud to be the first company that comes to mind about gulet and yacht holidays. We organize tours to suit your various needs and offer rental services on our yachts, where all kinds of comfort are provided. Our yoga gulet charter service is one of the services we offer you.
Yoga Gulet Charter You can do your yoga retreat activities while enjoying the blue waters on our gulet boats specially designed for yoga tours. We have considered all the details necessary for a yoga retreat in yoga gulet charters that are specially planned for groups. We provide you a yoga gulet charter services with our very quiet boats for your Vipassana meditation and focus practices.
The boats we have chosen for your yoga retreat are designed to be very stable and unaffected by the wavy sea. This feauture of gulet prevents you from losing your balance while sitting or doing yoga poses. Thus, you can do your yoga activities in the comfort of the studio. On our yoga boat tours, 2 professional yoga instructors are available upon request. In this way, you can do yoga at any time while travelling the open seas.
Depending on the number of people, the size of the gulet we choose for you may vary. You can do yoga and meditation outdoors on our gulet boats, which are specially designed for yoga activities. There is enough space for everyone on the front deck of the boat. There are also areas where you can do yoga in shade, upon request.
What Is A Gulet Boat?
Gulet boats are a type of sailing boat that can be quite large in size. They can travel by using wind energy through their sails, and they can also move with their engine when there is no wind. Traditionally made of wooden materials, gulets can be of various sizes, from 2 cabins to 12 cabins. Its capacity is from 6 to 80 people, depending on its size and number of cabins. Our gulet boats are equipped with a wide range of technological facilities. Each gulet's design is unique and different from each other. Click to view all yoga gulet boats in our portfolio.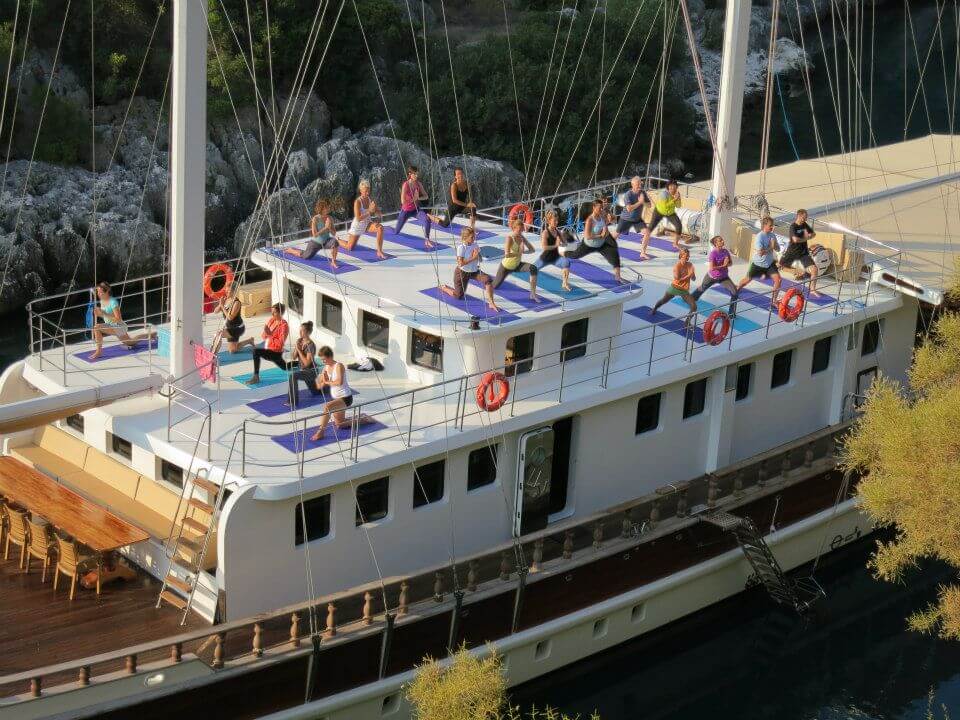 Yoga Gulet Charter Prices
Yoga Gulet Charter Gulet charter preference can vary according to many factors. Choosing a gulet according to your needs and tastes is a very important first step. Each factor causes changes in gulet charter prices. The most important of these factors is the number of people. Another important factor that determines the price of a yoga gulet charter is the duration of the yoga retreat. As the travel duration increases, gulet charter prices will also increase. You can contact Platin Yachting by phone and get consultancy to charter a gulet that suits your needs.
Other factors that determine gulet charter prices are:
Number of Passenger
Route and Travel Duration
Number of Cabins
Technological and Comfort Possibilities
Gulet Boat Design
Number of Required Personnel
Including Food & Beverage
For a further information you can read How To Rent A Gulet article.
 Embark on a Yoga Gulet Charter with Platin Yachting in Turkey and Greece
Immerse yourself in a harmonious blend of sailing, wellness, and tranquility on a yoga gulet charter in the captivating destinations of Turkey and Greece. Set sail from the vibrant coastal towns of Bodrum, Fethiye, or Marmaris and explore the stunning Turkish Riviera, while also venturing into the enchanting Greek islands. Platin Yachting offers an exceptional opportunity to embark on a transformative journey, combining the beauty of the Mediterranean with the serenity of yoga. Join us as we dive into the world of yoga gulet charters, where mindfulness meets the magic of the sea.
Discover Yoga on the Turquoise Coast:
Picture yourself on the spacious deck of a traditional Turkish gulet, surrounded by the crystal-clear waters of the Turquoise Coast. Feel the gentle sea breeze as you practice yoga, absorbing the serene energy of the Mediterranean. Platin Yachting's yoga gulet charters provide an idyllic setting to deepen your yoga practice and connect with nature on a whole new level.
Revitalize Your Mind and Body:
With experienced yoga instructors guiding your practice, you'll have the opportunity to rejuvenate your mind, body, and soul. Start your mornings with gentle sunrise yoga sessions, finding inner peace and balance as the sun rises over the horizon. Explore different yoga styles, including Hatha, Vinyasa, and Yin, tailored to suit practitioners of all levels. Enhance your flexibility, strength, and mindfulness as you engage in daily yoga sessions amidst the breathtaking backdrop of the Mediterranean.
Sailing Through Serenity:
As you sail along the captivating coastlines of Turkey and Greece, allow the rhythm of the sea to enhance your yoga experience. Find serenity as you practice yoga on secluded beaches, secluded coves, or the deck of your gulet, with the gentle lapping of the waves as your soundtrack. Dive into the crystal-clear waters for refreshing swims, snorkeling adventures, and moments of pure bliss.
Exploring Turkish and Greek Delights:
While yoga will be at the heart of your journey, a yoga gulet charter also offers the opportunity to explore the cultural and culinary wonders of the region. Visit charming coastal towns, sample delicious local cuisine, and immerse yourself in the vibrant markets and historical sites along the way. From the ancient ruins of Ephesus to the quaint streets of Rhodes Old Town, each destination holds its own unique charm, providing a holistic experience that nourishes both body and soul.
Platin Yachting: Your Gateway to Yoga on the Seas:
Platin Yachting, renowned for its expertise in luxury yacht charters, is your gateway to an unforgettable yoga gulet charter experience. With a fleet of meticulously maintained gulets and a team of dedicated professionals, they offer tailored itineraries that combine yoga, sailing, and relaxation in perfect harmony. Whether you're a solo traveler, a group of yogis, or a retreat organizer, Platin Yachting ensures a seamless and personalized journey.
Embrace the Transformative Magic:
A yoga gulet charter with Platin Yachting in Turkey and Greece is an invitation to embrace the transformative magic of the sea and the serenity of yoga. Reconnect with your inner self, find balance, and awaken your senses as you embark on this journey of self-discovery and wellness. So, set sail, breathe deeply, and let the healing power of yoga and the beauty of the Mediterranean guide you on an extraordinary adventure.
A yoga gulet charter combines the serene practice of yoga with the luxury and freedom of sailing on a traditional Turkish gulet. It offers a unique and rejuvenating experience that allows participants to immerse themselves in yoga, mindfulness, and the beauty of the sea.
A gulet is a traditional wooden sailing vessel, typically found in the Mediterranean, known for its spaciousness, comfort, and elegance. These vessels are equipped with modern amenities to ensure a comfortable and luxurious onboard experience. During a yoga gulet charter, the gulet serves as a floating sanctuary, providing a serene and tranquil setting for yoga practice.
The main focus of a yoga gulet charter is to create a harmonious balance between yoga, wellness, and sailing. Experienced yoga instructors guide participants through various yoga styles, such as Hatha, Vinyasa, Yin, or a customized blend, catering to practitioners of all levels. Yoga sessions are conducted on the spacious deck of the gulet, allowing participants to connect with the natural elements and find inner peace as they flow through their practice.
In addition to daily yoga sessions, participants have the opportunity to explore stunning coastal destinations, swim in turquoise waters, and indulge in delicious cuisine. The itineraries can be tailored to include visits to charming towns, secluded beaches, and cultural landmarks along the coastline.
A yoga gulet charter provides a unique way to combine wellness, adventure, and relaxation. It allows participants to reconnect with themselves, find inner balance, and immerse themselves in the beauty of nature. Whether you are a solo traveler, a group of yoga enthusiasts, or a retreat organizer, a yoga gulet charter offers a transformative experience that rejuvenates the mind, body, and soul.
It is recommended to consult with reputable yacht charter companies specializing in yoga gulet charters, such as Platin Yachting, to plan a customized itinerary that suits your preferences and ensures a seamless and unforgettable journey.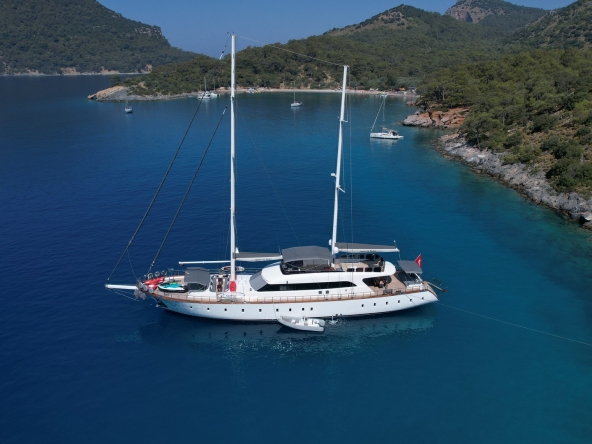 Unique Bays to Explore with Blue CruisesUnique Bays to Explore with Blue Cruise in Turkey The...