Yoga Gulet Charter
Yoga Gulet Charter As Platin Yachting, which organizes various boat tours on the Aegean and Mediterranean coasts of Turkey, we offer our guests the most comfortable and peaceful holiday. We have been serving at tourism sector for many years with our various boat and yacht options in our portfolio. We are proud to be the first company that comes to mind about gulet and yacht holidays. We organize tours to suit your various needs and offer rental services on our yachts, where all kinds of comfort are provided. Our yoga gulet charter service is one of the services we offer you.
Yoga Gulet Charter You can do your yoga retreat activities while enjoying the blue waters on our gulet boats specially designed for yoga tours. We have considered all the details necessary for a yoga retreat in yoga gulet charters that are specially planned for groups. We provide you a yoga gulet charter services with our very quiet boats for your Vipassana meditation and focus practices.
The boats we have chosen for your yoga retreat are designed to be very stable and unaffected by the wavy sea. This feauture of gulet prevents you from losing your balance while sitting or doing yoga poses. Thus, you can do your yoga activities in the comfort of the studio. On our yoga boat tours, 2 professional yoga instructors are available upon request. In this way, you can do yoga at any time while travelling the open seas.
Depending on the number of people, the size of the gulet we choose for you may vary. You can do yoga and meditation outdoors on our gulet boats, which are specially designed for yoga activities. There is enough space for everyone on the front deck of the boat. There are also areas where you can do yoga in shade, upon request.
YACHTS BY CABIN
What Is A Gulet Boat?
Gulet boats are a type of sailing boat that can be quite large in size. They can travel by using wind energy through their sails, and they can also move with their engine when there is no wind. Traditionally made of wooden materials, gulets can be of various sizes, from 2 cabins to 12 cabins. Its capacity is from 6 to 80 people, depending on its size and number of cabins. Our gulet boats are equipped with a wide range of technological facilities. Each gulet's design is unique and different from each other. Click to view all yoga gulet boats in our portfolio.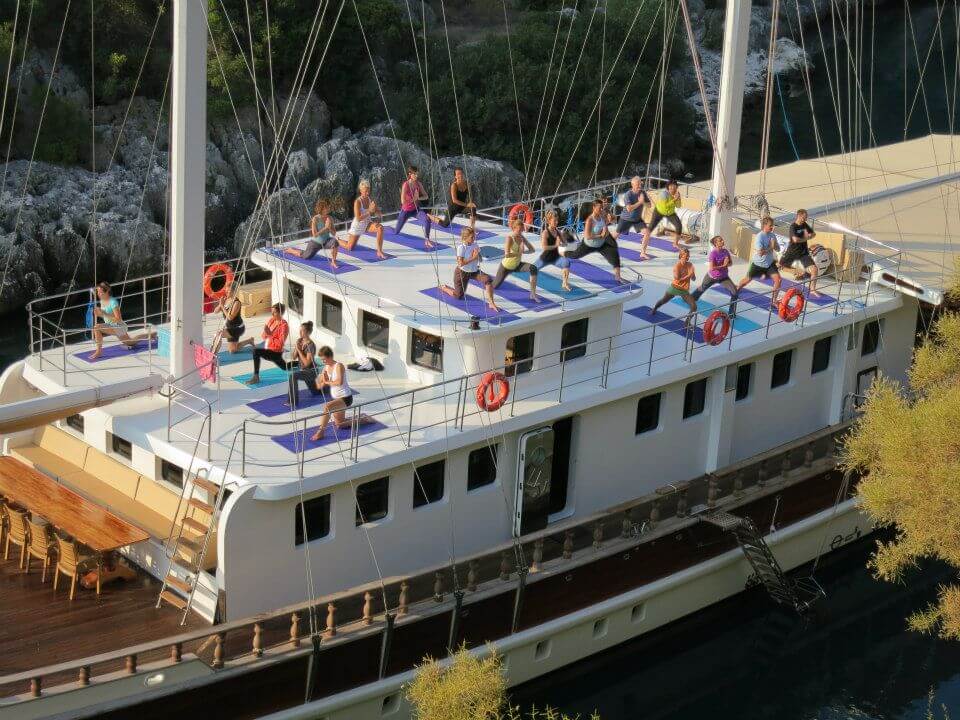 Yoga Gulet Charter Prices
Yoga Gulet Charter Gulet charter preference can vary according to many factors. Choosing a gulet according to your needs and tastes is a very important first step. Each factor causes changes in gulet charter prices. The most important of these factors is the number of people. Another important factor that determines the price of a yoga gulet charter is the duration of the yoga retreat. As the travel duration increases, gulet charter prices will also increase. You can contact Platin Yachting by phone and get consultancy to charter a gulet that suits your needs.
YACHT CLASSES
Other factors that determine gulet charter prices are:
Number of Passenger
Route and Travel Duration
Number of Cabins
Technological and Comfort Possibilities
Gulet Boat Design
Number of Required Personnel
Including Food & Beverage
For a further information you can read How To Rent A Gulet article.