Blue Cruise Routes of Fethiye
Blue Cruise Routes of Fethiye
Fethiye, one of the most beautiful routes for blue cruises, stands out with its sparkling sea, lush forests, and mountainous landscapes. Hosting many famous places like the Butterfly Valley and Ölüdeniz, the district holds an important place among holiday destinations. Fethiye's popularity is steadily increasing in blue cruises and it is also frequently preferred for ecotourism.
Fethiye, a district that is often chosen by those who want to experience a blue cruise, offers many important and diverse routes. You can have a pleasant vacation here by exploring these beautiful and unique routes. Additionally, you can enjoy various water sports, paragliding, swimming, trekking, and hiking on these routes, making your blue cruise enjoyable.
Butterfly Valley
One of the must-see places on blue tours departing from Fethiye is the world-famous Butterfly Valley. The valley takes its name from the local butterflies unique to this region. With its unique geographical structure and untouched natural beauty, it is a globally renowned valley.
Ölüdeniz
Another famous route in Fethiye is Ölüdeniz, known worldwide. Ölüdeniz is a perfect region that has managed to preserve its nature. The area is highly suitable for outdoor sports, and you can engage in various activities such as rafting, paragliding, hiking, and trekking, in addition to water sports like rafting.
Kayaköy
Kayaköy is one of the points in a blue cruise departing from Fethiye where you can encounter many historical and cultural values. With a history of 5,000 years, the village stands out with its Anatolian Greek architecture dating back to the exchange period. You must also visit this city with its lush nature and historical beauties.
Kabak Bay
With its light-colored sandy beaches and turquoise sea, Kabak Bay is one of the must-see places in Fethiye. The bay, surrounded by dense forests on both sides, has a sheltered structure with wonderful views. Walking through the bay, which is home to many beautiful waterfalls, will be enjoyable. Therefore, be sure to add Kabak Bay to your list of places to visit.
Katrancı Bay
Katrancı Bay is a natural park. This bay, consisting of forested areas around it, is also used as a camping area. It's a place where you can connect with nature, set up tents, and go for walks in the forest.
Turunç Pınarı Bay ( Yazz Collective )
Turunç Pınarı Bay is one of the bays of Oyuktepe and takes its name from the tangerine trees in the region. Access to this area from the land is quite difficult, making it a peaceful harbor for those on a blue cruise. It also offers a stunning view that provides a visual feast for visitors.
Kuleli Bay
Kuleli Bay is located within the Fethiye Peninsula and is quite close to the center. It's a perfect route for those planning a quiet and secluded holiday. This bay stands out with its crystal-clear blue sea and lush green nature.
Aksazlar Bay
Aksazlar Bay, one of the bays of Oyuktepe, stands out with its proximity to the center of Fethiye. It boasts a magnificent bay view and is also a valuable camping area. Many events such as weddings, engagements, and festivals are also organized in this bay.
Small Boncuklu Bay
Small Boncuklu Bay is one of the coves located on the Fethiye Peninsula. Surrounded by yellow pine trees, this bay draws attention with its lush nature, sparkling sea, and fresh forest air. Access by land is quite challenging, making it an ideal route for those on a blue cruise.
Big Boncuklu Bay
Highly popular among local tourists, Big Boncuklu Bay is an ideal spot for picnics. This bay offers walking and biking trails, a children's playground, restrooms, changing cabins, and shower cabins.
Small Samanlık Bay
Small Samanlık Bay is one of the popular bays where boats and yachts frequently anchor. This peaceful and quiet bay is famous for its crystal-clear sea. The sea is so clear and clean that you can see many marine creatures in the water.
Big Samanlık Bay
Similar to Big Boncuklu Bay in terms of its surroundings and nature, Big Samanlık Bay is also a popular spot for picnics and barbecues. There are many facilities available for picnicking and barbecuing in this bay. While the bay is quite crowded on weekends, you can choose weekdays for a quieter picnic.
Cennet Bay
Cennet Bay is undoubtedly one of the places that comes to mind when Fethiye is mentioned. Located near Kabak Bay, this bay stands out with its golden sandy beaches, warm, gentle wavy, turquoise sea, and lush green forests. Don't forget to visit this bay for a wonderful vacation experience with a unique view.
Aquarium Bay
Akvaryum Bay, one of the most suitable bays in Turkey for snorkeling, is one of Fethiye's famous bays. With its transparent sea resembling an aquarium and rich underwater diversity, this bay is also ideal for underwater sports. You can enjoy activities like snorkeling, swimming, or observing underwater life here.
Babadağ
Babadağ is the most preferred place for paragliding. To get a panoramic view of Fethiye and Ölüdeniz and add excitement to your vacation, you must include Babadağ in your Fethiye itinerary.
Gemiler Island (Aya Nikola Island)
Gemiler Island, located across from Gemiler Bay and beach, is historically significant. Formerly known as Symbola in the Middle Ages, the island's name changed to Aya Nikola Island due to the influence of Saint Nicholas, also known as Santa Claus. The island houses two historical churches, and in addition to religious structures, there are also many historical settlement remnants on the island. If you want to add history to your Fethiye tour, you can visit this island.
Sarsala Bay
Sarsala Bay draws attention with its sheltered structure and untouched nature. This bay, which is also a habitat for loggerhead turtles, offers unique waters for swimming with these adorable turtles. The bay, which is also historically significant, provides the opportunity to see many historical ruins.
Make a Blue Cruise Reservation
Fethiye is a city with natural formations, unique sea, untouched nature, and rich history, making it an important destination for blue cruises. With famous routes like Ölüdeniz, Butterfly Valley, and Kabak Bay, Fethiye is a popular choice for blue tours. Planning a blue cruise in Fethiye, where you can experience different experiences at every stop, is quite easy. If you want to have the best chance of embarking on a blue cruise during your desired vacation period, make your reservation as early as possible. Fethiye's popular routes make it a frequent choice for blue cruises. Therefore, don't forget to make your reservation to set sail on a blue cruise and experience a unique vacation. Fethiye's enchanting sea, beaches, bays, natural beauty, and historical sites captivate everyone. Exploring such a region with a blue cruise is not at all difficult. If you want to have an exceptional holiday experience, you can join a blue cruise and enjoy a unique vacation.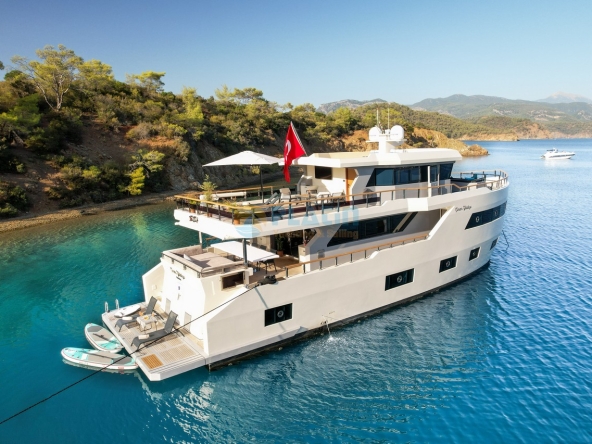 Beds:

5

Bath - WC:

5

30

Meter

Guests:

11

Motor Yachts, Trawler
Details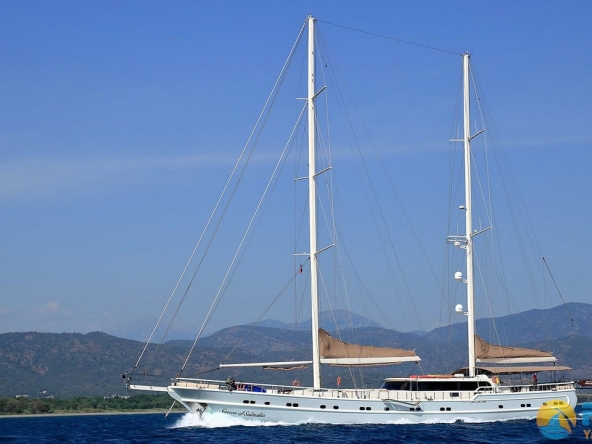 Beds:

8

Bath - WC:

8

39

Meter

Guests:

16

Deluxe Gulets, Gulets, Luxury Gulets
Details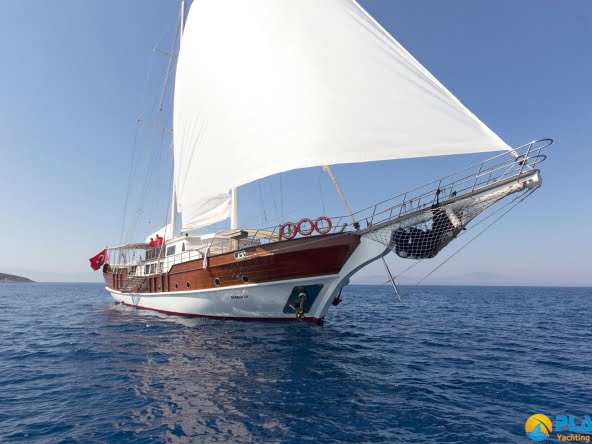 Beds:

6

Bath - WC:

6

34

Meters

Guests:

12

Gulets, Luxury Gulets
Details