Meal on Yacht Charter
Meal On Yacht Charter Conditions provided in the boat is very important to enjoy a perfect Yacht Charter Turkey  These conditions include Meal eating and drinking on the boat, and the boat necessities of life are also included.   Determined by the number of days in the blue route and the boat ride is reached by taking the road stores. Again, according to the list made shopping needs based on specific port and iron deficiencies are completed. There is not necessarily a crew of chefs in Yacht Charter. Experienced cook meals according to regulate you and your loved ones to enjoy.  
Meal on Yacht Charter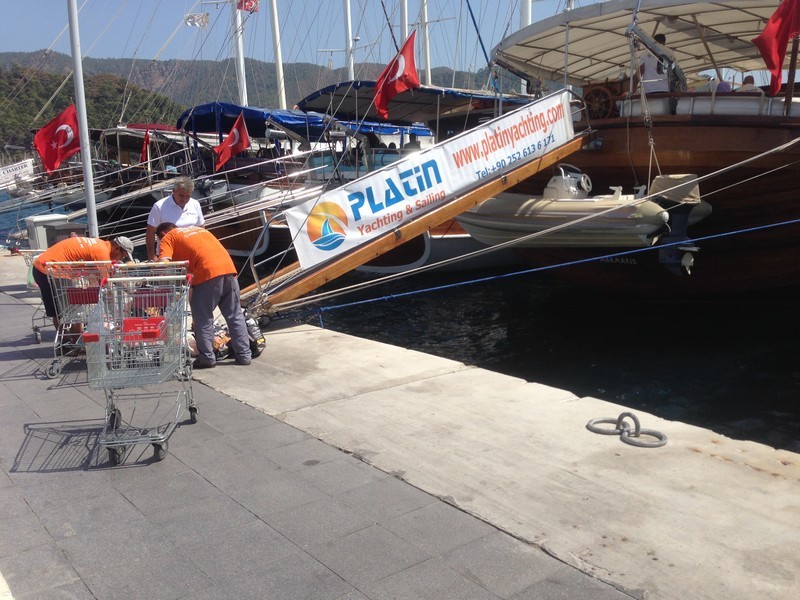 Blue Cruise in eating drinking can occur in two ways according to the wishes of the people. The first of these, boat, yacht or gulet Hirer of materials are prepared according to the menu and purchase requests. Another option are the fees payable per person per day eating and drinking. Accordingly, standard or luxury menu are prepared and determined to be the price per person.
Blue Cruise boats are maintained in the food freezer fresh and consumed on a daily basis. Taxpayers the day starts with a breakfast in the boat for rent. Breakfast varieties in different styles such as classic Turkish breakfast can be prepared can be submitted. Light snacks in between meals are brought to the table. Lunch is usually the presentation of light products such as olive oil and salad, grilled meat dishes for dinner or held the fish in the sea are prepared. Drinks are sold at affordable rates in the boat.   The eating and drinking culture varies from person to person by experienced chefs prepared according to the wishes of the person renting the boat for blue cruise enthusiasts. Besides great food that provides all the beauty of the Yacht Charter pleasure to pass, one must.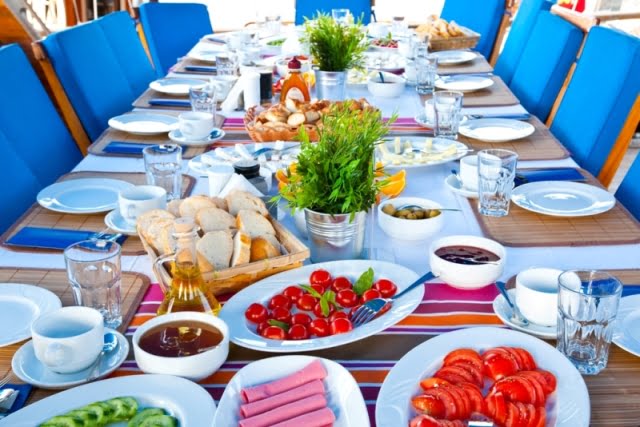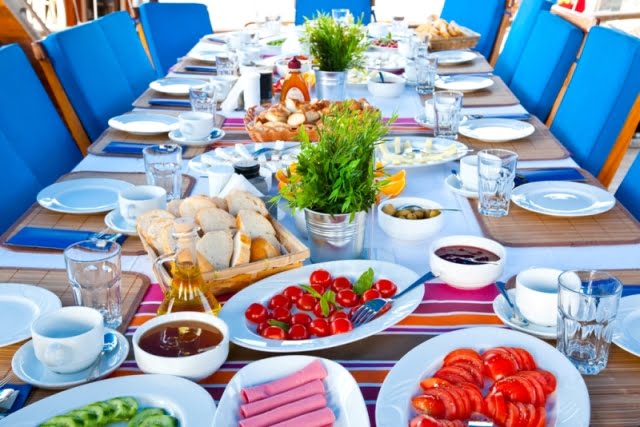 When embarking on a yacht charter with Platin Yachting, be prepared to indulge in a culinary journey that tantalizes the taste buds and satisfies the most discerning palates. Platin Yachting goes above and beyond to ensure that your dining experience aboard their yachts is nothing short of extraordinary.
Gourmet Cuisine on Board:
Platin Yachting takes pride in offering gourmet cuisine prepared by talented onboard chefs who showcase their culinary expertise with every dish. From breakfast to dinner, expect a delectable array of flavors and carefully crafted meals using fresh, high-quality ingredients. Platin Yachting understands the importance of catering to individual preferences and dietary requirements, ensuring that each guest's culinary needs are met.
What to Eat on Your Yacht Charter:
During your yacht charter, you can enjoy a diverse range of culinary delights. Start your day with a sumptuous breakfast spread, featuring a selection of freshly baked pastries, seasonal fruits, cereals, yogurt, and a variety of savory options. For lunch, savor light and refreshing salads, Mediterranean-inspired dishes, or perhaps a barbecue on the deck, grilling freshly caught seafood or succulent meats.
Dinner is a true highlight of the day, where the onboard chefs will craft exquisite multi-course meals that combine local flavors with international influences. Indulge in dishes that showcase the region's culinary traditions, such as freshly grilled Aegean fish, savory Turkish mezze, or succulent lamb kebabs. Accompany your meal with a selection of fine wines and end the evening with delightful desserts and after-dinner treats.
What to Buy:
While Platin Yachting provides a culinary experience beyond compare, guests may also wish to purchase some personal items or specific food and beverages. If you have any particular preferences, it is advisable to communicate these to the Platin Yachting team in advance, allowing them to assist you in sourcing and arranging the items for your charter.
Crew Meals and Provisioning:
Platin Yachting understands the importance of a well-nourished crew. The onboard crew members are provided with their own separate meals, ensuring they have the sustenance and energy to provide exceptional service throughout your yacht charter. The crew's meals are thoughtfully prepared to meet their dietary needs and preferences, allowing them to deliver their utmost professionalism and attentiveness.
Where to Buy:
When it comes to provisioning and purchasing items during your yacht charter, Platin Yachting's experienced crew can provide valuable assistance. They are well-versed in the local area and can guide you to nearby markets, specialty stores, or suppliers to fulfill any specific requests you may have.
Embarking on a yacht charter with Platin Yachting means embarking on a culinary journey like no other. From gourmet meals prepared by talented onboard chefs to the crew's well-nourished professionalism, every aspect of your dining experience is carefully crafted to surpass expectations. Sit back, relax, and savor the flavors of the region as Platin Yachting takes you on a gourmet adventure that will leave you with unforgettable memories.
When planning for food on a yacht charter, there are a few considerations to keep in mind:
Discuss with the Charter Company: Consult with your yacht charter company, such as Platin Yachting, to understand what is included in the charter. They can provide information on the meals and provisions they offer, as well as any specific dietary requirements or preferences you may have.
Meals Provided by the Charter Company: Many yacht charters include meals prepared by onboard chefs. Inquire about the menus and options available, and inform them of any dietary restrictions or allergies. The charter company can give you an idea of the types of dishes that will be served, ensuring you have a variety of delicious meals throughout your charter.
Personal Preferences: If you have specific food preferences or additional items you'd like to have onboard, communicate them to the charter company in advance. They may be able to accommodate your requests or provide recommendations on local suppliers or markets where you can purchase specific items.
Crew Meals: The crew typically have their own separate meals. They are responsible for preparing and enjoying their own food, ensuring they are energized to provide exceptional service. The crew's meals are often tailored to their preferences and dietary needs.
If you wish to purchase additional items or specific ingredients during your charter, the charter company can provide guidance on where to buy provisions. They may recommend local markets, supermarkets, or specialty stores where you can find fresh produce, snacks, beverages, or any other items you may need.
Remember, the charter company and crew are experienced in providing excellent service and can assist you with any questions or specific requests you may have regarding the food and provisioning. Open communication and discussing your preferences in advance will ensure a seamless and enjoyable dining experience during your yacht charter.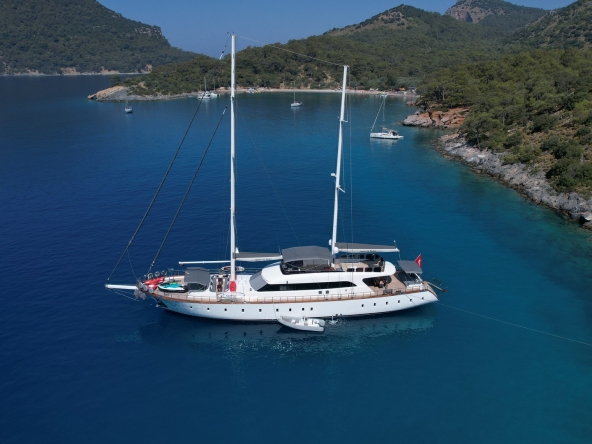 Unique Bays to Explore with Blue CruisesUnique Bays to Explore with Blue Cruise in Turkey The...