Oludeniz Yacht Charter

Fethiye Region's one of the most beautiful area Ölüdeniz, is a lively holiday resort that hosts thousands of domestic and foreign tourists in summer months. Its magneficient beach was titled 'world's most beautiful beach' in 2006 and the green blue serene lagoon is surely a place that must be seen.
Oludeniz Yacht Charter Video
Ölüdeniz is a popular yacht charter route with important way points and the natural bays that surrounds the area. At Ölüdeniz yacht tour, there are many stops like Butterfly Valley, St. Nicholas Island, Kıdrak Bay and Kabak.
Kıdrak Bay, located very close to Ölüdeniz, is a remarkable place with the great sea and the calm atmosphere. Yachts take a break at this region to swim at the sea or relax on the deck. At Butterfly Valley, charter yachts anchor to the beautiful bay. Valley's georgeous visual impresses the visitors. Here is one of the famous stops of charter yachts because of its waterfall, 350mt steep slope and dozens of varietes of butterflies.
Kabak, welcomes the guests with the unspoilt beauty and natural ambience. This splendid area is a great choice for yacht charters, due to the difficulty of transportation by road. Another yacht charter stop is Gemile Bay and St. Nicholas Island. Gemile Bay welcomes the visitors with the colorful atmosphere and wonderful view. Besides the natural beauty, St Nicholas Island attracts people because of its historical background and the ruins.
Ölüdeniz Yacht Charters with awesome stops, is a great alternative, for people who like to do spend their holiday on the boat.
Oludeniz Yacht Charter Offers Unforgettable Luxury Experience on the Turkish Coast
Oludeniz, Turkey – Oludeniz Yacht Charter has recently launched its exclusive luxury yacht experience, providing discerning travelers with the opportunity to explore the stunning Turkish coast in style. With a fleet of state-of-the-art yachts and a commitment to exceptional service, Oludeniz Yacht Charter aims to redefine luxury cruising in the region.
Located on the southwestern coast of Turkey, Oludeniz is renowned for its crystal-clear turquoise waters, breathtaking landscapes, and vibrant marine life. Recognizing the growing demand for personalized travel experiences, Oludeniz Yacht Charter has curated a selection of meticulously designed itineraries, allowing guests to discover the hidden gems of this coastal paradise.
The fleet of yachts offered by Oludeniz Yacht Charter showcases the epitome of opulence and comfort. Each vessel boasts luxurious interiors, spacious decks, and top-of-the-line amenities to ensure a memorable journey. From intimate couples' retreats to larger group gatherings, the yachts are equipped to cater to a variety of needs, providing a home away from home for guests.
Guests aboard an Oludeniz Yacht Charter will have the opportunity to explore the picturesque Turkish coast at their own pace. The itineraries cover a wide range of destinations, including the famous Butterfly Valley, Gemiler Island, and the serene bays of Fethiye. Travelers can indulge in a variety of activities, such as snorkeling, scuba diving, kayaking, and paddleboarding, immersing themselves in the region's natural beauty.
One of the standout features of Oludeniz Yacht Charter is its commitment to personalized service. A dedicated crew, including an experienced captain, chef, and attentive staff, is on hand to cater to guests' every need. Whether it's arranging private beachside dinners, organizing on-board entertainment, or suggesting the best spots for sightseeing, the crew ensures that every aspect of the journey is tailored to exceed expectations.
Speaking about the launch, the spokesperson for Oludeniz Yacht Charter, Mr. Emre Kaya, expressed his enthusiasm, saying, "We are thrilled to introduce Oludeniz Yacht Charter to luxury travelers seeking an unforgettable experience along the Turkish coast. Our aim is to provide a seamless blend of luxury, comfort, and exploration, allowing guests to create lifelong memories in one of the world's most beautiful destinations."
Oludeniz Yacht Charter is now open for bookings, and reservations can be made through their official website or by contacting their dedicated customer service team. As the demand for exclusive travel experiences continues to rise, Oludeniz Yacht Charter is poised to become a leading name in luxury cruising, offering unparalleled journeys along the stunning Turkish coast.
Platin Yachting: The Ultimate Yacht Charter Experience
Are you dreaming of an unforgettable vacation on the stunning Turkish coast? Look no further than Oludeniz Yacht Charter with Platin Yachting. This premier yacht charter company offers an unparalleled luxury experience, allowing you to explore the breathtaking beauty of Oludeniz and its surrounding areas in style. Get ready to embark on a journey of relaxation, adventure, and discovery as we delve into the world of Oludeniz Yacht Charter and the remarkable services provided by Platin Yachting.
Unraveling the Turkish Coast:
Nestled on the southwestern coast of Turkey, Oludeniz is a true coastal paradise renowned for its pristine turquoise waters and picturesque landscapes. With Oludeniz Yacht Charter, you have the opportunity to experience this natural wonderland like never before. Platin Yachting, the leading yacht charter provider in the region, offers a fleet of luxurious yachts equipped with state-of-the-art amenities, ensuring a comfortable and unforgettable voyage along the Turkish coast.
Luxury Redefined:
Platin Yachting takes luxury to a whole new level with their meticulously designed yachts. Step aboard and be greeted by opulent interiors, spacious decks, and a range of top-of-the-line facilities. Whether you're looking for an intimate escape with your loved one or planning a group gathering, Platin Yachting has the perfect yacht to cater to your needs. Each vessel is carefully maintained and offers a sense of elegance and tranquility, providing the ideal setting for an extraordinary vacation.
Tailor-Made Itineraries:
One of the highlights of Oludeniz Yacht Charter with Platin Yachting is the opportunity to embark on tailor-made itineraries, designed to showcase the best of the region. From exploring the renowned Butterfly Valley, where you can witness the mesmerizing beauty of nature, to visiting the historic Gemiler Island and its ancient ruins, each destination holds a unique charm waiting to be discovered. Platin Yachting's knowledgeable crew will guide you to hidden coves, secluded beaches, and enchanting bays, ensuring you make the most of your time in Oludeniz.
Unforgettable Experiences:
Platin Yachting goes above and beyond to create unforgettable experiences for their guests. Imagine waking up to the gentle sound of the waves, enjoying a freshly prepared breakfast on the deck while taking in the breathtaking views. Engage in exciting water sports such as snorkeling, scuba diving, kayaking, and paddleboarding, exploring the vibrant marine life beneath the surface. Indulge in a delicious meal prepared by a skilled chef, savoring the flavors of Turkish cuisine. Whether you prefer sunbathing on the deck, sipping cocktails at sunset, or stargazing under the night sky, Platin Yachting ensures that every moment is filled with joy and wonder.
Impeccable Service:
Platin Yachting's commitment to providing impeccable service sets them apart. Their experienced crew, including a professional captain and attentive staff, are dedicated to meeting your every need. From organizing private beachside dinners to suggesting the best spots for sightseeing and entertainment, they are there to ensure your journey exceeds all expectations. Their warm hospitality and attention to detail create a welcoming and personalized atmosphere throughout your voyage.

Oludeniz Yacht Charter with Platin Yachting offers an extraordinary experience that combines luxury, adventure, and relaxation. Embark on a remarkable journey along the Turkish coast, exploring the natural wonders of Oludeniz, and creating memories that will last a lifetime. Whether you seek tranquility or exhilaration, Platin Yachting provides the perfect platform to immerse yourself in the beauty of this coastal paradise. Book your dream yacht charter with Platin Yachting today and prepare to be captivated by the allure of Oludeniz.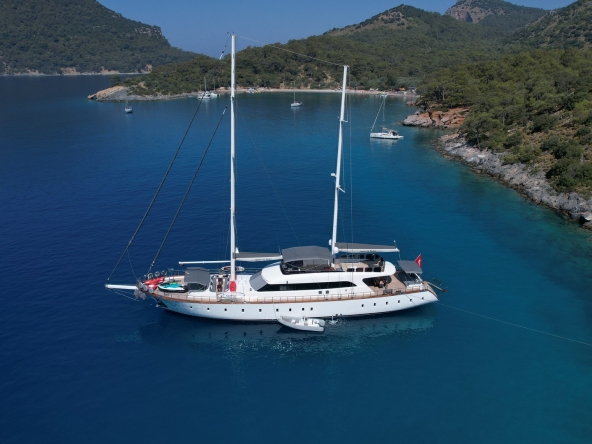 Unique Bays to Explore with Blue CruisesUnique Bays to Explore with Blue Cruise in Turkey The...