Most Beautiful Bays of Marmaris
The Most Beautiful 5 Bays of Marmaris with its azure sea and lush green nature combined in unique landscapes, is one of Turkey's most popular holiday destinations. Its location at the intersection of the Aegean and Mediterranean Seas makes it geographically exceptional. With its magnificent nature and untouched coves and bays, Marmaris is the address for your dream vacation with blue cruise opportunities. With about 36 large and small bays, Marmaris is also highly suitable for boat tours. Each of the bays in Marmaris is beautiful and unique in its own way. By exploring these beautiful and famous bays during your visit to Marmaris, you can experience an unforgettable holiday.
If you want to start your blue cruise in Marmaris, you can visit the bays in and around Marmaris. While the bays of Marmaris are uniquely beautiful, we have compiled the 5 most popular and beloved bays for many people. During your blue cruise holiday in Marmaris, you can visit these 5 magnificent bays. Visiting these bays of exceptional beauty allows you to connect with nature more deeply and maximize your enjoyment of your vacation. Additionally, you can engage in various sports activities in these bays for a pleasant time.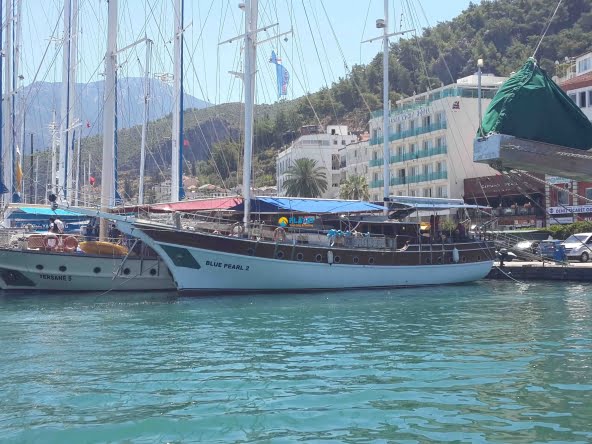 Beds:

6

Bath - WC:

6

24

Meter

Guests:

14

Gulets, Standart Gulets
Details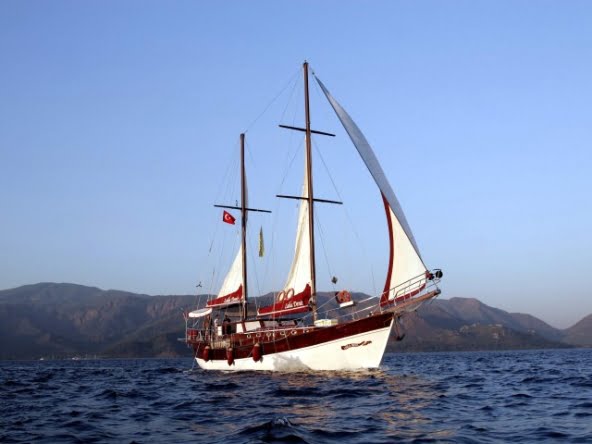 Beds:

4

Bath - WC:

4

21

Meter

Guests:

8

Gulets, Standart Gulets
Details
Beds:

6

Bath - WC:

6

29

Meter

Guests:

12

Gulets, Luxury Gulets
Details
Icmeler Bay When people think of Marmaris, the first beach that comes to mind for many is Icmeler Bay. Icmeler is a bay located 10 km away from the center of Marmaris. Known for being a much quieter area compared to Marmaris center, it can still be quite crowded during the summer months due to its popularity. If you plan to visit during a quieter time, you can choose the spring or autumn months. Icmeler Bay, nestled amidst lush greenery, boasts a crystal-clear sea. It's also an ideal place for diving and water skiing. Apart from diving, you can enjoy activities like parasailing, scuba diving, off-road, and water skiing here. During your visit to Icmeler Bay, you can also explore iconic places like Icmeler Beach and Icmeler Lovers' Hill, adding a splash of color to your blue cruise experience by visiting different places and capturing them in photographs.
Kadırga Bay Kadırga Bay is the furthest bay from Marmaris center. It is situated directly across from Kadırga Lighthouse. Accessible by descending a path lined with olive trees, this bay stands out with its deep blue sea. It's also a popular bay for diving enthusiasts. Diving courses are offered in this bay, which is well-suited for diving. With its pristine beach and crystal-clear waters, Kadırga Bay ranks among Marmaris's most beautiful bays. Additionally, just 15 meters from Kadırga Bay, you can find the remains of a sunken ship from the Hellenistic period. You can swim and engage in various water sports in this bay. As it's suitable for diving, don't forget to bring snorkeling gear and underwater goggles when you visit. You can explore the underwater beauty, which will captivate those interested in diving. You can dive in Kadırga Bay to discover the sunken ship underwater.
Gerbekse Bay Gerbekse Bay, one of the most beloved bays of blue cruises, is located near the Çiftlik region. This bay, with an intriguing name, took its name from a church in the area. There is no access by land to this bay; it can only be reached by sea. You can reach it from Çiftlik by boat or from Marmaris through organized boat and yacht tours. Additionally, the bay's terrain is quite suitable for boats to anchor, so many yachts can easily dock here. Since there's no road access to the area, this bay hosts yachts and boats. Gerbekse Bay is famous for its pebble beach and pristine sea. The bay also offers captivating underwater scenery and is suitable for diving. Therefore, if you visit this bay, be sure to bring your snorkeling gear.
Kızkumu Bay Kızkumu Bay is located in Orhaniye village in Marmaris. Orhaniye is one of the quietest villages in Marmaris. A unique feature of Kızkumu is encountering people walking on the sea when visiting. This is due to natural events causing sand accumulation in the middle of the sea. Although the formation of this sand is based on natural events, there is a separate legend about this place among the locals. Surrounded by pine trees, the bay is loved by both locals and foreign tourists. You can walk from the bay where the excursion boat anchors to the middle of the sea, providing you with a different experience. To experience such a unique adventure, you must visit Kızkumu. Additionally, you will witness the exquisite blend of blue and green tones, adding to the natural beauty that enhances this place.
Yazılıkaya Bay Famous for its cool weather at noon, Yazılıkaya Bay is one of the must-see bays in Marmaris. This bay offers a breathtaking view of the most beautiful shades of blue. Surrounded by beautiful and large rocks, the bay is believed to have gotten its name from these surrounding rocks. You can swim in this bay and explore its surroundings. Moreover, it's also suitable for diving. You can dive up to depths of 30-40 meters in this bay. When visiting, don't forget to bring your snorkeling gear.
Marmaris Blue Cruise Tours Marmaris, one of the important holiday destinations, attracts many local and foreign tourists throughout the summer season. Positioned at the junction of the Mediterranean and Aegean regions, this town is popular for its magnificent sea, unique coves, beaches, and stunning nature, making it a sought-after destination for blue cruise routes. In this region, you'll encounter numerous beauties during blue cruises. Firstly, with its Mediterranean climate, the town features approximately 36 large and small bays, each beautiful and worth visiting. Additionally, historically rich, Marmaris hosted various civilizations and cultures in the past. During your blue cruise trips here, you can get a closer look at these historical riches. As a marina, this town accommodates about 740 yachts. Your blue cruise trips here will be colorful. Marmaris is a region suitable for various sports and activities. From diving to trekking, safari tours, scuba diving, cycling, and camping, you can engage in numerous activities. Start planning your blue cruise in Marmaris for a versatile and colorful holiday experience.
Marmaris, being one of the most popular destinations for blue cruises, has numerous beautiful bays, coves, and beaches. By embarking on blue cruise journeys here, you can explore the most beautiful and beloved bays of Marmaris, engaging in your favorite sports activities. Furthermore, exploring the surroundings of these bays will provide you with a vibrant blue cruise experience.