Historical Places to Visit
Historical Places to Visit on Blue Cruise
Blue Cruise Vacation In our are usually carried out through gulets along the coasts of the Aegean and Mediterranean seas. Blue cruises, often preferred by sea lovers and those seeking dynamism during their holidays, fulfill the expectations of a vacation beyond measure. Blue cruise trips are conducted along specific routes, and you can explore these routes by taking breaks or staying overnight according to the organized plans on each route. Some places stand out with their natural beauty, sea, beaches, and water sports, while others shine with their historical structures. Blue cruises are commonly associated with gulets along the coasts of the Aegean and Mediterranean seas. Routes that stand out with their historical textures are regions where ancient cities are located.
Ancient Cities You Can Visit During Your Blue Cruise Vacation During blue cruises along the Aegean and Mediterranean coasts, there are several ancient cities that can be visited. These historical treasures not only maximize the enjoyment of the blue journey but also add unforgettable details to the blue cruise.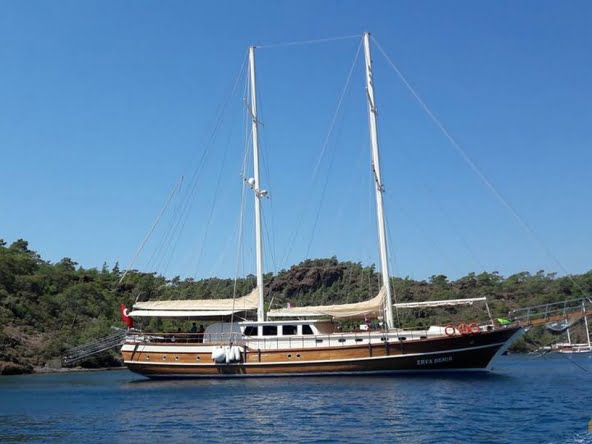 Beds:

8

Bath - WC:

8

30

Meter

Guests:

16

Gulets, Luxury Gulets
Details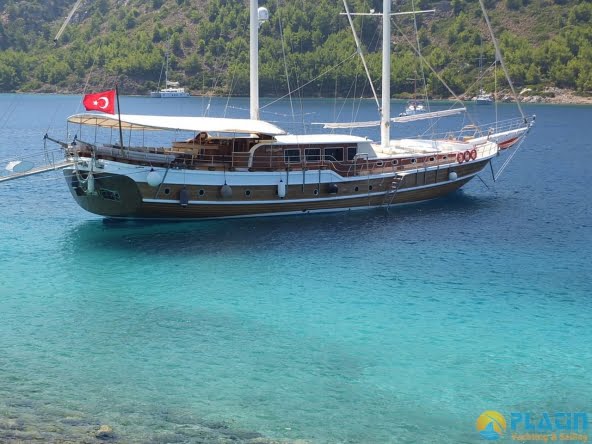 Beds:

8

Bath - WC:

8

34

Meter

Guests:

16

Gulets, Luxury Gulets
Details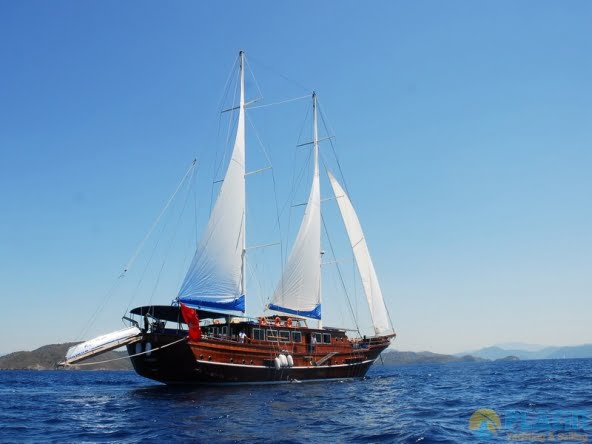 Beds:

8

Bath - WC:

8

35

Meter

Guests:

16

Deluxe Gulets, Gulets
Details
Xanthos Ancient City
Xanthos Ancient City, located in Antalya Kaş, has a history dating back to ancient times. The city, built in the 8th century BC, is the largest and oldest settlement of Lycia. It also served as an administrative center during a certain period in history. This city lived through six ages from 1200 BC to AD 540. It's a must-see city during your blue journey. When you visit this city, you will be able to see many historical remnants, including numerous sarcophagi, an ancient theater, and churches.
Ancient Telmessos
Telmessos, an ancient city established at the border of Lycia and Caria civilizations in Fethiye during the 5th century BC, is another site to explore during your blue cruise. Most of the remaining artifacts from this city belong to the Hellenistic and Roman periods. The Telmossos Ancient Theater, discovered through archaeological excavations in 1993, is located in the center of Fethiye and has been restored into an open-air museum. Additionally, one of the city's most important artifacts is a famous oracle center dedicated to the god Apollo from the Roman era. Visiting this ancient city during your blue cruise in Fethiye allows you to witness a period of history.
Kadyanda Ancient City
If you're considering embarking on a blue cruise around Göcek and Fethiye and wish to add a historical touch to your tour, you can explore Kadyanda Ancient City. Situated near Fethiye, this ancient city is located on a hill in Üzümlü Village, which is 18 km away from Fethiye. Based on inscriptions related to this city known as 'Kada wandi' in ancient times, it is estimated that the city dates back to the 5th century BC. Many artifacts from the Roman Empire period can be seen in this ancient city, showcasing the grandeur of that era. Despite some of the walls surrounding the city being destroyed, some have managed to survive until today. An ancient theater can be found around these walls. A forest is located a bit further from this theater, where you can take a walk. You can also see large rocks and house-like tombs within this forest. Due to its elevated location, Kadyanda Ancient City offers a panoramic view of the Fethiye Plain and the Xanthos Valley.
Kaunos Ancient City
Kaunos Ancient City, once a trading center in ancient times, was discovered by a British archaeologist in 1842. With a significant harbor, this city was used as a trading and port city at that time. Through research conducted in the region, many inscriptions have been found, and based on these inscriptions, it was determined that the area was Kaunos Ancient City. The first settlement in the region dates back 2800 years. Kaunos, an important port city in ancient times, has moved away from the coast due to the formation of the Dalyan Delta. You can see remnants from the Classical, Hellenistic, Roman, and Byzantine periods here. One of the most interesting structures in this area is the ancient theater consisting of three sections. Additionally, you can visit a Roman bath, a church, and a temple in the region. Adding this ancient city to your blue cruise departing from the Aegean and Mediterranean will allow you to witness a period of history. Watching the sunset view from the ancient theater of this city is also a wonderful experience.
Letoon Ancient City
Located on the Lycian Way, Letoon Ancient City was founded in the 7th century BC. It was inscribed on the UNESCO World Heritage List in 1988. It served as a religious center in ancient times, and as a result, you can find many temples here. Letoon, considered a sacred city in ancient times, is known for its temples dedicated to Apollo, Artemis, and Leto. The most famous structure in the ancient city is the Leto Temple dedicated to Leto, the mother of Apollo and Artemis. There is an inscription on this temple, and what makes it significant is that it's written in three languages. This inscription is now displayed at the Fethiye Museum. Besides temple visits, you can explore the anchored boats, the church, and the ancient theater in Letoon.
Ancient City of Patara
Patara, renowned for its pristine sea and magnificent nature, is one of the most popular routes for blue cruises. If you're planning to have a wonderful beach vacation and explore new places during your holiday, you can consider embarking on a blue cruise. If blue cruises resonate with you, you can plan your holiday by making reservations early. Blue journeys will offer you unique experiences filled with sea, nature, and history. Although when history is mentioned, many people might not immediately associate it with a blue cruise, the ancient cities along the travel routes will provide you with a unique historical experience. The Anatolian geography has hosted numerous civilizations from the past to the present, boasting a very ancient history. Therefore, many ancient cities can be encountered in various parts of Anatolia, especially along the coastal regions. This is mainly due to the coastal areas being used as port and trading cities and thus being open to interaction. Embarking on blue cruises along the coasts of the Aegean and Mediterranean seas and adding visits to ancient cities can add a unique touch to your travels.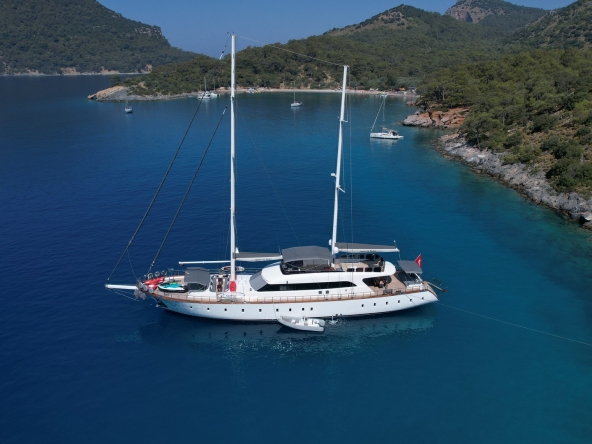 Unique Bays to Explore with Blue CruisesUnique Bays to Explore with Blue Cruise in Turkey The...